I left the house loaded with a fresh thermos of coffee and a couple of Nutty Bars under the cautious eye of my wife at 5:15 Friday evening.
"You would not be going if you were my child, you know that. Be Careful. Call me when you get there."
"I'll be fine, we will take it slow and easy. I Love you."
There were postings on Facebook and warning on the radio about a 70 car pile up involving two semi-trailers on M-32 and 131, my favored route to pick up Alex in Gaylord. So I opted for the more scenic countryside drive along Thumb Lake Road to 75 at Vanderbilt. I found myself on a desolate highway, void of any other signs of life, not even a two track. They had closed the Mackinac Bridge hours prior due to high winds and near zero visibility. Even though I have a certain amount of confidence in my trusty fishcar and the Suburban's 4-wheel drive, I wasn't about to push the envelope. After securing my passenger and partner on our epic journey from the depths of a snow covered labyrinth of his cozy domicile, we gassed up on fuel and greasy yet satisfactory pizza in Waters and were on our way to G-Rap. It wasn't easy by any means, rarely pushing the speedometer past 45 mph, and a few dicey scenarios where other more brazen Indy qualifiers spewed past us on our southward journey during a mild winter weather advisory, but we made it through the ice covered back roads of M-55 through Lake City and arrived safely in Grand Rapids nearly 5.5 hours later. We immediately turned in for the night at my Mom's house, amped for an early morning departure to attend and tie for the Grand River Area Tyers 6th Annual Celebration of Tying.
The sun was cresting the horizon as we pulled in the Knights of Columbus Hall on Clyde Park south of 54th Street. This town has grown even in the lack of my presence, it is really cool to see how much she has changed. I was personally excited to see so many of the great tyers that have been mentors for me over the years, and many of them were on hand.
After checking in at the door, we hear our names being called from the front corner of the room. Matt Erny from Streamers Fly Fishing promised to get there early and situate us near his tying table. It's always good to see Matt and his ever positive and cheerful anecdotes, we make for our tables and begin setting up our tying stations. Armed with a fresh cup of coffee and a custard Longjohn, we catch up on who travelled from where and how much we are over this winter and  who would love to swing a fly in open water or see a bug rise on a glassy surface.
John Ridderbos is set up along side us and has some great tying skills along with Matt 'Zuddy' Zudweg, who is sandwiched in between. You have to check out his awesome collection of artwork, from antique painted signs to the latest in car/boat decals, Zuddy also has made it fairly big with the ZudBubbler frog pattern and Zuddy's Leg puller for adding rubber legs to your poppers which can be found in your Feather-Craft catalog and in Rainy's.
I happen to be in the front left corner, directly across from one of my favorite guys in the business, also whom just got back in the game as a sales representative for Temple Fork Outfitters– Ray Schmidt and Kate Smith have been making the rounds and selling a few fly rods along the way. After everyone said their Hello's, Ray came over and we recollected how lucky he was to be at the First Celebration of Tying when he had just fallen through a dock in Belize and impaled a major artery in his inner thigh while bonefishing. How fortunate we are both to be here again, and healthy. Ray has always been the kind of guy most men hope to become, straight-forward, honest, hard working and genuine. He has often given myself and others helpful advice, not unlike a caring father. If you get a chance, pick up one of his sticks, we were impressed to say the least.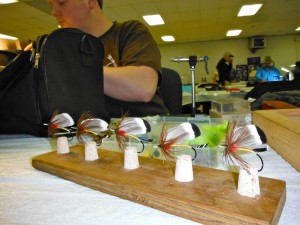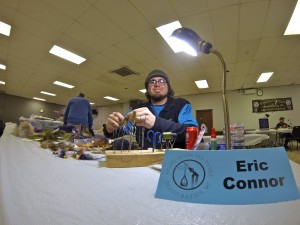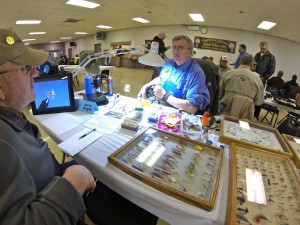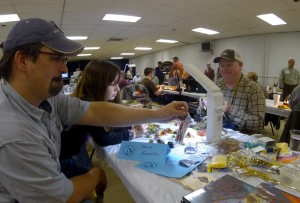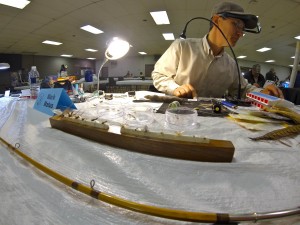 This wasn't going to be a rambling piece filled with name dropping but I have already crushed that mold. Great to see some of the tyers that made their long treacherous journeys from various parts of the midwest. Jerry Regan was on hand with his apron filled with deer hair and other assorted animal fur, Kevin Feenstra never disappoints with his myriad of steelhead flies, Brad Turner was busy all day with people inquiring about the Pere Marquette River and what a phenomenal fishery it has been lately. Eric Conner, PJ Smith, Fred Vargas, Jim Reed, Bear Andrews, so many great tyers on hand that I never got to chat with, next year. A couple of vendors were on hand, Nomad Anglers' Brian Bielicki set up shop and Great Lakes Fly Fishing Co. along with major sponsorship from Cabelas. Word was a new Bass Pro Shop is scheduled to open on 44th Street next year, crazy how this town keeps growing.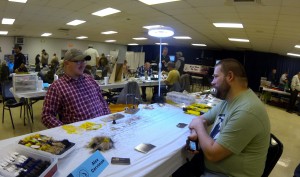 I would like to thank the people who came and sat down to chat with me. No names, because I fear I have already accidentally omitted a few in previous paragraphs and hope to extend an early apology. But thank you for your support, those who enjoyed seeing me tie the Sexy Hexy Emerger, I will be doing an updated video in the coming months, you can also purchase through Feather-craft or ask your local fly shop to order a few from Rainy's for your upcoming Hex & Drake season. Thank you Eric for talking about some of our treasured rivers and the powerful GT's of Seychelles- keep up your magical make-up mayhem, I hope to see you on the river someday. The gentleman who asked for us to sign the poster, surprised me when he said he loved reading TNT, thank you! Far too often, as a non-writer/hack blogger, I feel these words fall on deaf PC's, people who say kind words go a long way. The young lady who recently got involved in fly tying and did the local TV promo, thank you for saying you heard me on The Open Fly Podcast, makes me feel like someone out there is listening and spreading the good word. Thank you to the parents who brought their children, showing them the art that we have come to make our passion a way of life, and hopefully, they too will catch a magnificent fish on a fly they have tied. Thanks to the guys who asked me about my Adipose Flow, I look forward to more inquires the first weekend in March at the Midwest Fly Expo in Warren. I will be with Adipose Boatworks at Booth #9. See you there.
Alex and I packed up quickly and headed north, weather was much more pleasant, we even made good time. Along the way, we noticed a billboard from the Pure Michigan campaign, Ridderbos said he saw it on his way to the show south of town. This one was appropriately located just past the Reed City/Baldwin exit. It depicts a wintery scene on the Jordan River. Kinda funny. Other anglers are not going to be happy. This kind of publicity could see an increase of traffic on the river…
seems the Pure Michigan folks are on to something here.
Alex and I pondered the ramifications. First, there is A LOT of water between southern Michigan and the Tip of the Mitt. Secondly, when you show the right people a beautiful river, they tend to embrace it, not disgrace it. I hope this is true. One thing we certainly agreed on, it was awesome day tying with a great group of fellow anglers who had zero pretentiousness and truly enjoyed each others company around the tying tables. See you next year Grand River Tyers!!