Hi, I'm Koz
Fly Fishing guide & Bug Guru
We offer a personalized approach to fly fishing and a little "bug" lesson just for fun.
In Michigan, you are never more than three and a half miles from a body of water. We are blessed with an abundance of great fishing and beautiful scenery. Take a trip down the first designated Natural & Scenic River and find your own serenity. All four seasons in northern Michigan offer spectacular fishing opportunities.
Koz does Das Boat – S2E02
Au Sable River Trout with Janis Putelis and Brian Kozminski.
In the second episode of Season 2, Steve hauls Dos Boat to Boyne City, Michigan, where Janis Putelis assumes the helm. Jani connects with local trout fishing guide Brian "Koz" Kozminski. Together, they try to get the boat prepared for a nighttime river expedition by removing the outboard and setting it up for rowing. Nothing in this episode goes as planned—the weather turns from lovely to wet and stormy, and the guys spend multiple nights in the cold getting their asses handed to them by brown trout.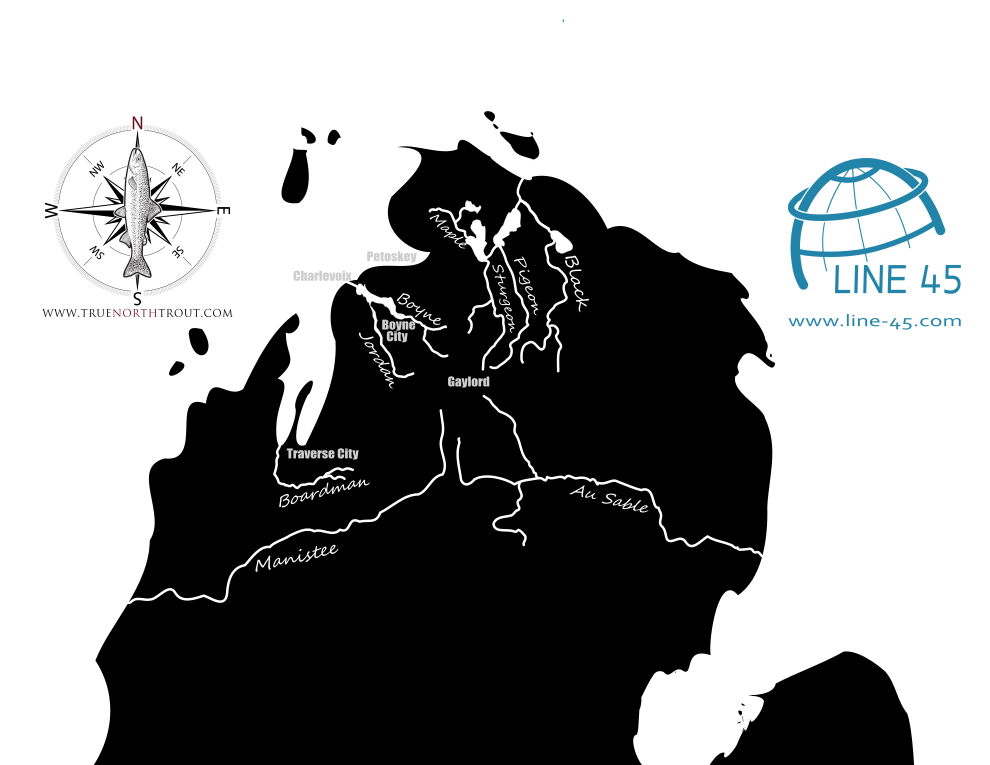 Northern Michigan has such a diversity of water to fish from season to season. Whether you choose to seek solitude and beautiful scenery or opt for a path more traveled with anglers on every other bend, northern Michigan has what you are looking for.
From first-time anglers to the advanced casting experts, we can have you on the water and catching fish in no time!
Three-fourths of the Earth's surface is water, and one-fourth is land. It is quite clear that the good Lord intended us to spend triple the amount of time fishing as taking care of the lawn.
Chuck Clark
The mere thought of Fly Fishing usually summons an image of some serene location. Standing in moving water, crabapple blossoms tree fills the air with fragrance, Cedar waxwings dart from tree limb to deadfall waiting for the next mayfly, and dimples on the...
Let's Start a Conversation