True North Trout Guides
~Brian Kozminski~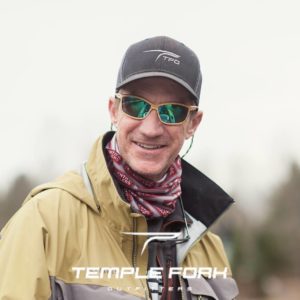 Brian Kozminski, known as "Koz" by friends, has been fly fishing Michigan waters for over 30 years. Originally from Grand Rapids where the Rogue River and Grand River were his home waters, his frequent trips to Grayling to fish the Holy Waters were not enough. Over a decade ago, he and his wife, Lesley, daughters, Simone and Camille, made 'Up North' a permanent way of life.  A recent transplant to Boyne City now allows the Jordan and Boyne Rivers to become his backyard home waters. A lifetime member of Trout Unlimited and ex officio for the Miller-VanWinkle Chapter, he shares his passion for the resources by teaching locals the art of fly tying.  An advocate for catch and release, Koz is also regional sales representative for Temple Fork Outfitters, RAINY's Flies, FISHEWEAR, GRAPLRZ, WINGO Outdoors, and WIND RIVER GEAR – he is also northern Michigan's ambassador for SUPontheFly and Adipose Boatworks, as well as an FFF member. He has been tying flies since his father taught him at the age of nine. Although Steelhead and large Brown Trout at night are exciting, the true treasure of northern Michigan lies in the vermiculation and blue halos of the native Brook Trout from its cold, clean and clear rivers. Listen to Podcast on Remote. No Pressure. 
~Sam De Jonge~
Sam De Jonge is a Northern Michigan native; Architectural Designer during the week and an arrant outdoorsman out of the office. He first picked up a fly rod in college and fly-fishing quickly turned into another full fledged passion, among which he has many. His mission is to bring people closer to nature and closer together; something he uses both fly-fishing and architecture to accomplish; two methods to a common goal. It can be said that whether he is fishing, hunting, designing, or exercising, he is always looking to learn more, enjoy the process, and share with others what he has been taught. He also understands that a guide must be patient, focused, encouraging, knowledgeable, responsible, and an above all else, an effective communicator. After all, clients and guides are a team at the end of the day and Sam is able to draw from his many outdoor and professional accomplishments and experiences to ensure his clients have memorable experience. When he is not on the water or behind the drawing table you can find him outdoors enjoying it any other way he can and looking for the next person with whom to share it with. Check him out at WILD RISE OUTFITTERS.
~Jeff 'BEAR' Andrews~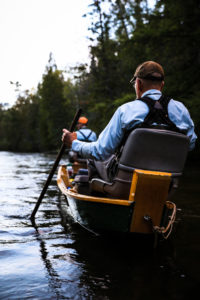 Michigan native Jeff "Bear" Andrews has been fly fishing and tying flies for 48 years. In 1998 he was the recipient of the "Buz" Buszek Memorial Fly Tying Award, the highest honor bestowed upon a fly tyer by the Federation of Fly Fishers. At the time he was the youngest to have ever received the award and only the third from the Midwest.
Annually Bear travels throughout the United States and Europe sharing his tying skills through demonstrations and classes. He has taught thousands of people to tie flies. Bear's extensive fly tying background has led to the development of deadliest carp patterns on the planet. From 1977 until 1984 he ran Bear's Fly Shop in Grand Ledge, Michigan He has tied flies commercially for 34 years, producing as many as 24,000 flies a year.
Bear created the "Tie-a-Thon" for the Federation Of Fly Fishers, and for ten years held a 24 hour tying marathon to raise money the FFF's conservation projects, raising over $140,000.00 Bear's flies are sought after by both collectors as well as fly fishers. His flies have appeared in numerous books, and magazines; as well as limited edition artwork.
Bear has set 3 IGFA World Records for Brook trout during his 27 years of fishing Labrador. He is currently the Fly Fishing Editor for Michigan Out-Of Doors magazine and has been for over 20 years. In 1999 he released his first in a series of fly tying instructional videos, currently available in DVD format are "Best Of The Bear Steelhead" "Best Of The Bear Steelhead II " and "Best Of The Bear Tying Traditions". Since 2000, Bear's flies have been available in fly shops through the Umpqua Feather Merchants Fly Tyers Royalty Program. Currently Bear works as a Fly Fishing guide for Fuller's North Branch Outing Club in Lovells, Michigan guiding for trout, salmon, steelhead, and carp on the fly.
Dakota Mack
Founder of White Pine Guide Service
Dakota is a fishing guide to the core. He loves collecting information on fish, but not nearly as much as he enjoys helping others learn to catch them. Dakota started his career at 16, as a dishwasher at a lodge in Alaska. That season, getting to tag along on big group trips got him hooked. He has been working in the industry ever since. From Northern Michigan to Alaska to Patagonia, guiding is now his full time job. Dakota rows a SmithFly raft, and his preferred methods of fishing are both centerpin and fly fishing. Off the river, Dakota enjoys catching up with family and reading anything fishing related, especially enjoying John Gierach and Don Thomas. You can check him out on Instagram @capt.dakotamack .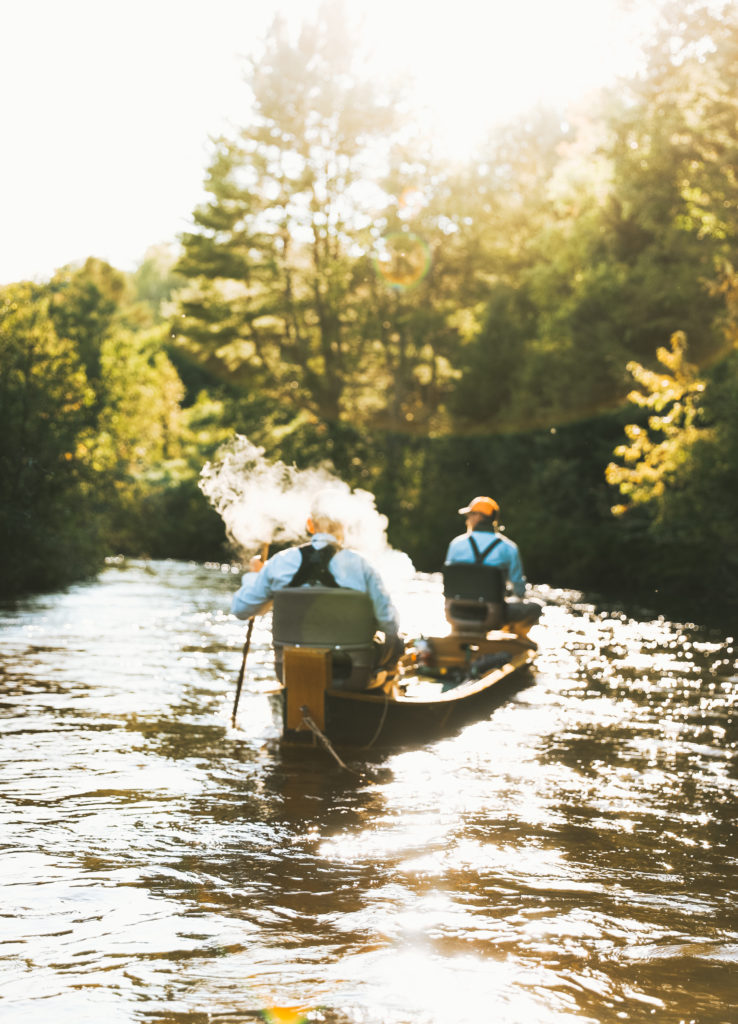 True North Trout Guide Service
Our Goal: To provide an educational and relaxing experience on the water while catching a few fish.
Many people come to northern Michigan to enjoy the natural beauty that surrounds us each and every day. We merely wish to share that experience with others. We are often asked what our clients should bring on a guided trip. Here is the short list:
Bug spray- not Skin-so-Soft, Blackflies eat that stuff with their Wheaties. I recommend Deep Woods Off! or something with Deet in it.
Polarized Sunglasses- I do have back-up sunglasses, but it is best if you have your own.
Hat- either a baseball style cap or fishing hat will keep sun off your head and help you see the fish better.
Rain Jacket or Parka- don't like the weather? wait five minutes.
Waders- I do have multiple pairs, but your own waders that fit YOU would be best.
Suntan lotion.
Fishing License- get yours MDNR E-License.