Recently, I was contacted to see if I would like to run a pair of winter boots through their paces. The company in question is KORKERS. Well known for wading boots and waders, but recently dipping into the winter boot line. I chose the IceJack Snow Boot from Korkers based on a few principles. First, I had to try the BOA Lacing system out on a pair of winter boots to see if they could withstand the temperature abuse and snowy conditions in northern Michigan.
Secondly, I am often skeptical of taller/mid-calf height boots. I have several pairs, my Sorels for Ice-fishing, BOGS and Muck boots for canoeing, but for most of my outdoor activities, I usually prefer an ankle height boot (Columbia Bugaboo II) for flexibility and ease of on and off use.
I had received multiple e-mails regarding and warning me about the BOA Lacing System. A few friends have been cautiously waiting to hear whether sand particles would get in the gears of the cable lacing and eat away at the cogs, rendering the cable closure system useless. I have yet to encounter this scenario, I have been too busy shoveling snow from the past several winter storms.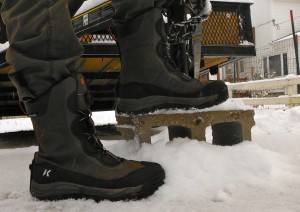 For the past two months, I have been very active and putting these new boots to the test on a daily basis. We moved the week prior to Christmas, and I needed to maintain both driveways and lug multiple trailer loads of household items to our new residence. They not only held up, but held up well, and are extremely comfortable and warm, almost too warm, if there is such a thing. On a recent shopping trip with my wife, I made the usual stops at MC Sports and Dick's to show off these winter boots to the guys in the outdoor departments. After hiking from store to store with daughter Camille in tow on my back, I can honestly say they over heated my feet. They boast 600 grams of 3M Thinsulate and do keep your feet toasty and rated for -40F. They are not meant for casual/daily shopping adventures at the mall. The Sporting Goods manager at MC Sports called his other department heads in for a closer inspection of these "Extremely cool, just like my ski boots…" winter boots we had to show off. They were impressed and guessed a price tag of $225, and said they would pay that for a boot this good looking.
I came very close to choosing the SNOWJACK because it was a shorter height boot and available in black; however, a pleasant surprise occurred on a couple of occasions. While driving, I was able to bend over and loosen the tops of the ICEJACK boot with a simple click and release of the knob and pull of the tongue. WOW! So simple and easy! On a separate trip, I was able to release and kick off my boots with daughter in the car seat in one arm without setting her down. That may not apply to many of you, but replace that car seat with a backpack or groceries you are trying to get into the house or garage or when you have a sudden urge to get to the restroom while snow-blowing the driveway and your fingers are near numb from minus 10 degree windchill. The BOA Lacing system is smooth in the freezing temps and worked flawlessly with less than nimble fingers.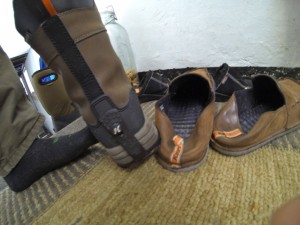 My previous experience with Korkers were with an older pair of wading boots that I loved, but when I ordered a size 12, they fit like an 11 and completely cut off circulation in my feet. Those were donated to a fellow angler with smaller feet and he annihilated them within two wading seasons. So I had hesitation on what size and which boot to order this round. Very happy I went with the 12. Korkers seems to have found a more appropriate sizing standard and with one pair of mid-weight thermal socks, these boots do all they have promised. The removable soles have been upgraded with a dual barbed front fork to firmly fit into the shoe's toe seat. The tabs have been relocated to the perimeter of the sole and have a larger lug to securely attach the sole to the base of the boot. The heel of the boot has a stretch tab to lock over a small knob to keep the sole in place. You will intuitively remove your second boot with the toe of your free foot only a few times before you remember that wasn't a wise idea the first couple of times.
Before you run out and purchase your very own pair of ICEJACKS, know a few other details. They will cost you. At about $210, they are not your everyday run of the mill winter boot. But remember you are getting more than one 'boot'. With multiple interchangeable soles for various levels of extreme weather, you essentially get three-in-one. The Omnitrax 3.0 interchangeable sole gives you options from rubber lugged, to steel carbide studs for icy conditions and even more studs for extreme icy conditions. I have been nicknamed a 'brand name' kind of guy. Don't get me wrong, I will pay full price for the quality and workmanship that goes into my Simms gear or Patagonia outerwear, the return is worth every penny when I am out in the elements. But that was not always the case and it took many years to achieve that level of experience. You see, I was the kid in middle school who never wore the much admired alligator on his soft collar campus shirts, instead I sported the off brand fox from some other department store. When a girl from 'out of my league' asked me to the midwinter formal dance-'Swirl'- I had to have a pair of Docksides so I could fit in with the rest of the guys who would be wearing white Don Johnson sport coats from Miami Vice fame. I saved my babysitting money and shoveling cash to get my own real Docksides. My savings fell short and I had to settle for the shoe store's similar brand, they did not last very long and I was out my hard earned money. I learned a valuable lesson at a fairly young age.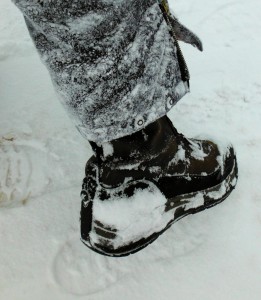 Good quality comes with a price. If you wish to purchase a new pair of boots every season, then go the less expensive route. But if you wish to have a pair of 'anything' to last you for years to come, make the investment and upgrade your gear. As a family, we are working on lessening our carbon footprint on this blue planet and are making everyday efforts to use less and get more, with two daughters, we shall see how far that goes…
This is the first part of many more reviews for the ICEJACK winter boots from KORKERS….