I happen to be a fairly big fan of the Ian Flemming novels from the sixties. I recall the skinny little paperbacks from my father's collection on my bookshelf while I was growing up. I hope they are packed away in box somewhere in the garage. So it is of no surprise I am elated to see previews for the latest installment with SKYFALL opening next week in theaters across the country. These are the films that require a 'Date Night' evening, for rarely do my wife and I have the luxury of going out and enjoying a film that isn't produced by Disney/PIXAR.
SKYFALL TRAILER
I don't wish to start a debate on which Bond was the best Bond, but rather, take a mental voyage and with a few literary liberties, envision a day on the stream with each of our childhood action heros.
Vesper Lynd: Rolex?
James Bond: Omega.
Vesper Lynd: Beautiful. Now, having just met you, I wouldn't go as far as calling you a cold-hearted bastard…
James Bond: No, of course not.
Vesper Lynd: But it wouldn't be a stretch to imagine. You think of women as disposable pleasures, rather than meaningful pursuits. So as charming as you are, Mr. Bond, I will be keeping my eye on our government's money – and off your perfectly-formed arse.
James Bond: You noticed?
Vesper Lynd: Even accountants have imagination. How was your lamb?
James Bond: Skewered! One sympathizes.
Vesper Lynd: Good evening, Mr. Bond.
James Bond: Good evening, Ms. Lynd.
I must concede that Sir Sean Connery was among the best all time Bonds and would imagine his gentile nature and smooth swankiness to place him along the rolling hills of Devonshire casting only upstream and ALWAYS using a dry fly. He may be
 rolling in a sporty Jaguar coupe but more likely to have a classic 1964 Aston Martin DB5 to compliment his '55 Mouton Rothschild or a Tuscan Sangiovese if he were to slum it with the common folk in his '62 Sunbeam Alpine on any other chalk-stream. His style and demeanor would be pleasant, offering you the next cast on the bend ahead with a pod of rising fish, but when your dozen or so casts prove uneventful, he will smirk his devilish grin and kindly request you step aside that he may have the privilege. On his Holiday, Sir Sean might take a leave and check out the bonefish action in Cuba, where he might sip a traditional Mojito and check out the local color.
George Lazenby might be off fishing with a sea worms for flounder or minnows for pike. Unfortunately, he was the only Bond to tie thee royal knot, so his time on the water is precarious and short lived. He never really made the top of the Bonds, might be the lack of edgy British character, the loss of his true love, or bloodline perhaps.
The Roger Moore series of Bonds were a little too trying, he seemed to work the angles on the women and I am afraid his lack of composure would expose him on the river, even though he had some of the coolest cars, those were the best tricks up his sleeve.
He might be found chucking hard body surface poppers for Stripers and driving a retro Land Cruiser or Jeep Cherokee up and down the coast.
He took a trip to Japan and fished for Yamame Trout, which frustrated him to no avail and he swore off the funny little whispy fly rod for heavy tackle surf casting. He has chosen to drink a bottle of Piesporter Goldtropfchen, mostly to impress ladies (to keep in touch with his feminine side), far too sweet and 'nectar' like for my palate.
Timothy Dalton and Pierce Brosnan were most likely college fraternity brothers, only a decade apart, they each had their taste preferences in cars, wine and women. While one might choose a French Chenin Blanc from the Loire Valley Vouvray, the other opted for the white Macon derived from Chardonnay in the Burgundy Region.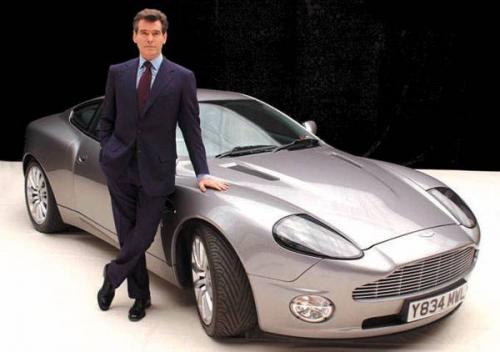 Their cars also varied in taste. They both opted for sport and class utilizing the Aston Martin V8 Volante or the DB5 and the BMW 750il or the Z3 for stunning lines and sexy appeal. But how would they fish? This is a very tough call. Weekend jaunts to Marathon for the Tarpon schools were a favorite and maybe a weekend in the Swiss Alps or Czech Republic chasing some browns, they both dabble and never fully submerse themselves into the sport of a 'Fysshynge with an Angle'.
In only a few short films, Daniel Craig has earned a high rating in the world of Bonds, sharp, witty, athletic and ever classic British. I envision his talents on the stream to match his taste and style of vehicles. Although out of the ordinary, he would drive the newest Safari style Range Rover or Toyota Landcruiser to his favorite respite on the water. Not above casting streamers or nymphs in New Zealand for hefty browns or drifting a two fly rig in the Rockies for cutthroat trout, his upbringing is traditional and would find comfort in casting sedges and Quill Gordons on the River Maigue in Ireland.
Of course he still prefers his Gordon Gin Martinis Shaken, not stirred, I could probably hang with him and be his net boy as we bounced up the west coast chasing steelhead through British Columbia all the way up to Alaska in time for the Silvers to run.
I cannot omit the one who makes this all possible-we know him as "Q" or Quartermaster, but really he runs a small inconspicuous little Hardy Reel Shop in Leeds. He has had only two faces for my generation- Desmond Llewelyn and John Cleese. Cleese does a splendid job, but Desmond Llewelyn was eternally quick with a retort and request for Bond to "Now, Pay attention, 007."
Bond-"You're cleverer than you look."
Q-"Hmmm…still, better than looking cleverer than you are."
We have see the likes of the Pen Grenade, Upgrades on the Aston Martin Volante and Vanquish/Vanish, teargas/explosive keychain and laser scoped Omega watch, but in our next installment we shall see the Walther PPK/S as a 9mm short with a personalized coded palmprint for operation.
 That may come in handy for scaring off bears on Kodiak Island waiting for the Heli out. Q has also delivered above and beyond with the CFO 3wt Orvis reel that doubles as a rapel/belay and winch in tight scenarios. Some tweeks on Bonds Gear bag- Simms Headwaters Pro Sling has a built in barometer/thermometer/hatch predictor, retainable hemostat with 500 lb. capacity and the integrated lanyard has built in infrared scope for night fishing. Some of the better, more user friendly options are the 5x & 6x tippet, which has a breaking strength of 1200 & 1000 lbs. for ascending/descending steep terrain and saving damsels in distress all the while, fooling those finicky surface feeding 24″ trout. We do have a new Q coming in the next film, not to let the cat out of the bag, but Ben Whishaw might be fresh out of Yale or Harvard and a sprite little 'techie' for some mature audiences. I want to give him credit for devising the Bond Nymph- classic and stylish with a Copper John demeanor and spunkiness, but wearing the ever svelte pheasant tail body wrap and a touch of peacock herl to entice onlookers.
 This fly produces when all else fails.
M-"Arrogance and self-awareness seldom go hand in hand."
Judy Dench has always been the best M for the series, I imagine her style to be akin to Joan Wulff, they both know how to get the whip out and get the job done.  These women command respect when they walk into a room.