We were excited, some of us more exuberant than others. We finally get to attend the F3T after a two year hiatus. Actually, this exact event was the last publicly attended social event we did back in 2020 before we were confined to our domiciles and forced to cook for ourselves, which wasn't a bad thing. As we waited in line, like cracked out junkies waiting for the soup kitchen to let us in, the guys behind us offer some of their Little Caesars Pizza, but we politely decline because we know we have destination with Brewery Vivant after the early show. Texts were sent to let the rest of the crew know masks would be required to enter, but little enforcement once we were seated. I was happy to be in Grand Rapids, see some old friends and hang out in my old town for the day. This area keeps getting better every year, hardly a shadow of its former image I recall in the 90's. This single event, along with the upcoming Midwest Expo fell like true rites of spring, harbinger of better weather and quality time spent chasing trout, bass and toothy esox. Let's get to the show!
What was the Best? Was there really such a thing? Not really. As a whole,  I feel it was well balanced. We hit on the main target species, kept it stateside and went global. Chasing some amazing fish off the coast of Belize and Australia and catching some nice browns during the epic cicada hatch of 2022 as well as showcasing a young family in Vail growing as a young female guide. I didn't feel like I was being pushed from all sides on conservation issues, we all know they are there- from water issues in Florida to California, public access and water rights in much of the West as well as the global concern of carbon and climate change is now a real thing. We have to be vigilant as anglers because we see our waters change before our very eyes.
Tom and Max Werkman were great at assisting Trent form ORVIS GR in handing out door prizes. The young gentleman who won the ABEL reel takes the cake for best and most enthused audience member. (video at the end)
Our crew came to general consensus that "Dan's Pain" was the best simply because we have ALL been there. He was certainly determined while watching him dance on the bow of the boat while casting at hoard of Tuna porpoising left and right- it was amazing he didn't throw himself off the skiff.
Top three Trailers- Cocos Keeling Island, Black Salmon and Legend of Casa Mar. The history behind an old Tarpon destination that had anglers like Stu Apte, Brooks, Kreh and a host of others that made it a point to fish there had to be special. Watching Blane Chocklett get repeatedly denied by monster cobia in open water, pretty cool. But the guys in Australia> first of all anyone who who just talks about average things in an Aussy dialect- "Look at this Fella, what a Rippa!" the bonefish and  Bumphead Parrotfish were very cool. Highly recommend getting out to see all these trailers, Bring a crew, make a night of it, you won't regret it.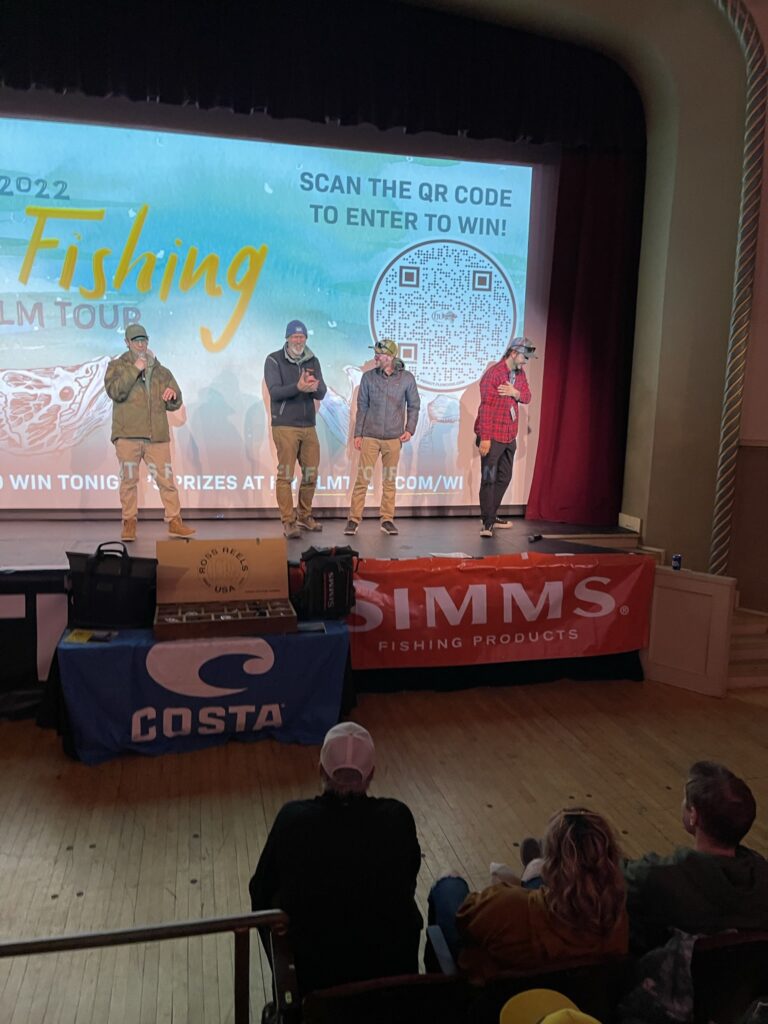 Three Sheets was cool, would love to just have the ability to take off on a boat and discover new waters off the coast of central America, if only I was twenty years younger and as financially stable as Elon Musk.
Thank you Schrems West Michigan Trout Unlimited for sponsoring a great night for me and a few hundred of our closest fishy trout bums!