Curious trends are happening across the US and everywhere in the world- recent Covid Pandemic has sent people outdoors. Finding trails, parks, campsites, and nature preserves many didn't even know existed. Which is a good thing. We have more hikers, bikers, campers, canoers and fishers than ever before. We have more traffic in parks, but we have more conservationists for the resource as well. The fastest and most surprising sub-section of this market is the female fly angler- they are embracing the silent aspect of getting in the river and chasing whatever species they may have for the pure beauty and solitude of escaping the crazy fast paced electronic driven business world we may feel trapped in. I recently had the opportunity to float with a few lady anglers and we began talking about how they got started in fly fishing and I began to wonder how we could engage more female anglers and make more people feel welcome to pick up the ever intimidating male dominated leisure of fly fishing. So we had a casual conversation over shore lunch and began the dialogue "How to get more women into Fly Fishing"-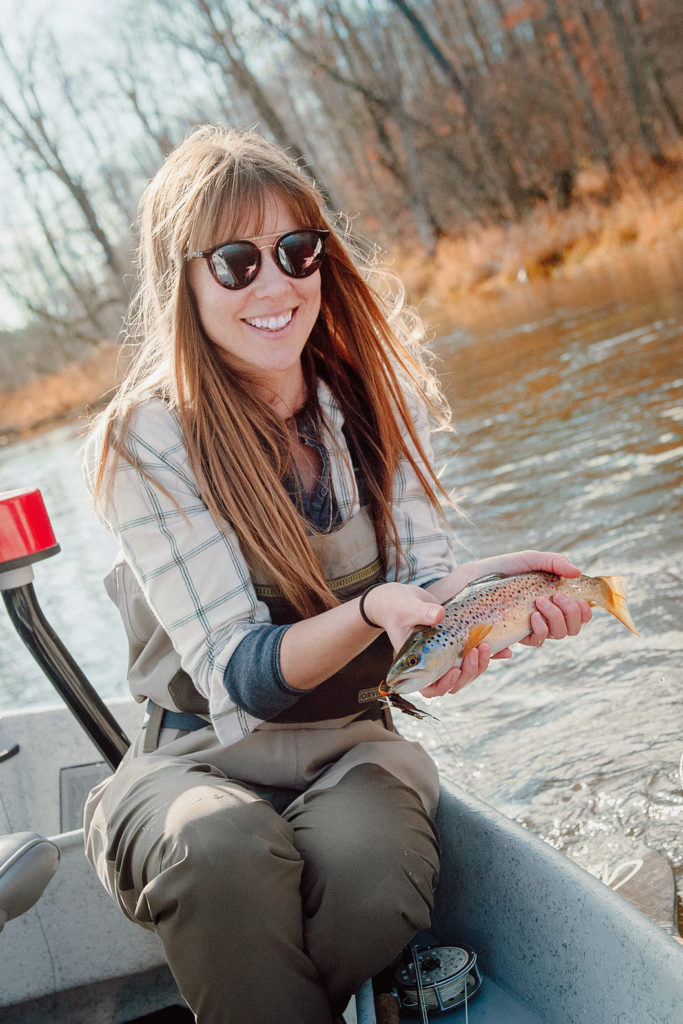 Dani Knoph Local artist KNOPH Studios DK Wildlife
When were you introduced to fly fishing? By whom? My parents bought me a TFO fly rod as a birthday gift when I was living on my own out west, at the age of about 24—I'd taken an interest in salmon. But I didn't start using the rod until I moved back to Michigan. Once I began learning about trout in Northern Michigan rivers, a long term relationship with fish began to unfold. I signed up for casting lessons, attended the TU fly school at Ranch Rudolph and made it a personal goal to schedule a float trip every year.
What do you like most about being on the water? I love the solitude, peace and quiet, beauty and wonder of being on a well preserved river. It's always a pleasure to see wildlife along the way. This is what keeps me coming back to fly fishing.
How would you suggest getting more women involved in fly fishing? Hosting annual or bi-annual overnight/weekend events for women so that they can build on skills over long periods of time is an idea. Break out sessions could divy up the greater group by skill level. I'd suggest hosting it at one of the lodges on the rivers or at a place nearby water, where participants can get their hands wet. Just make sure to leave time at the end of the day for a glass of wine!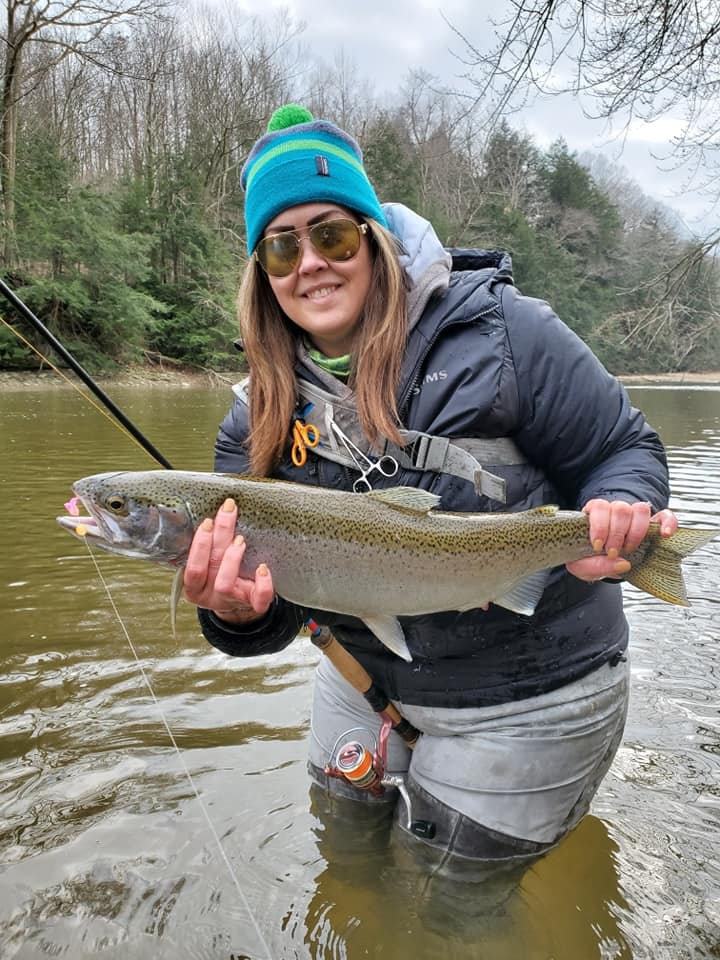 Heather Hettinger DNR Fisheries Biologist Lake Michigan Basin
When were you introduced to fishing? In-utero? Seriously, I was born in the middle of steelhead season, and infant car seats fit on the floor of Ranger bass boats under the consoles. I don't ever remember a time not being on the water!
By whom? Pretty much everyone onthe material side of my family, but especially my parents. My dad grew up trout/steelhead fishing, and by the time I came along he was tournament bass fishing across the Midwest. The first thing my grandfather did when he came home from WWII was buy a cabin on the Little Manistee- that cabin later progressed to a cottage on an inland lake, but my mom and her sister were subsequently always raised on the water. Lots of weekend afternoons in the summer spent on a pontoon boat- Grandpa driving, while Grandma was pulling bluegills off my hook.
What did you like the most about being on the water? I think its two things, which are polar opposites; tranquility and comradery. Sometimes I really relish in the tranquility of a quiet stream or lake, having a spot all to myself, just enjoying nature. But….I also enjoy a boat full of people taking turns reeling lines or a steelhead stream with a half dozen good friends heckling each other. The beauty of fishing that it can provide you each situation when you need it.
What brings you back to fishing/how did you progress into fly fishing? I have actually never left fishing- between my career as a fisheries biologist, my guide/former charterboat captain husband, and my lifestyle, fishing and fish have always been an intricate part of my life. Admittedly fly fishing is not my primary means of angling- I am definitely a spinning gear girl- but for smallmouth and panfish in some of the small kettle lakes around me a popper bite on a light rod is one of my favorite things.
How would you suggest non-profit groups get more women involved to become members? I struggle with this one sometimes…I grew up in a family and in a group of hunters and anglers who didn't treat me any different being a girl than they would have if I was a boy. Now in adulthood, I don't want to be catered to by a group simply because I am female, I just want to be treated the same. I understand that some women who are new to hunting and angling don't necessarily feel that way because the whole thing intimidates them, so I personally feel as though you have to be cognizant of both camps of women. Definitely hold events and workshops catered to women who are new at the sport and provide them a quality space to develop their interests, but don't forget about the women who have been there all along and just want to be seen as equals.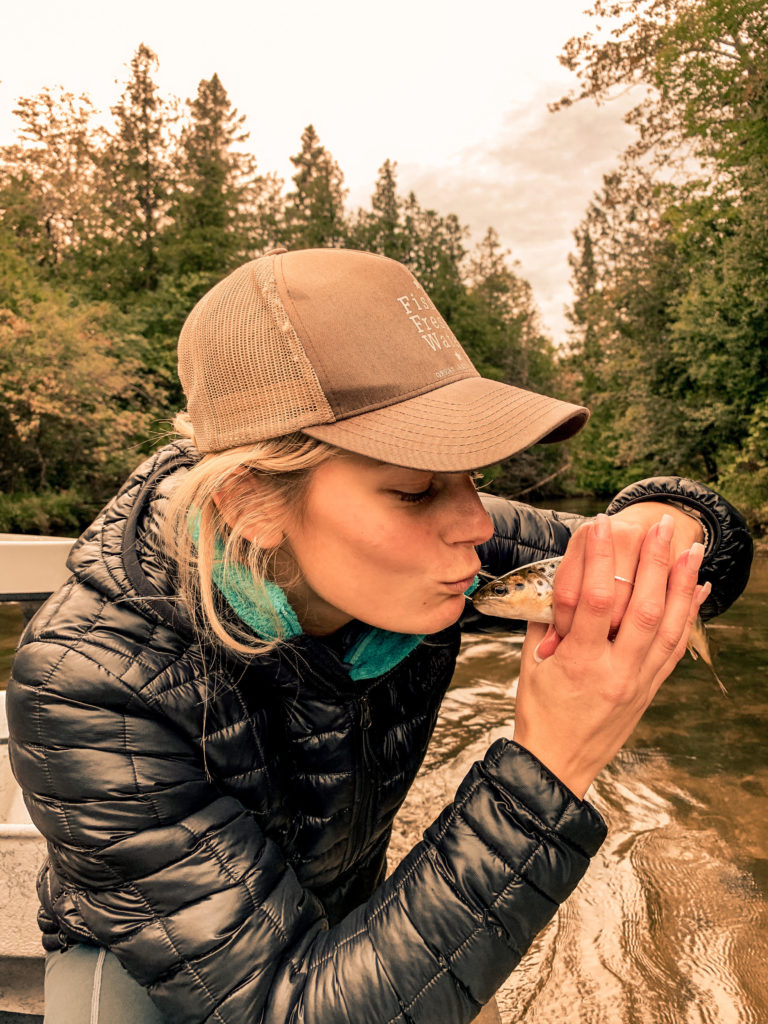 Louise Mooradian Office Administrator Walloon Lake Association and Conservancy
When were you introduced to fishing? What did you like the most about being on the water?
I was introduced to fly fishing about a year ago by Sam. What I like most about being on the water is that I think it is very relaxing. It is one of the few ways I have found to give me the opportunity to be outside literally all day long, and appreciate nature in the peace and quiet. I progressed in fly fishing by going out with Sam, and really listening to him because he is a great teacher, it took me a few times for it to click.
How would you suggest non-profit groups get more women involved to become members? I think a good way to get TU connected to more women is to get TU involved in area community events, not just in a specific fishing way. Find other organizations whose missions are centered around appreciation for the outdoors, and find ways to partner with them. It is a great way to network and find people that like to fish or people who never have before that may be interested. Also holding community outreach programs/events where you advertise on social media and at local businesses. Where I work at WLAC, if it weren't for COVID, we would be holding events where we invite people in the community that aren't even within our organization. For example, we have a "womens' breakfast" once a year where we invite women from the community to eat breakfast and listen to speakers (local business owners, skilled women, etc) that we invite to speak. The event isn't land trust related necessarily, so it gets outsiders interested in what we do. I definitely wouldn't be interested in fishing if it weren't for Sam, it just took one person who was passionate about it for me to appreciate it.
Have a great weekend!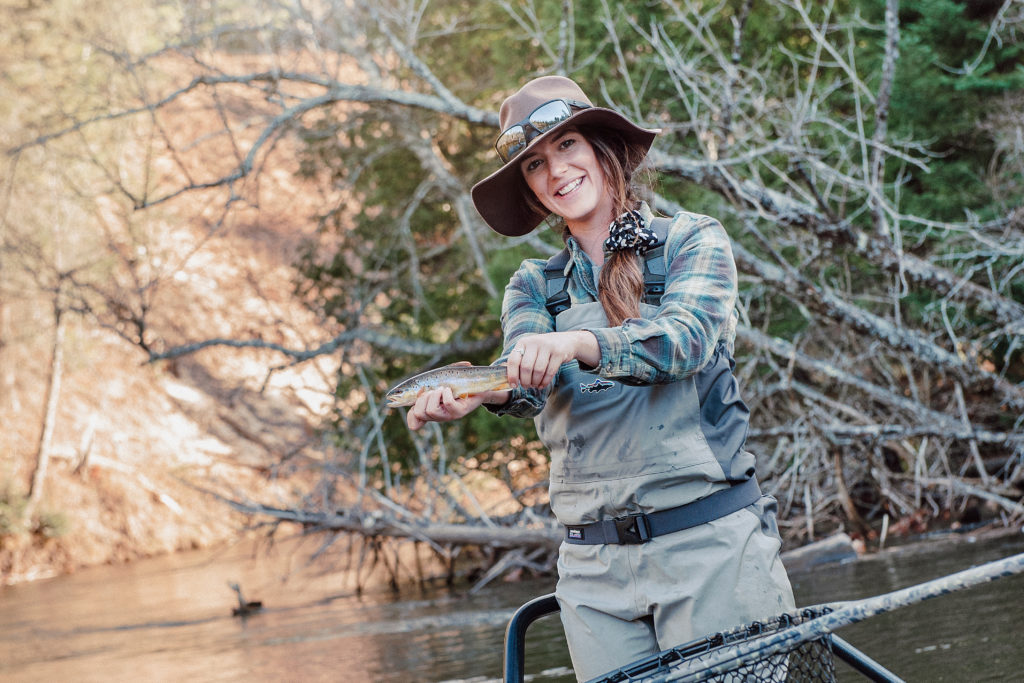 CHELSEA OLIVAREZ– Bartender/Adventurer
When were you introduced to fishing?
-I was exposed to fishing at a super young age, but I think I held my very own rod at age four. In 1999 I caught my first bluegill on a worm. Safe to say, I was the one who got hooked.
By whom?
-I grew up in Southern California and every man in my family, from both sides, was an angler of some sort. My family on the coast were super into deep sea fishing at the time, while my dad's side was closer to the mountains and fresh water. I can still vividly remember the first carp I ever caught, and biggest for that matter. My cousin Ashley and I named it, just in time for my Papa to turn it into carp stew… lol… come to think about it, maybe that's why I prefer catch and release now. RIP "Carly Carp", I am told she was delicious.
What did you like most about being on the water?
-To be honest I don't remember what I liked most about being on the water back then. But, my dad said after I started catching fish I would ask him to take me to new places every weekend and when he agreed, which he usually did, I would get really giggly about it. I was always attracted to the experience as a whole; Community, connection, exploration, and discovery never fell far from a day on the water.
What brings you back to fishing?
-Oh man, what doesn't bring me back to fishing?! Fishing is a challenge. You can do everything right, have the best gear, fish the most pristine conditions, and still get skunked. But that's the wildness of nature, and making the connection of where we belong in the natural order is a big part of the experience for me. Not to mention how many different types of fisheries there are, each with unique communities of anglers almost always willing to teach you something. Being on the water leaves me with a sense of wonder and constant gratitude to be a part of something so much bigger than myself. Something very worth protecting.
How did you progress into fly fishing?
-I didn't pick up a fly rod until I was 21. An old friend of mine gifted me a TFO BVK 8wt, a few lines and taught me how to cast. Eventually I learned to tie a Clouser minnow and caught my first bass on the fly shortly after. Later that same year I was introduced to a group of guides on the PM, where I heard the term "trout bum" for the first time. I'll never forget how hard I laughed that weekend, especially at the fact that I'd never wanted to be a "bum" of any kind, so bad in my life. Had it not been for them, I may still be blind to the community of conservationists and enthusiasts that make up the fly industry- and for that I am forever grateful. An underrated bunch, I'd say. Now, I've caught almost 20 species on the fly across the country, with many more on the agenda.
How would you suggest non profit groups like TU/BHA get more women involved to become
members?
-To get more women involved in groups like TU/BHA, we need to get more women involved in the sport. In my experience, the biggest barrier for women getting involved in the industry, are proper resources. A lot of us were introduced to fishing by dad, or grandpa, or boyfriend who had all the right tools in the garage waiting for us. So in a predominantly male sport, it can be intimidating to know where to start, let alone having the means to do so.
Creating specific opportunity for women to get on the water, and try it out without breaking the bank gives a larger group of ladies from all backgrounds the chance to see if it's something they're interested in. In reality, I still fish with my gifted rod and had it not been a gift, I wouldn't be where I am as a fly angler. I believe giving women equal opportunity and representation is how to get more ladies involved in the community, & in turn, wanting to give back and protect the water and fisheries that hold the soul of the communities.
Any other insights/stories?
-I have a few saved for a rainy day. 😉 Happy to be a TU member and stoked to start giving back. Thanks for thinking of me.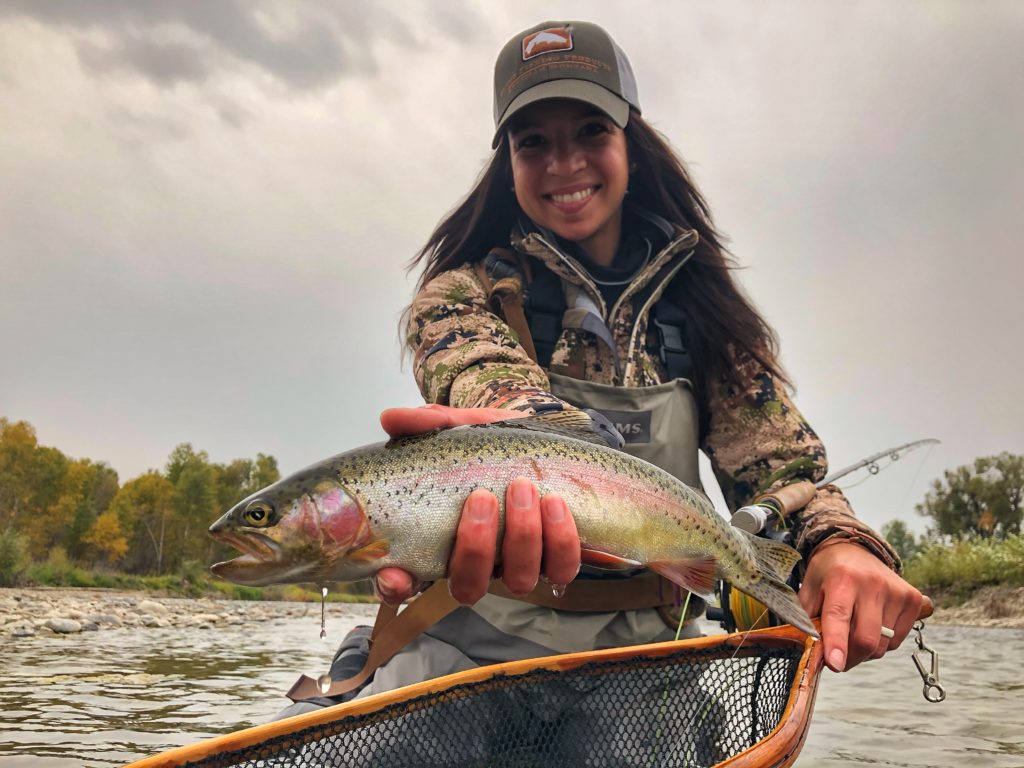 Amber Casey– Elk hunter/outdoor adventure seeker
When were you introduced to fishing? By whom?
I'm sure I was on a boat before I could walk and casting a Snoopy pole before I could ride a bike. My mom, dad, two older brothers and I took a lot of weekend or day trips up north somewhere and fishing was always involved whether it was from the bank or a small aluminum boat we could barely fit in (my parents still use that boat). Fishing mainly consisted of small lakes searching for bluegill, perch or any other pan fish – nobody really did the river fishing.
What did you like most about being on the water? I find it difficult to put that into words. It's such a therapy session – except when I miss a big trout. Then it takes hours to calm back down, with the help of some bourbon. That's the beauty of it though – no matter what's happening it's always good for the soul. I've had peaceful (and frustrating) days on the water by myself, in good weather, in bad weather, with good friends, with my family, days with no fish and days where I've watched my friends land some hogs. All of those situations heal in different ways, and all are needed.
What brings you back to fishing/how did you progress into fly fishing? What I described above is what always brings me back along with the beautiful places it takes me. I also love exploring new water. Landing something is just a bonus. So my husband is the one who first got me out on a river back when we were dating, but with spin gear. I've always had an infatuation with fly fishing, so when I finally had the time and money to do it, I picked up a cheap fly rod from Cabela's and just did it. Up until this year, I really only went out barely once a year. Boy did that change this year – thanks to some people I've met over the years. I've learned so much and I love it! My bank account has taken a hit though : ) Fly fishing is now my go-to.
How would you suggest non profit groups like TU/BHA get more women involved to become members? As for getting more involved in fly fishing….just do it. Don't be intimated. Research it, or ask around. I can assure you somebody is willing to take a newbie out fishing.
Any other ideas/insights/stories? I'm still fairly new to fly fishing, but I've gone more times this year than other years combined and a few of those times included Montana. I've learned so much, and I have many people to thank for that. They invited me along, took me under their wing, watched me fail and succeed and put up with my attitude…not knowing getting out on the water was what I needed most. A few of those have become very good friends. The only way I've been able to repay them (so far) is food and beer. My point – fishing introduces you to amazing people and places you never would've met or experienced by sitting on the couch. I can't stress enough – don't be intimated. Reach out, ask questions and hit the river any time you can. My only regret is not starting sooner.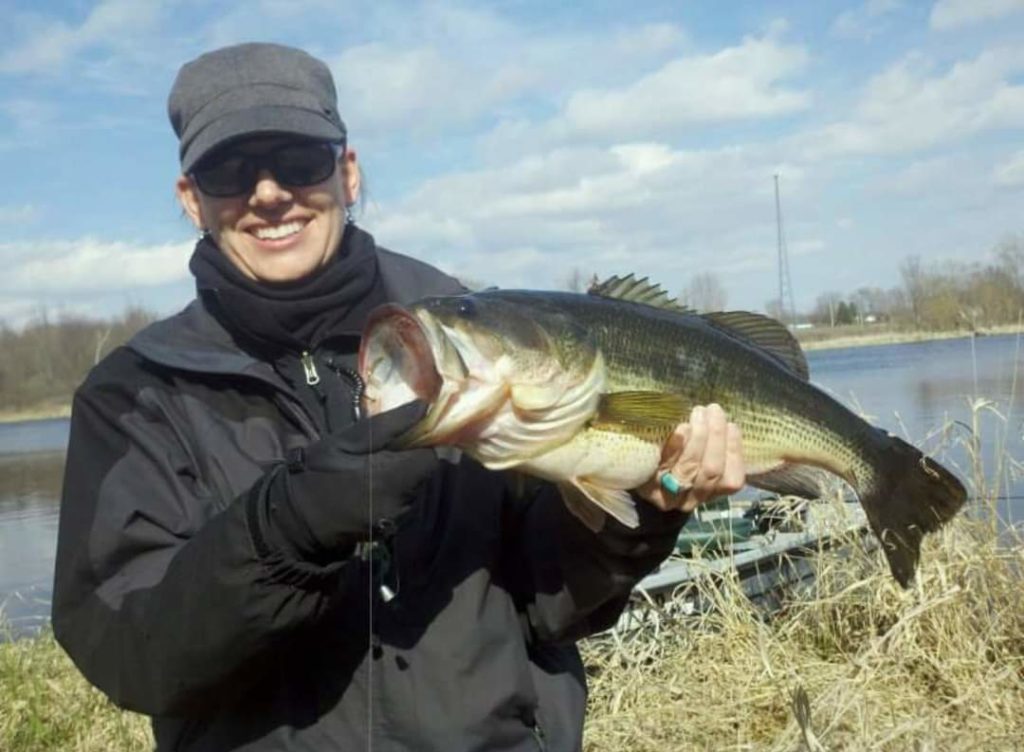 KIM METTLER- Michigan Barefoot Memories Photography
When were you introduced to Fishing? Around age 6 or 7
By whom? My dad
What did you like most about being on the water?
The quiet of nature & the thrill of catching something. And, looking back, probably quality time with my dad too.
What brings you back to fishing/ how did you progress into fly fishing?
Introduced by Koz, something I've always wanted to try! I haven't fished much since my divorce (being single and not having anyone to go with)…been nice getting back into it a little.
How would you suggest non profit groups like TU/BHA get more women involved to become members?
Connect with groups of outdoors women that are already established. There are plenty of various groups specifically for women (hiking, paddleboarding, camping, adventuring)….connect with a few women in those groups, who can then serve as ambassadors & set up women-only workshops or float trips. As previously discussed, one of my biggest mental obstacles was being around men who already knew what they were doing. I think being around other women who are also learning takes the pressure off. Also worth noting that women learn differently than men….verbal vs visual, etc. Having women leading and teaching this skill could also be helpful in attracting other women.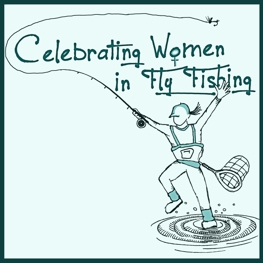 Celebrating Women in Fly Fishing 2020
The CWIFF2020 Virtual Expo, held December 4-5, succeeded in uniting women fly fishing professionals 'virtually' from all over the United States, Canada, Newfoundland, Japan and Australia. This event was a live, online Expo and participant interaction was instrumental. Both women and men were invited to attend by first purchasing a ticket to enter the expo; upon purchase, participants were able to explore twenty-one different Zoom meetings held virtually under one roof.
Zoom technology was still fairly new to most people, so for CWIFF2020 to be successful, volunteers, presenters, and exhibitors needed to understand how Zoom worked as well as how to navigate the event. Organizers took it upon ourselves to train all our exhibitors, education presenters, casting instructors, and even participants on how to be successful during CWIFF. (Incidentally, CWIFF also created a bunch of Zoom-savvy fly fishers!)
Upon reflection, overall coordination of this event was an eye-opening experience and incredibly rewarding. Most importantly, everyone's contributions made CWIFF a success—the collective excitement in the creation of this event showcasing women in fly fishing is still energizing!
Overall, the goal to spotlight the talents and contributions of our female fly fishing professionals was a tremendous success! To the fly fishing industry, I encourage you to take note of participants, educators, and exhibitors' enthusiasm and energy the CWIFF Expo created: we as women anglers have been here and are here to stay.
Corie Berrigan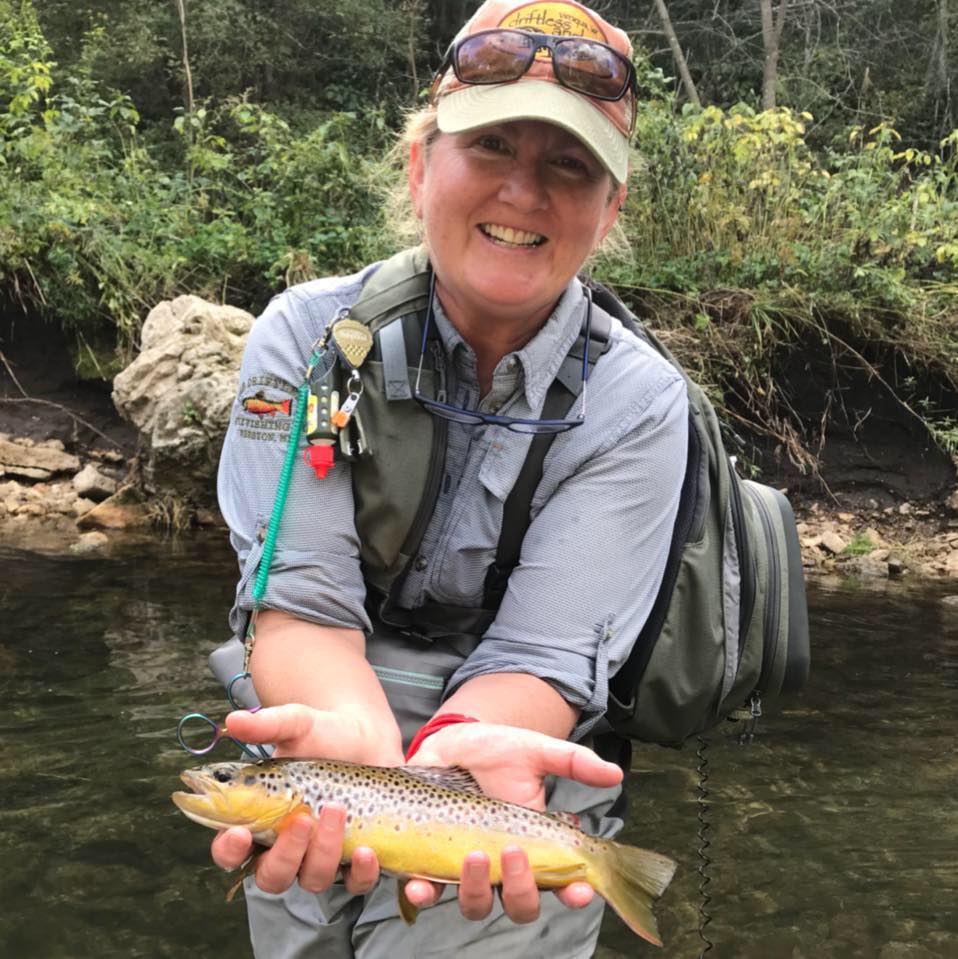 Avid fly fishing angler, educator & event coordinator. Co-Producer & Event Coordination of 2020 Celebrating Women in Fly Fishing. 5th year Board Member of Fly Fishing Women of Minnesota, 2020 Chair. 1st year Board Member of Fly Fishers International Women Connect & Communications Chair for FFI Women's Programs. Creator of Passport Quest & FFWOMAN Social, social events at Great Water's Fly Fishing Expo in St Paul MN.
-*-*-*-*-*-*-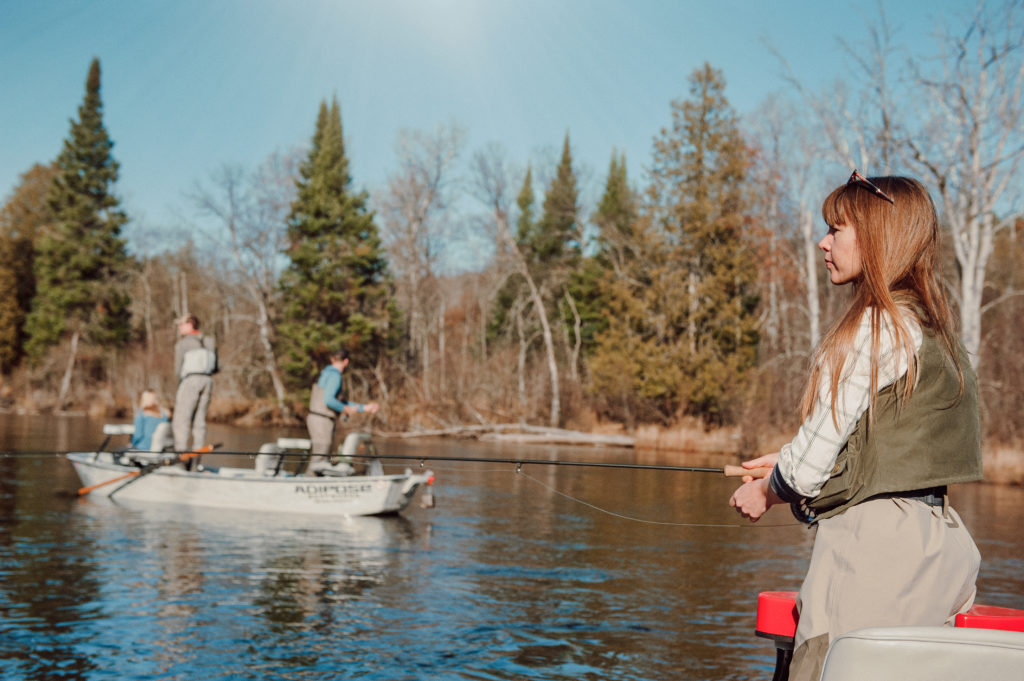 I would venture a guess that these ladies will be on the water a lot more in 2021. It comes as little or no surprise that the female demographic is/has been on the incline for a few years. AND WHY NOT?? It is so awe inspiring to have more fellow anglers appreciate and protect our resources. Look into your resources for future Outdoor Women Clinics. The Schrems Chapter TU holds an annual Women on the Water sponsored by Dry Fly Sales at Gates Lodge or on the Pere Marquette, while the Michigan Department of Natural Resources hosts BOW-(Becoming an Outdoors Woman) with a large variety of outdoor activities with knowledgeable guides and hands on learning for all experience levels. I have to mention MayFly Project– who works with Foster kids and getting them introduced to the fly fishing, without which, many children wouldn't have the opportunity to learn. These programs all need your support- whether financial or just by merely showing interest and helping out. There will be an increased benefit down the road for all of us if we share our passion for the outdoors.