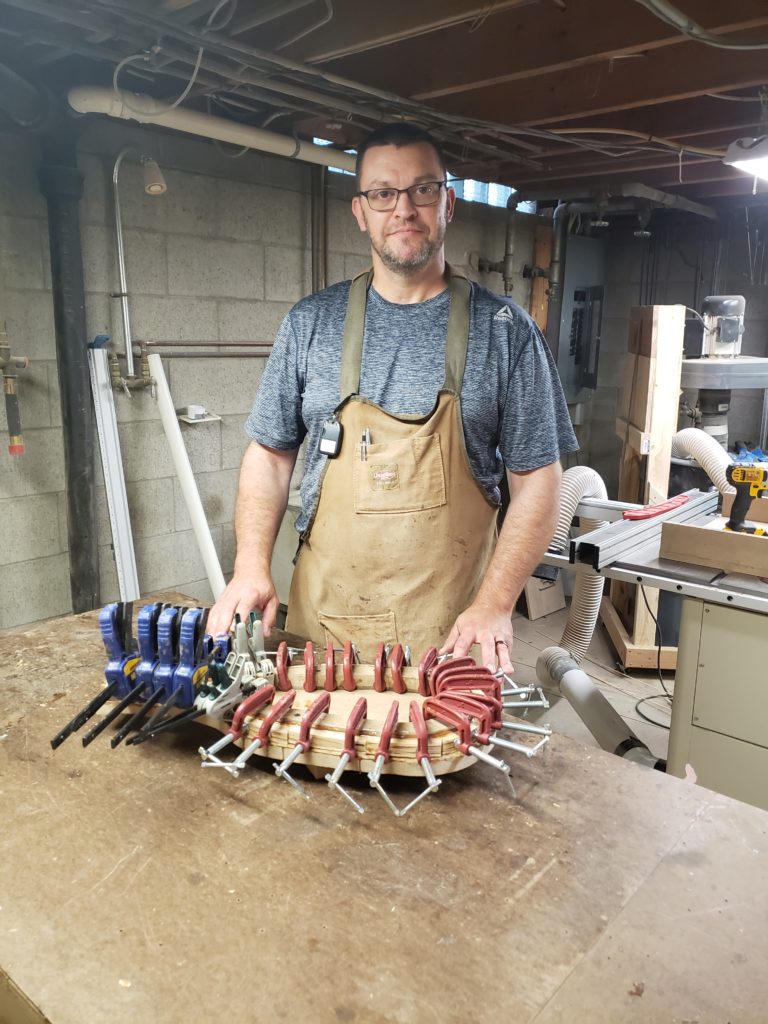 Nets from Bryon Anderson- Recently had a chance to get the latest from woodworker and net maker Bryon. We met years ago at a river cleanup and immediately fished that afternoon. It is always a pleasure bumping into him on the river and talking about some of his writing and his latest hobby- net building. So here is what he had to say~


I am what you might call a successfully transplanted Michigander. I came here from my native rural Missouri after college, newly married and but recently introduced to the wonders of this thing called fly fishing. We landed in Ann Arbor, in an apartment whose one redeeming feature was that it was right on the banks of the Huron River. For two years, that river taught me to fly fish, and with those new skills came a piece of truth that every fly fisher knows too well: one fly rod is never enough.
I was drawn to the idea of building my own rods at first for the simple reason that I was poor, and, I soon learned, with a little practice I could build a nicer rod than I could buy finished for the same money. I built a 3-weight that not only serves me beautifully to this day, but also reminded me of something I already knew from tying my own flies, which was that I enjoyed building my own fishing tackle almost as much as I enjoyed using it. That realization led to building many more rods, making furled leaders, and eventually – when I decided that I "needed" a portable fly tying bench, to woodworking.
I had just started flirting with the idea of building my own landing net when I became an instructor at a Trout Unlimited fly fishing school, where I had the good fortune to meet Jim Newland, a fixture at the school and in Northern Michigan fly shops, where he sold his signature handmade nets. Jim and I hit it off and, several weeks after the school ended, he emailed me to say he was retiring from making his nets. He invited me to visit his workshop and take home many of his specialized tools and bending forms and materials, with the hope that I would carry on the tradition.
Jim's shoes were big ones to fill; my skills were still developing when I was blessed with his friendship and generosity, and it took me a while before I could produce nets that were worthy of association with his, while developing and blending in my own aesthetic too.
Process
My process is very similar to Jim's. I start with thin strips of hardwoods – mostly Black Walnut, Hickory, and Maple sourced from Michigan forests, but sometimes mixed with some more colorful exotic species such as Padauk, Canarywood and Niove, as well. The strips are soaked in boiling water to make them more pliable, and then bent and clamped around a wooden form to create the shape of the net hoop. After the wood dries in the desired shape, the wood strips are laminated together using a waterproof plastic resin glue and again clamped to the form and glued to a handle made of one or more hardwoods, sometimes with accents made from highly figured wood burls. After the glue cures for 24 hours, I begin the process of sanding and shaping, creating contours that are pleasing to the eye and that make the net rest comfortably and feel good in the hand. The hoop is also slotted and drilled to accept the net bag after finishing is complete.
Once the desired contours are achieved and the wood is sanded very smooth, the net can be customized with woodburning, carved epoxy inlays, or various other artistic effects if desired. It then receives a coat of a waterproof sealer that will ensure that water can never enter the pores of the wood and cause it to rot. It is then topcoated with multiple coats of a good marine spar varnish, which produces a satin sheen and provides more protection against water, and also against UV radiation.
The final step is sewing on the net bag. Most people now favor the soft rubber bags, which, while heavier than traditional cotton or nylon bags, are less likely to snag on hooks, and which are believed to be friendlier to the protective mucous coating on a fish's body. I use the rubber bags on my nets that are large enough to accept the sizes they come in. My smallest nets get a soft woven nylon bag that is still very fish-friendly. All of the bags, regardless of material, are U.S.-made and of very high quality.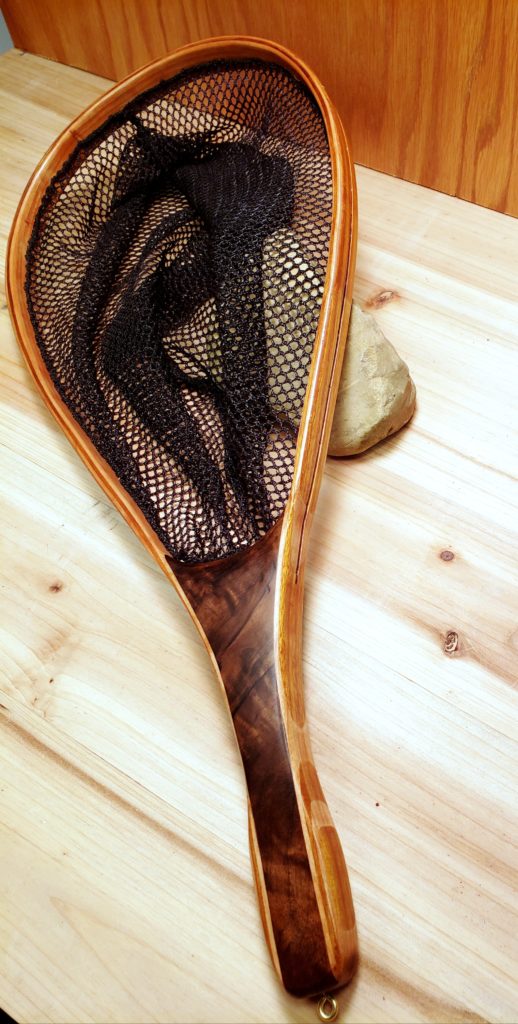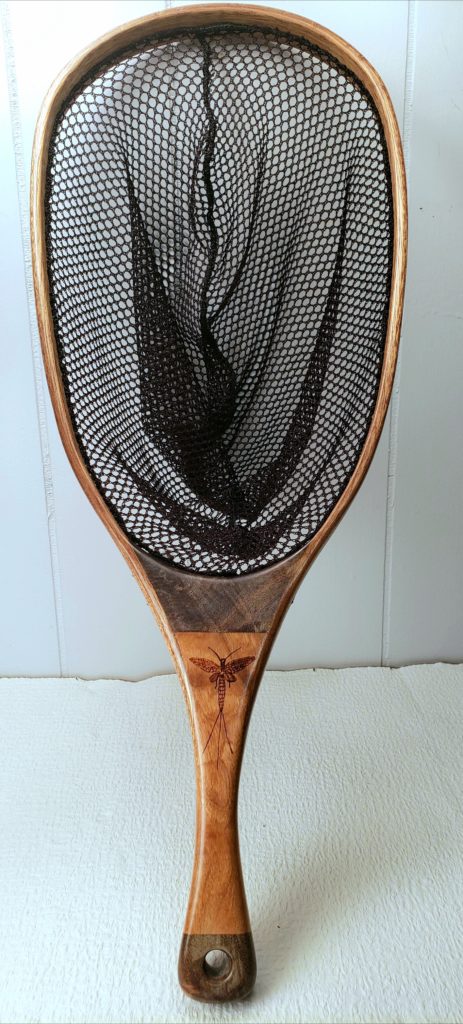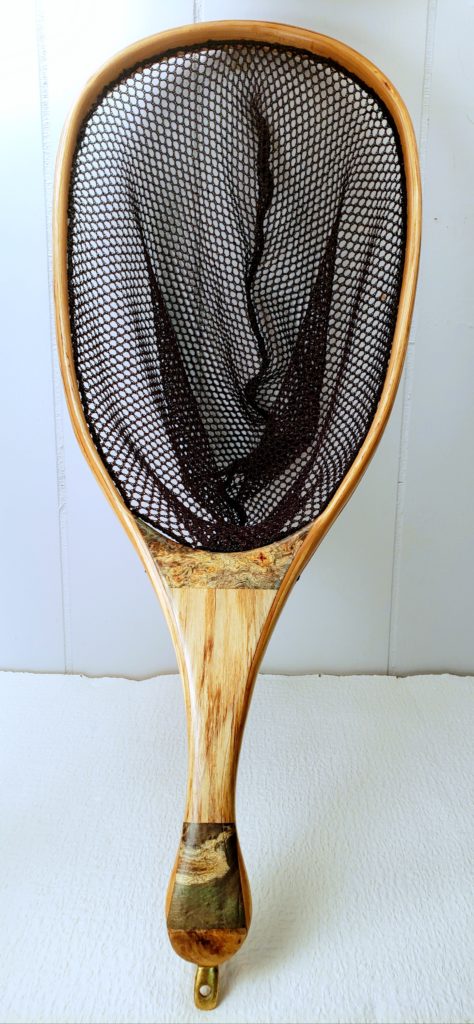 Bryon's nets range from around $100 to $120. Special orders can be requested. Find his work on ETSY here.