Friday night. I roll into town in my fishcar. The traffic around me is flying by at around 80 mph pumping out music on every station on the dial. After spending three decades in this area, I feel as if I can check out the car next to me and perhaps recognize a familiar face. I took a cruise through downtown – all my former haunts were replaced by trendy sports bars or gastropubs. It seems that Grand Rapids is a booming metropolis.
Saturday I'm up at the crack of dawn looking forward to participating in the Celebration of Fly Tying – my fourth year at this venue. It is always good to catch up with local enthusiasts about conservation projects on nearby rivers, and I book a few trips on the side. It's the perfect cure for cabin fever with spring on the verge of emerging.
Saturday evening, it's date night with the wife. She gracefully agrees to accompany me to the weekend 'fishporn' event. We enjoy dinner at the Winchester and then head over to the Wealthy Street Theater to rub elbows with my fellow anglers.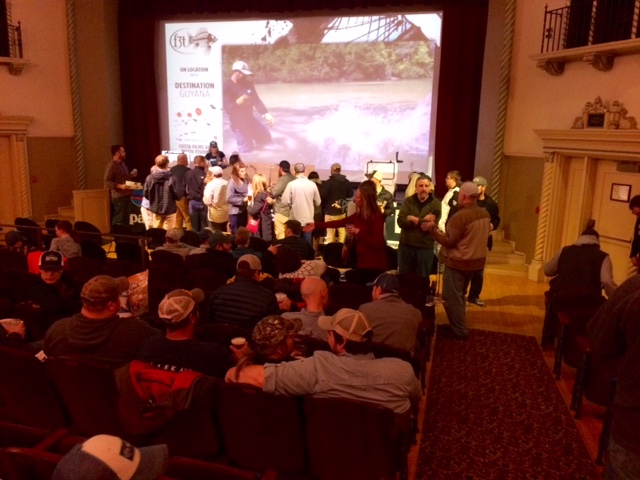 "Are you Mrs. Koz? Congratulations on selling your house! It's nice to meet you. I've only seen your picture on Facebook." This is how my wife was greeted on the way back from the bathroom at the F3T showing last night. After returning to her seat, she mentioned how it was nice, yet a little freaky, to be recognized in a crowd of fish fanatics. The F3T was stellar and contained many faces and names I recognized from the industry. Rebecca Red was on hand, and my wife was happy to have someone else to tease me about other than April Vokey.
The previews included "Abel Women," showcasing some of the world's best female anglers.  In my opinion, "Finding Fontinalis" stole the show. This preview featured Yvon Chouinard and some of the most breathtaking landscapes while pursuing brook trout in Patagonia.  The saltwater segments in the Seychelles were extraordinary, but "Chrome" hit home for me because it touched on the issue of global climate changes and their effects on our fisheries.
Some of the more explosive footage, reminding me of the fourth of July fireworks, was the "Chanos Chanos."  The entire theater ooh'd and aah'd simultaneously at the acrobatic runs and jumps.  Amazing!
There is a change in the force. You can sense it. The Grand Rapids area had a great showing of support for the Trout Unlimited, Adipose, Orvis, Yeti, Costa- sponsored event. Two sell-out showings on a Saturday evening with steelhead fishing weather at hand. For an evening, there was a theater full of men and women all pulling together to show support toward a common goal. Whether you believe in climate change or not, having a looming threat or crisis seems to unify our fishing community to protect our future fisheries.
I want to thank those who "recognized" me this weekend, asked to fish with me, and expressed their appreciation of all of my hard work.  As Jeff Currier said most eloquently- – – Work Hard, Fish Hard, and good things with come.
We are after all, just Trout Bums.