The Holidays are upon us. The hustle and bustle is evident everywhere you go. The tree is up and adorned, wrapping shall commence this evening. Plans are made for family and parties to share the joys of the season. If you have been good, you may find a few special fly related gifts under the tree. If you were REALLY good, you may be blown away by Santa's generosity. Here are just a few, a relative short list of items you may want to get in before the week is out.
Yeti Rambler Tumblers~ 20 oz. or 30 oz. and YES, they are totally worth every penny, even though they may be an inflated $30-$40 coffee mug. I chose the 20 oz size, the thirty seemed to be a little overkill and may be cumbersome fitting in some boat cup holders. I can personally attest, it will keep your favorite java not only warm, but HOT for hours on the river or while on the road. Say what you will about the Cooler company who has taken the outdoor industry by storm in the past few years, as a coffee lover, one can appreciate keeping your Kona blend hot for the better part of your day. I am also told they do a great job at keeping frosty cold beverages frigid, I shall stick to my fresh roasted beans.
Therma-Cell Mosquito Repellent ~ for you and your family. This product has saved many a bug filled evening and kept both myself and clients on the river late into the evening on some of the most epic hex and drake hatches to date. The company offers a variety of colors, from the basic olive green to pink and a couple of camouflage options in the waist clip-on package. Prices range from $25-$30, refill and combo packages are available, which include refills and appliance holster with clip for under $50. Often asked, "How does it work?" A small butane cartridge warms a metal plate that has a felt-like pad which activates the repellant alletherin, a copy of a chemical compound found naturally in chrysanthemum flowers. There is little or no odor, just a definite lack of pesky mosquitoes and black flies. It will take about twenty minutes to take effect, and works better if there is no wind. There is no open flame, but the metal plate and protective grill can get warm, be careful putting the appliance in or on your waders. I am looking at purchasing the lanterns for friends and family for outdoor uses such as camping or gardening, and recently noticed there is an 'Earth' scent, which I will buy simply because I am curious what dirt should smell like. I have to thank Jim Weber, our car spot on upper Manistee, for introducing the ThermaCell to me a couple years back. You can often see him wear one on each hip, and when you spend as much time in the woods and on the river as he does, you can appreciate any advice he has for you.
SCIENTIFIC ANGLERS AMPERE/ELECTRON REEL~ SA is aiming at pairing up their phenomenal series of fly lines with some stellar reels that pack a ton of space age technology into a modest priced reel for every budget. The Ampere is a basic large arbor reel with near bullet-proof statistics, available in two sizes, Ampere II (4-6 weight line) and the Ampere IV (7-9 weight line) wont break the bank at $90. Cast aluminum reel with a Rulon to stainless stacked disc drag could prove to be the best fish fighting reel under a C-note.
The ELECTRON packs more punch and a few more sizes for a mid priced reel, between $165-$185. Light weight machined aluminum from Aircraft grade 6061 aluminum give this reel an awesome feel and perfect drag to handle anything from small stream trout to migratory steelhead. Be sure to check out the SONAR Titan lines to match up with your streamer needs.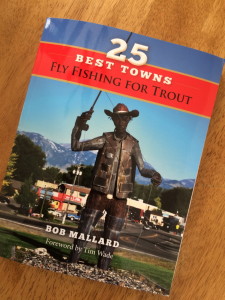 Some of the best local intel on where to go for a beer/burger, what to do with the family and some history are perfectly matched up with phenomenal writing and attention to detail and spectacular photography are found in this compilation of great 'towns' by Bob Mallard.   Mr Mallard spend the better part of two plus years plying water with some of the stellar guides and advocates for the fly industry. If you are looking for the best 'How To' Fly fishing books, be sure to get Stonefly Press "25 Best Towns to Fly Fish". It may be too late to get a copy by Christmas unless you inform Santa that the best Fly Shops will have Stonefly Press books for your winter time reading.
Secret Santa's looking for a perfect Stocking Stuffer, >>click here<<.
Happy Holidays from True North Trout.