What a great concept!! Very Innovative! Adding color to any nymph pattern you have in your fly box, kind of like finishing off a perfect fitting suit with a smashing neck-tie/cravat for you folks over the pond. I was contacted a couple months back by Joe M. from Bozeman Fly Goods with a proposal to tie a few bugs with these new Bug Collars. I gladly accepted with the agreement I would give a little love on the media circuit.
My first impression is simple, first, why didn't someone think of this sooner?
What is a Bug Collar?
They describe them as doughnut shaped brass beads to add a 'Hot Spot' to your fly. Can't agree more. A small collar to add color or flash to your Bird's Nest, Prince Nymph or Copper John, come on!! This is a no brainer. I tied a few Johns and Zug bugs, aka 'Choking Johns' and 'Choked Zug', along with a bead head version of the Otter Nymph, a classic under utilized fly from my arsenal. They look amazing! Get Ready to "Choke Your Bug"!
They come in a variety of sizes and colors.
Here is the break down:
7/32″ for your larger  bugs in Fluorescent Pink & Red, Blue and Red
3/16″ for large nymphs in Blood red, Fluor. Chartreuse, Pink & Bright Green
9/64″ for medium flies in Fluo. White , Red, Yellow and Light Pink, also metallic Red
1/8″ for small nymphs in Olive, Orange and Fluo. Lt. Blue, Pink Orange and Chartreuse
7/64″ for micro nymphs in Metallic Pink, Purple & Red, also Fluo. Orange, Pink, Yellow & Purple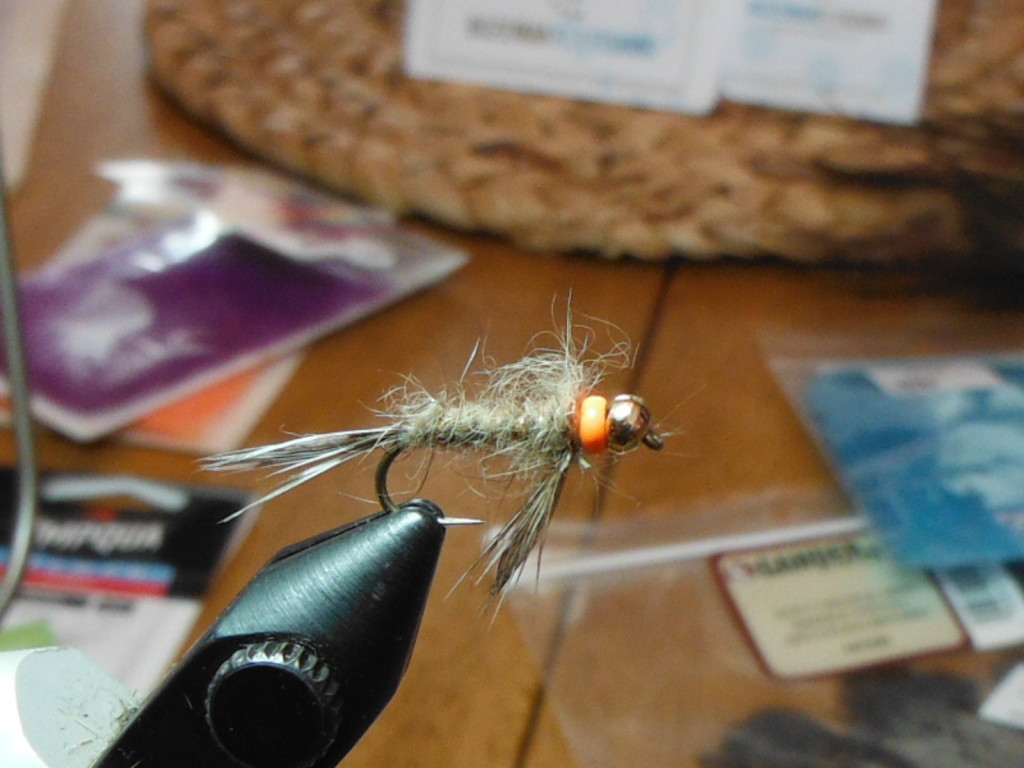 My original thought was the added weight of these colors would be dynamite on Jumbo Copper Johns and other steelhead flies to get down in the feeding lane faster. I was a little broken hearted to find the weight addition is not the primary purpose. After tying a few flies I understand and see why. The larger nymphs already have the needed lead or tungsten to get down & dirty, this is merely a method of quickly dressing up your otherwise bland Hare's Ear or Pheasant tail nymph, which I plan to tie up a few batches next. I haven't had a  chance to dunk these guys and see how well they perform in a practical environment, but with fall knocking on the door and kids going back to school, I foresee an opportunity or two in the near future to dunk theses guys.  If your fly shop doesn't have Bug Collars, ask for them, after some demand an talk on the river, they should be in most every decent fly shop around.
The beauty of these guys is the versatility. The Bead Collar is reversible. One side is convex and the opposite concave, allowing you to stack or flip your collar any way you choose. You can add three collars and pop them all up like you did in the eighties with your Polo Campus Shirt. I really like the idea of adding the blue and purple hues to many nymphs as this has been a productive color in the Psycho Prince Nymph line.
Be sure to head over to their FACEBOOK PAGE, give them a LIKE, tell them I sent you and you would love to see more flies!!