Probably not something you hear very often around the campfire on your favorite river at salmon/steelhead camp. Immediate thoughts of 'Brokeback Mountain~ You don\'t go up there to fish…' come to mind, not there is anything wrong with that, just saying. This seems to be the time of the year when I am knocking out endless dozens of nuke eggs and my coarse grit 120 fingers seems to shred the McFly Foam before it even has a chance to meet my TMC 105. Why is it every winter, amid tying season our hands get so rough and abused?
In between serving Whitefish Meuniere at Cafe' Sante and changing baby diapers at home, I wash my hands literally, 70 times a day. It has become a daily regimen, not obsessive, but feel the need to keep clean hands. Add a few days on the river searching for some winter chrome or an aggressive brown on the take and my hands become brutally unpolished. I take a certain amount of pride in the fact that my hands don't look weathered or resemble that of the lobster claws of a Gloucester Fisherman. My wife appreciates it too.
My younger sister used to be a manager of one of those Bath & Body Shops in the mall and every Christmas, all the Aunts, sisters and nieces received a small cornucopia of lotions for gifts. Not exactly jealous of the Cinnamon Apple Spice nor Warm Vanilla Sugar Body Lotion, but rather felt excluded because of my manliness. Shouldn't a guy treat his hands with care and respect? So, I threw this question to the ladies over at Fly Fishing Ventures last year regarding what lotion they use and prefer when the many days on the river per year can age your hands decades in a season. I was surprised at the response and have tried a several suggestions and thought it would benefit others to share my experience.
The first grouping of lotions that have always worked for me in the past are fairly obvious. Neutregena Norwegian Formula, Aquaphor Healing Ointment, and Eucerin Plus Body Creme are all very good daily use lotions that will help to restore much needed moisture to your depraved hands. Fly Fishing Ventures mentioned O'Keefe's Working Hands and I can personally say over the past year (wow, just realized it was a little more than a year ago) it has proved worth the $10 at your local hardware store. I recall back in the day using No-Crack Super Hand Cream. After searching my parents arsenal of lotions and creams, I found one. This stuff works and doesn't leave that greasy oily residue. You used to be able to find it at Restoration Hardware. It is unscented and works quickly to restore much needed exudation to your hands.
Here is where it gets tricky, and you ladies may agree. I found over the years my hands can benefit from giving my wife a much needed foot massage. Don't go with the a cheap lotion that has high percentage of alcohol (Glycol, Glyceryl Stereate), it will barely do anything for her feet nor your hands. Invest in quality foot creme or lotions that contain Rosemary and Peppermint oils. I happened to come across Lanisoh Lanolin for breast feeding mothers, and use it on my hands when they are extremely chapped, give it a try, let it set in over-night when you go to bed. Works miracles on cracked and split fingertips and cuticles. So, gentlemen, give your ladies a surprise foot rub, or make it a weekly occurrence, your benefits may be two-fold.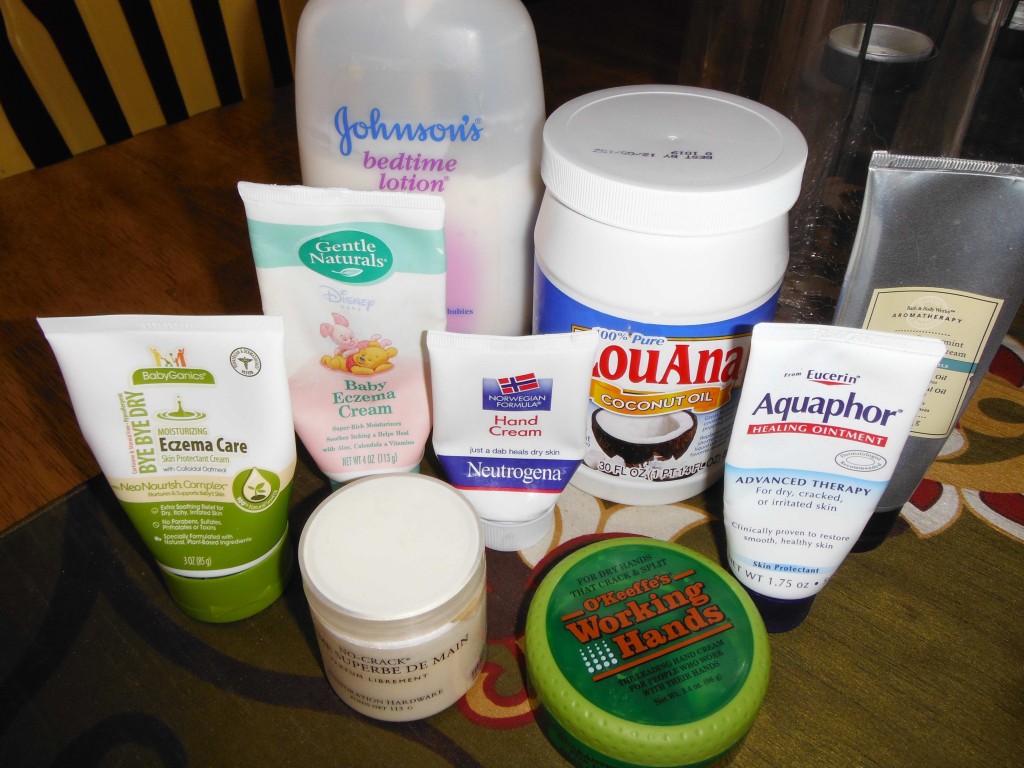 Don't have a woman in your life? Shave that Grizzly Adams facial hair you've been working on for the next Loon Outdoors Novembeard contest, buy a nice flannel, preferably one that does not reek of salmon spawn, try to resist the temptation of tying flies while drinking Wild Turkey at home this Friday night and put your best foot forward at you local watering hole.
Our baby Camille had a severe dry skin issue on her back, alligator skin. We tried the usual list of baby Eczema Creams, Lotions and A&D ointments along with Coconut oil, but nothing touched the rough skin on her back and shoulders. Our next step was to get a prescription from our pediatrician. She prescribed Desonide .05% and we were amazed how in two days her back was returned to normal and healthy baby softness. I haven't used the medication yet for my hands but keep it in reserve for dire situations.
So the next time we happen to be at trout Opener Camp in Lovell's, don't be afraid to ask for O'keefe' Working Hands, it is usually in my truck, but I won't have any Shea Butter…
I need to get back to Brokeback Mountain and tie some clown eggs…