The Northern Michigan horizon has been shrouded with steel-gray marshmallow like cloud formations for weeks now. The landscape appears as though someone turned the color/tint on the remote down to negative 15. This is the time of the year we look forward to the annual migration of the Oncorhynchus mykiss in the Great Lakes. Their colorful flanks have a stark contrast to the rather bland countryside we search them out in. Some of the double banded males in the gairdneri strain are of particular stunning beauty. They are not native, neither are the salmon. But these anadromous species don't die after they migrate into the cooler rivers and streams to spawn like the larger nutrient enriching salmon species do. Without large marine predators such as seals, orcas, sharks and sea lions, the fresh water seas of the Great Lakes have provided a very hospitable home for these silver bullets. Many rivers in the Lake Erie region known as 'Steelhead Alley' see as much as a 70% returning population of adult steelhead. Very impressive. For those who have not connected with one of these animals with a hook and line, you simply need to go to your nearest tackle store or fly shop and inquire whether the steelie is valiant fighter. I can assure you, they will undoubtedly reply YES. It may take some time, they are particularly difficult to find and catch, especially in currents. But once you have them dialed in, their habits and locales can be predicted, after all, they still are quite simply very large rainbow trout.
Today I am extremely excited. Not very often do I get to be the guest on the boat. Sit back, relax, let someone else tie the flies of the day, let someone else show me the waters they know so intimately, let someone else explain to me the history of the river and the various changes that have occurred due to man's want and lust for wood, oil and other precious resources. Because today, I am floating the Sturgeon River with another guide, that my wife so kindly purchased a gift certificate, to have a day off the sticks and a chance to sit up in the bow. This gentleman comes highly recommended, I have checked with the usual circles. Stories claim that he regularly boats 800-1000 steelies a year. Pretty impressive, especially when I consider a couple dozen chromers a season as 'better than average'. I would say he has it 'dialed in.' It does have my interest piqued. What flies does he use? Senyo's Sculpin? Caddis/stonefly nymphs? Egg Flies? which color combo- lemon parade, clown egg, Oregon cheese? I have tied and tossed many different flies in the same run that have held dozens of fish on this river in particular and on certain days, they were all rejected. Did I misread the seam? Am I not getting down deep enough? Too deep? Maybe I am not starting my swing high enough up the opposite current. So many variables, so much water. This is why I choose to go with a guide every once in a while. This man has lived and breathed this water for better than a half a century. He KNOWS it, well. I would much rather spend the $300-400 for a day trip to learn water from someone who has seen it during good runs and low water, they know where fish tend to relocate when their habitat modifies.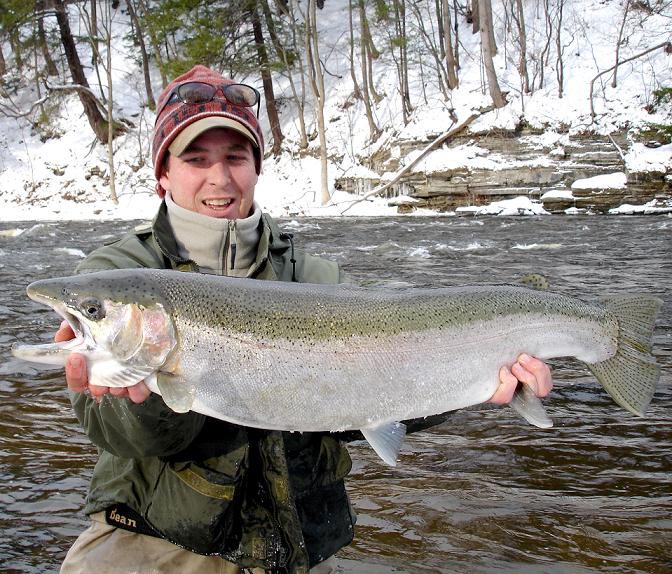 The day starts out much like any other, off in the pitch black darkness, meandering through hills and valleys with eager anticipation to meet the man on the river an hour before sunrise. It is below freezing right now, but the weatherman predicted a mix of rain and snow for the morning and possible high near forty and cloudy later in the day. Perfect steelhead weather. It couldn't be any better. Coffee in hand, steaming a steady plume in the air as I met my Guide for the day behind his house on the river. His boat was ready, somewhat crude, and definitely well conditioned. It was a early 90's MacKenzie style high side drifter that used to "Fear No Rock", but most certainly met most, if not all of rocks and boulders in this river in particular. I ask him which rods he recommend I bring along, to which he replies, "None, I've got you covered. I have everything we need."
We deftly maneuver up the river, rather surprised at how well the grey/green Clacka held fast to the seam and rattled in unison with the vintage Johnson outboard. After turning to check out the gear we were about to use for the the day, I was slightly taken back when the first daylight revealed only spin-cast rod combos set up with dipsey sinkers and large octopus hooks. This is where I can hear my wife's silent chuckle in the back of my mind, I often assert being correct more often than not, and again here, should have checked the fine print and correlated the fact he boasted using 'FishBlaster Rods' on his flyers at local party stores along 75. Its ok, I am here to learn a new river, that goes along with new methods, not that I would consider bottom bouncing or watching a Thill Float a 'new' method. Be still, relax, take a deep breathe, you are on the river after all and it is going to be a stellar day.
On the very next bend, we drop anchor and cut the motor. Within a minutes, my guide had a spawn bag hooked up while simultaneously spooning a ladle of spawn from his 5 gallon bucket behind his seat and spread them across the river like raining Skittles on a playground. My jaw was on the floor of the boat as he handed me the Fish-Blaster rod and explained  "All you have to do is chuck it out there and watch yer bobber."
Really? Am I in a nightmare? Pinch me, maybe I haven't left home yet and got caught in some sick twisted glitch in the matrix. Before I could wrestle with my ethical dilemma, there was an immediate and definite tug on the business end of my rod, and the reel began to sing>  Zzzzzzzeeeeeeiiirrrrrwwhzzz…
In a few minutes, we had the beautiful speckled anadromous trout in the boat. I asked the guide to take photo of the gorgeous steelie we netted. As I was admiring the iridescent green dorsal, contrasting rosy cheeks and with silver mercury lateral lines, the Captain of the boat smacked the creature in between the eyes with a bloodied  and crude axe handle. THUD!! again.
"There, I got 'em. Now he won't slip outta yer hands."
HOLY SHIT!! REALLY?!!?? That is the point, I WANT HIM TO SLIP outta my hands!!! I have no problem wit bringing a fish home once in a while, I am an advocate for selective harvest, but only when I know I am going to eat the fish I catch later that day. I will bring home a few walleye, or a stocker brown trout from Little Traverse Bay once a year, but if I were to call myself a sustenance fisherman, I would be lying, most fly anglers aren't. We do it for the relaxation and the reward. This brutal killing seemed unjust and unwarranted. It was like a perfect pizza that was ruined with black olives and anchovies, I am never going to erase that image nor wash that bad taste out of my mouth.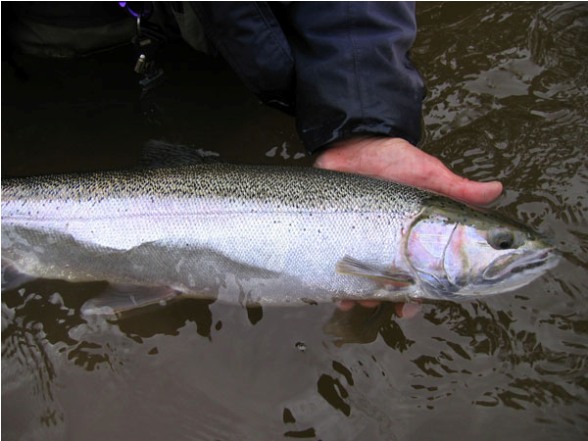 This didn't really happen, to me, but it did happen to another friend of mine. The names have been changed or omitted to protect the innocent. But it does bring up a few good points. You should touch base with your guide to know what to expect from the day on the river. I try to get a good read on what type or level of skill a future new client might be before we meet. Of course one angler's definition of 'pretty good' caster is totally different than that of say, Steve Rajeff. I did have a client this summer ask me where the live-well was on my fancy row boat. HA!! "The river  is the live-well my good sir!" He chuckled and we caught fish and perhaps the first time in his life he got to feel the joy of releasing the fish for another angler to catch someday.
This Holiday Season, I am thankful for many things: the good people I have come to know in the fly fishing world, the ability to pass along my passion for fly fishing to others and for the anglers who are purposeful in their efforts to enjoy nature, and respect her without abusing or neglecting her beauty.
Tight Lines and Happy Thanksgiving!
Koz
From our good friends at Gink & Gasoline>