For some time now, I have been into bugs. It started way back in middle school when we had to collect 30 different insect species.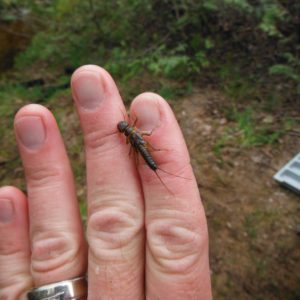 Being a slight over achiever, I hunted, mounted and identified over 65 different species, aquatic and terrestrial. My Biology teacher still has that bug collection and poly-fil/plexi-glass mounting board in his classroom for display and as an example for project guidelines.

Funny, I wish I would have paid more attention to the
why
I was into macroinvertebrates at the time and the
how
much it would benefit me in my quest to be a more astute fly angler. Later on, in high school, I joined a volunteer after school water monitoring program. I am sure it had a more professional moniker, but we chose to nickname our crew B.A.R.T. for Bio Aquatic Research Team. Come on, it was the eighties, everything was cheesy, remember Mr. T? *(I pity tha Fool!) Our research team monitored Sand Creek which fed into the Grand River. We also happened upon the river one day when there was an alarming number of dead fish floating in the pools and eddys. There was a combo of both warm water and cold water fish that were belly up, so we reported it to the DNR. Turned out there was a couple of cow cow and chicken farms upstream that had a lack riparian buffer zone and had an excessive amount of high levels of nitrogen effluent entering the river and depleting much needed dissolved oxygen levels. IN college, I took MACRO-INverts twice, once at GVSU about 13 years ago with Dr. Dunn and more recently at NCMC with Kevin Cronk from the Tip of The Mitt Watershed council. I would equate studying bugs to learning a foreign language, the more you use it, the more fluent you become. After a few years of not getting wet up to my elbows and playing under the microscope, you begin to lose the language, so I recommend brushing up on the latin variations of our favorite in the ephemeropterans. Some local watershed councils offer stream monitoring training and appreciate the numerous volunteers who want to learn more about their local watersheds. This is the purpose for my writing. After years of monitoring various rivers and creeks, with names like the Maple, Boyne, and Jordan rivers to the lesser known names like Porter, Proctor, Tannery, and Spencer Creek and meeting people from various backgrounds and a wide variety in age groups, I personally can't think of any one individual volunteer project that can be as rewarding–>besides teaching children how to fish and being there when they light up with electricity when that fish tugs back on the end of the fly line.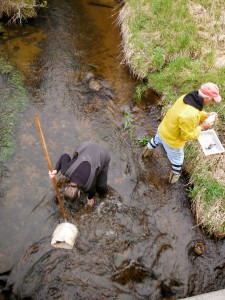 I hope this inspires you to do some research and find the non-profit in your neck of the woods, whether it be the Huron Pines, Conservation Resource Alliance or even a local Nature Society, to get involved, give back and be prepared for how much you may get back in return. There are a number of online resources for great BMI Keys~ try to stay in the Midwest for macroinvertebrates that are relative to our area. Here is a great file from The University of Iowa
Macro-INverts
Get out and get wet!
Tight Lines,
Koz