I had the opportunity to float the Jordan River three consecutive days early in the week. The temps were pleasant,in the mid seventies. The water level was average, finally getting back to the normal flow after a rather wet and lengthy springtime monsoon. Water temps are still very chilly, especially on the Jordan and the headwaters of many small trout streams. Lower reaches were around 12 and 14 celsius and the preferred brookie water remains steady at 9 degrees Celsius. Even with a gentle warning from Scott at Jordan Valley Outfitter about a down cedar tangle, we ventured the lower half of the river from Webster Bridge to Rogers Road.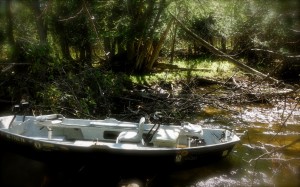 The cedar proved to be a worthy opponent as it was now more than six inches above the water line. Perhaps the river levels the week prior would have made the passage much easier when the river was flowing a couple hundred cfs more. Looking forward to working that section more this season as there is sufficient LWD for many trout hotels to offer cover from overhead predators.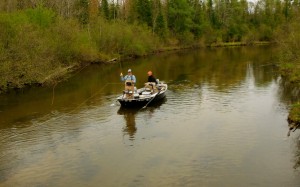 My early floats last week saw only a few Hendricksons, as it got closer to the weekend, the first 'big' mayfly of the year began a steady pouring off the rivers. We saw fish splashing, and upon further investigation caught multiple rainbows all in the 'smelt' size class. All in all, we caught over 40″ of fish, if you added all those little guys up.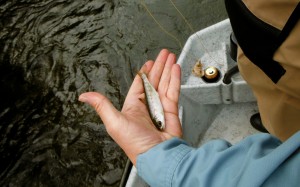 We sat on one decent feeder, and apparently he was not ready to be exposed for any portraits. The early fish can be very easily spooked. I am looking forward to the first weeks of June to provide some drakes and the eager anticipation of the big 'Fish Fly'. Full moon on Saturday of Memorial Weekend with some of the coolest late spring temperatures should prove beneficial for all the walleye guys. No matter what you do, you won't know if the fish are biting if you are sitting on the couch watching re-runs. Hope to see you on the water.
Tight Lines,
TNT