True North Trout Guide Service
The culmination of many years, the anxiety and anticipation of always saying I am going to do this, has finally come to fruition. The uncertainty of unknown lasts only as long as it takes to walk through that door. I am opening and proceeding forward. Making sure I take every step carefully, dotting all the I's and crossing all the T's, the past several months have been a combination of setting up website, setting up interviews, getting my DBA, proper license from the State, paying for insurance and taking boaters safety. Add that in with regular daily life, work, family, tying flies and attempting to wet a line to stay in the loop has had its moments. After having a "near cardiac event" last year- the Doctors discovered a 99% blockage in my LAD during a stress test- my perception on life has changed. Do what you like, don't take this for granted. Go out and achieve today what it is you dream about, you may not get the opportunity next week. The time is now, everything is in place.
I have to thank friends and family for the support I have received from so many over the years, truly I thank you from the bottom of my heart, I know I could not do it without you. Special appreciation goes to my beautiful and ever motivating wife Lesley who knows me and pushes me when I start to stall and procrastinate. There is no more hesitation, it is time and most everything is in place. I must make the Leap of Faith, and not worry about the little things, for they are, only little things. Everything isn't going to be perfect this first year, that is how we learn and grow, and I look forward to growing. All the years of strategic planning, scribbled ideas on a notebook, this has now become reality.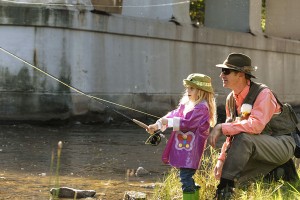 So, if you have friends or family that will be coming up to the Boyne/Petoskey area and they might want to go for a float down the Jordan or Sturgeon Rivers, learn to cast a fly or two, or already know how and want to get after some night time hawgs- have them look me up and we shall connect. Others who might be coming to Northern Michigan for the first time and want to try your luck with the ever elusive Hex Hatch- be sure to give me a call and we shall get you on the water. TRUE NORTH TROUT GUIDE SERVICE is officially open for business. Tight Lines!
Koz