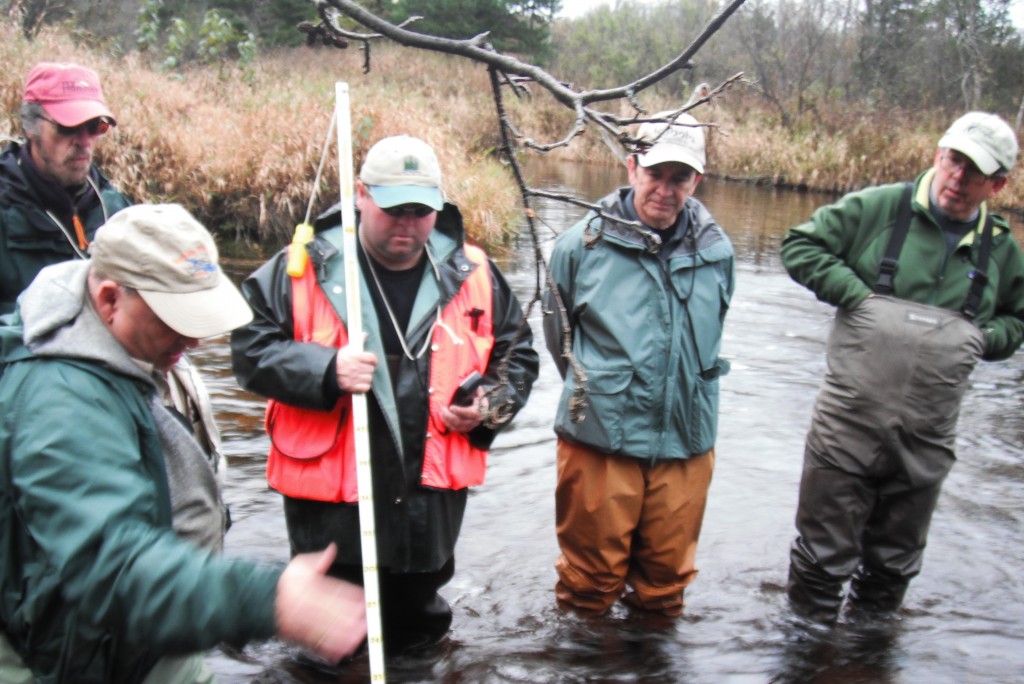 For the past couple of years the MVWTU Chapter has been monitoring and mapping brown trout spawning habitat. It wasn't until this past fall that a few questions were raised by fellow anglers that I deemed worthy of attention. Let me divulge with a little history first. Of course we have all heard the most quotable angler of the river, you know the one, he has trekked every square inch of the watershed for more than four decades, caught trout on every occasion that were as big as your leg, and can tell you he recalls back when there were only two farm houses, little development and no golf course on this entire river.
I can hear a resounding echo through the fens and valleys as I spy a lone drop-back female sunning herself on the now sand laden riverbed. "You should have been here twenty some years ago. The fishing was spectacular!"
There are pictures to prove it. I have seen the documentaion. Brown trout two by fours common in many bends on the river, stringers of brook trout well over the 18 inch mark, and the fishing seemed to be good for many for quite some time. But like all things in the eighties, these times have faded along with my Duran Duran swoopy bangs. This beckons the question- Where did they all go?
Habitat degredation? Loss of spawning ground? Lack of dissolved oxygen? More avian predation? Lack of overhead cover? Fish passage impairment? Erosion of stream corridor? Thermal pollution? Pesticides/herbicides or invasive nuisance control? When really, it is a perfect storm of all these factors and more. So the issue then becomes 'What can we do to regain the river of legendary fishing quality?'
We look to the Department of Natural Resources for input and possible solutions to an apparently fading river. I am personally not opposed to stocking in the proper circumstances, however looked down upon, we need to assess the reason for less fish per acre and less twenty plus inch prime breeding fish overall. A few years ago many board members of MVWTU, Neal Godby from the DNR and other interested parties spent the day with Gerald Lake from the N. Branch Au Sable Fishing Club for an in-stream lesson on the types of water and what to look for in spawning habitat. Jerry has been watching and recording brown trout activity and spawning on the N. Branch since the seventies. A wealth of knowledge, determining the subtle difference between a Canada Goose grazing bowl in the vegetation on the stream bottom by its type-writer style of nibbling versus a muskrat scouring on the streambed and a healthy twenty inch brown fanning out a depression were his notable Yoda-like super hero abilities. After practicing on a few ourselves, measuring width, depth, length and GPS coordinates, we quickly graduated up the ranks of 'young apprentice' in redd mapping. Gerry points out a perfect text book style redd and we all take notes. "The Redd area is a clean, shiny, excavated substrate with polished cobblestones and gravel. The edges of the shiny , polished area are gentle and feathered into the unpolished perimeter. Trout face upstream while cutting a redd. A distinct redd pocket with piles of gravel that wash downstream may exist. The hen may move just upstream and make a new pocket causing the downstream pocket to be filled or covered."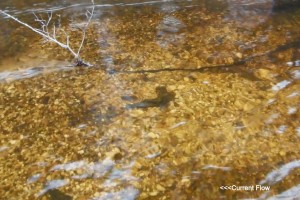 <
We are ever mindful of the spawning habitat, it is, after all, what we are looking for, our eyes are peeled for the shiny pebble sized gravel along side a sweeper or tucked away from a main current on the edge of an old wing dam.
Some have raised questions- "Why not leave the newly found romantic trout alone to do what Mother Nature intended them to do?" I for one don't wish to be heard repeated the phrase I have heard so many times over and over. "You should have been here twenty years ago when the fishin' was really(marginal at best) good."
We can't simply dump more fish in the river system that it apparently doesn't seem to currently support, those methods are not only antiquated but also not beneficial to the reproducing population when the planters deplete the ecosystem of nutrients much in way a bus load of U of M Football players would devour an all-you-can eat pizza buffet.
What does this habitat mapping and the GPS tracking do for collection of data on the river? First of all, it is not merely speculation. It is written documented statistics, complied by a number of individuals over a couple of weeks in prime spawning season averaged over a five to ten year period. "I can remember exactly where and how many redds are and have been for over thirty years." one might say. This isn't empirical data, merely speculation, which can only result in our 'best guess' answers from the watershed councils that are involved. We can look at each year, on a couple of different slices of time and overlap them from year to year, seeing the changes happen before your eyes.
"Keeping track of redds over time allows us to get an idea of the relative abundance of the spawning population from year to year. It also allows us to track the percentage of spawning habitat that is being used (in conjunction with the river mapping), and helps us identify habitat needs (e.g., cover adjacent to spawning gravel)." replied Neal Godby when I asked him about the importance of such studies.
They have been doing it on many other productive rivers in the state and it is very helpful in developing a strategic plan for the watershed as a whole. You have factual data that shows what is missing from the puzzle and you have the knowledge and manpower to make the improvements. We are working on a better river for the next generation.