The salmon season has been spectacular. All along the northern Michigan coast, from Ludington to Cheboygan, reports of better than average fish have been taken. The summer has whizzed us by. Getting back in the school routine has been a comfortable challenge. Morning mercury has been consistently dipping below the 40 degree mark. Heavy dense fog thickens in the valleys on our commute through townships and villages near some of the parks we once swam at just a few weeks ago.
This is a perfect time to pack a small lunch and find respite in the colorful valleys we have in the headwaters of some of the best trout fishing for the year. I find it equally valuable to look back at the season and consider the multitude of blessings we have around us each day. I didn't get my twenty incher this year.  If that is a measure of a successful season, then I have only had 'a good year' on a handful of occasions. I have been fortunate to meet many people with like-minded values and interests in the conservation of the rivers and its denizens.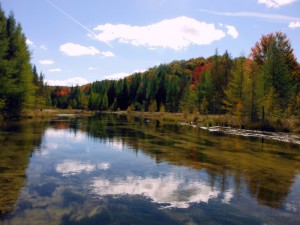 We have shared chasing its quarry, through rain and sleet, sunny days and in between. Sometimes catching more fish than you can wave a 3 weight at and others 'just happy to be here.' We have to keep it all in perspective. I am very fotunate every time I get to see the colors of the blue haloed orange speck of a brook trout flank, touching one of God's creations. The hills and valleys are quickly turning from the lime-green hues to variations on orange-red and the Tamaracks soft needles are beginning to acquire a more yellowish tone.
We have a couple days left of the best skinny water has to offer. Get out and breathe the crisp air, pack a ciabatta Italian sandwich, sit and watch the dragonfly along the waters edge chase his last lunch and relish in the fact we will return to this locale in the early parts of May.