This month has been the month of firsts. First major snowfall in Northern Michigan, a heavy wet blanket that knocked power out to thousands of customers for nearly a week. First solo road trip to Wellston to visit Ray in my own fish vehicle in many, many years. And most importantly, first time I actually got to attend a fly tying event instead of planning it or some how being involved in the catering aspect. This was a tying lesson I am very grateful I did not hesitate pulling the trigger on. Ray said that within 22 hours of the e-mail that Schmidt Outfitters was to host April Vokey of British Columbia Steelhead fame the event had sold out and established a lengthy waiting list.
Her story is nothing less than picture perfect, chasing chrome and her dreams from an early age, she dropped out of school and made guiding and tying flies for her beloved Onchorynchus mykiss a full time adventure. In less than a decade, she has become one of the top venues at many Fly Fishing Expo's across the country and parts of her native Canada. She knows her stuff as well.
We started off our day lesson with background on Spey casting and some of the Skagit style techniques she has adapted and found very suitable for the large waters they fish in the Pacific Northwest. Rubbing shoulders with some of the areas other top Steelhead Gurus, she has amassed quite an arsenal of tricks to aide any angler on most waters that can accommodate anadromous species. She also made it very clear that particularly in the Northwest, if you happen across a hatchery steelie, to 'Please take it home, that is why is was put there.' There is another lengthy debate on pure genetics and that of hatchery steel mixing with wild genetic chrome code that we don't have time, space, nor the Ph.D to debate in this post. I do, however see her point. Needless to say, the room had a variety of technical questions and we all had fun getting perspective from someone who fishes beautiful water made for massive omega-3 shrimp gorged chromers.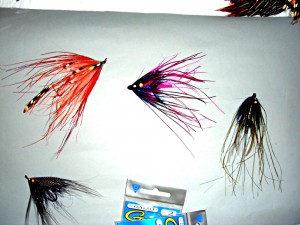 If you haven't seen any of the footage from the coastal waters you should check out www.flynationtv.comand see what #20-25 steelies look for in a perfect habitat. Just before lunch, we started to tie our first 'Intruder'- the April Vokey version. After getting our wire on the shanks and cutting off the barb we paused for some of Ray's phenomenal Chicken Chowder and delicious baguettes.
The life-like maneuverability of the Arctic Fox and Rhea coupled with Silver Pheasant and a touch of Krystal Flash make for a very enticing fly. As Michigan anglers, we all pondered what type of baitfish this pattern was to mimic. But why does it have to imitate? Could it simply elicit a strike from a territorial buck steelhead or does it look pretty enough to deserve a crushing blow from a hefty double digit hen? Why or why not? Point is they do more than sell to the fly angler, they work very well on the swing in a variety of water depths and velocities. I also have found new uses for a plethora of feathers in my tying den I used only for colorful streamers I tie when Simone is busy at the bench with me.
Guinea Hen, Hot Pink, Blue, Purple, Schlappen of all intensities now can be wrapped along side our new found talent in dubbing Arctic Fox(or Polar Bear if you happen to be so lucky). The properties of Arctic Fox and Polar Bear require that they readily shed water and yet insulate the animal in sub-zero climates, yeilding it the perfect accessory to a fly that is very minimal but has a voluminous sub-surface profile. They have developed synthetic craft fur that will suffice, but when you are done tying and you can't figure out why your fly never looks like the one in the picture, chances are, the quality of materials used.
April was diligent in scoping out each individual fly as we tied them. She also has a worthy cause, check it out at http://www.flygal.ca/ They were all each our own identity in creation, but she was the Creator, and thus, we were not going to falter too far from the mold.
The gentlemen behind me were chuckling on every other wrap, "this one is for the downed White Birch, or Maple, or good Hemlock." They were less than enthusiastic in their personal achievements and had already determined that this fly would be great for Chinook season, perhaps to be lost in the nearest logjam. April was convincing, she knew the talents of her pupils, and she also knows her materials. After we completed our flies, she fired up the hydro-viewing chamber. We were going to swim all of our flies and see how well they actually performed. Way better than tying a fathead streamer to a short stick and figure-8 ing around the bathtub. In a few short clips, the first fly was submerged and the 'Ooohs' and 'Aaahhs' very much like the Fourth of July resounded across the room. It was nothing short of Fantastic- how cool to actually spend nearly a couple of hours tying a new fly pattern and then to see how it undulated in various currents. When we got to the last row- the LogJam Boys, they were still hesitant in the likeliness that their flies would well, swim well.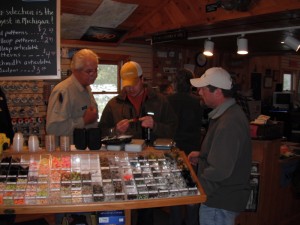 They in fact did, and looked very enticing, which inspired other pattern ideas, something for Mr. Fontinalis, something for Mr. Salmon trutta, even ideas for those lazy hot summer days chasing bronzebacks near some of the drop-offs in our Great Lakes. The Intruder is  a pattern that has unlimited potential, I can see it having it's very own pocket in a dedicated box in my vest within the next year, for many years to come. Thank You April for sharing your day with us and for stopping at so many other great establishments across Michigan. If you have the opportunity, please say 'Hello!' to her at the MidWest Fly Expo in Warren Michigan this weekend. There will be so many "in-the-know" peeps at the show, I wish I could attend. Truth is, I have never been. Maybe next year, I may have to make a point of it. Cameron from The Fiberglass Manifesto, Jason from Fontinalis Rising fame, hundreds of fellow Michigan Trout Unlimited Members, Rod makers, net weavers, fly tyers, Industry leading manufacturers, hope you all have a wonderful and safe weekend. I hope to see you soon on the water~
Tight Lines,
Koz