The snow is gently wafting outside the window. Boxes are piled up around my tying desk as we prepare our next chapter in life. To say this has been an odd winter in Northern Michigan would be an understatement. The bay doesn't seem to have an inclination of freezing over, which scares me when I think of water levels this spring and summer. There have been a few frigid nights, but more warmer fluctuations than most winters I can recall. It seems that as we near the end of February, I get most anxious for the warmth of spring. Maybe its because the daily photo-period has ever so slightly been extended. Whatever the reason, I can't help but think of Opening Trout Season and camping out on the banks of some of our favorite waters. These days, after long cold nights, leads to reflections of what we hold dear and treasure most.
Last week I went in for a simple Stress Test. Kissed my wife and child good-bye in the usual fashion I do in the morning when I drop them off to their respective locations and told my wife I would let her know how it goes. I didn't have to do that. The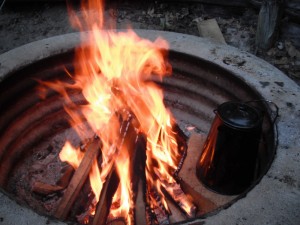 physicians called her up from her office because they didn't like how my ECG  turned out and the fact I got light headed and nearly collapsed on the treadmill doing 6.2 mph on an 18% incline. I am healthy- I walk the dogs nearly everyday, I stay active keeping up with our seven year old daughter, I work in a fast paced restaurant sometimes five nights a week, I quit smoking and drinking years ago, recently became vegetarian- I even ran a 5K for Turkey Day last year. How could there be an issue with my heart? Turns out genetics play a huge role in heart disease. That is also the reason why I went in to get checked out. I have a lot of rivers to fish and a lot of tickle fights I need to win with Simone, not to mention watching and protecting her as she grows to become the wonderful person she has already begun to be. The Doctor said we need to go in and look at your heart. Really? Today? Can we make it Monday? I have a lot to do today~I work tonight, tomorrow we are tying flies at the Celebration of Fly Tying in Boyne City and Sunday is the Superbowl. That can all be put on hold. Good thing I listened. 98% blockage in my LAD. The LAD is the left anterior artery, also known as the widow maker. I am very lucky. I may have actually won the lottery everybody was talking about. It may have not been next week or next month, but very soon. On any given day, either at work, on the river after a hike into the woods, or simply at home, alone, after doing some yard work, I could have had a major cardiac event. They would like to refer to these instances as episodes or events- the heart no longer attacks.
I was in the hands of some of the best physicians not only in our area, but in the State. I know a few personally and felt at complete ease that I was in their total care. During twilight sedation, I knew who was in the room and what was going on but thankfully not able to feel the three foot tube and camera coursing through my veins. After all was said and done, I now am a member of the card carrying Stent Club. Something I never aspired to achieve in my early forties, but if it allows me more time to truly enjoy sharing my life with my two most precious girls, then I am glad I had it done. My daily pill consumption has increased from just a tetracycline to regulate break outs to a regimen of beta blockers, aspirin, Plavix and a host of others I shall be taking for the rest of my life. While laying in recovery, motionless and on my back because of a sheath in my groin where they entered my femoral artery, I had deep moments to contemplate the "What If"s". The things in life that we deem important are no longer so and other mundane daily rituals become ever more paramount. Just seeing my wife smile, just hearing my daughters infectious giggle, watching the sunset on our favorite beach and hearing the waves lap on the shoreline- these become the most important things in life we cannot measure or bottle or sell. I plan on making the most of this second chance, because that is what this is. I am here for some higher purpose, I don't know what it is, but my eyes and my heart shall remain open so that I can let it all in.