On a lazy, hot August afternoon, I found myself pounding Beldar Buggars and Woolly Sculpins in an effort to entice smallmouths along the Muskegon River with a couple of fishing pals . We had a Michigan trifecta in the boat comprised of a few rainbows, a brown and a scad of smallies when our usual conversation took a turn on a more serious note.
"If you had to choose one fly for all occasions, what would it be?" I posed.
Often thought about, we each pondered a moment and gave up our preference.
"The Woolly Bugger is by far the fly that catches the most species of fish." One retorted.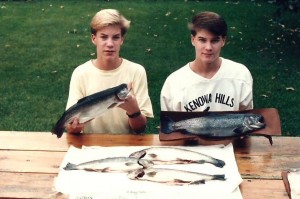 "Yes, true, but an egg pattern catches everything, anytime." The second pitched in.
"I would have to choose the Muddler Minnow." They both paused briefly and uttered a resounding~
"Good call."
Many flies adorn my boxes, from pheasant tail nymphs, copper johns, little black stones, hares ears, to Adam's, Hendrickson's, BWO's and a slew of streamers, but during my childhood adventures, I recall a late Saturday afternoon in September to which I base my loyalty.
Each year growing up, I eagerly anticipated the opening of trout season and traveling three hours north to Grayling to visit family and further explore reaches of the Au Sable not yet known to a fourteen year old. Something magical and mystical happens on your journey north. The elevation changes, the trees become more coniferous, the air more decidedly trout habitat. You know when you are in Grayling when the scent of tall pine trees mingles with the fragrance of fish pellets on your hand. A quick walk along the river's banks in bare feet introduces you to the prickly needles dotting the trails and, if you pay attention, a trout rising in the bend behind the hospital. There is a section of river below the Fish Hatchery on N. Down River Rd. that was dedicated to Children Only (under 16) and I waded its cool waters as much as possible. It was in this beautiful stretch of river that I began my soon to emerge lifelong love of all things trout and flyfishing. Dozens of brookies, a few browns, and a fair share of rainbows enticed me deeper into the art and beauty of my leisure. It happened on the last Saturday of the season, after a semi-haphazard roll cast to a half submerged tag alder that I became enamored with the mystical power of the Muddler Minnow.
A sudden vicious grab and take startled me to attention. My 8'6" 4wt. silver fiberglass Abu Garcia doubled while the matching metallic Ryobi reel screamed off line like never before. Panic was my only reflex, fingers fumbled and knuckles were beaten until I regained control of my line and managed a beefy twenty-inch rainbow to the bank. I couldn't stop my knees from shaking and in delirium ran back to my aunt's house to get my younger brother, Barry, and coax him in to returning to the hotspot. He initially tied on a Warden's Worry and I kept with what I was throwing. Not long after and I was into another hefty 'bow from the shadows of the fallen shrub, and again a third, all nudging the twenty inch mark. Barry became perplexed and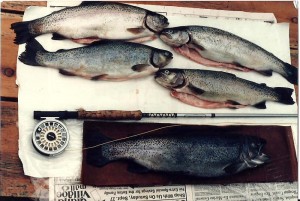 inquired as to what the secret fly was and I cautiously relinquished one of my #12 Muddlers to him. Moments later he connected with the monster of the hole and we both freaked. After a run up and back down the river, he finally guided the 23 3/4" brute to the net. It's girth and magnificent color made my fish pale in comparison. The season ended that day with my brother only catching the one and I with four between 19"& 21", but Barry decided to cash in on an offer my father presented to us both. "I will pay for each of you boys to have one fish mounted, but only one." His offer still stood and resonated in the corridors of my mind some twenty plus years later.
Each year growing up, I eagerly anticipated the opening of trout season and traveling three hours north to Grayling to visit family and further explore reaches of the Au Sable not yet known to a fourteen year old.
The introduction of the Muddler Minnow happened quite by coincidence at our cabin in Canada just the year prior. Evenings become very dark, pitch black would be more appropriate. So, our family gathers each night to play cards, bantering about the day and planning the next day's events. "A hike up to Rainbow Lake or Lost Lake? How about that porcupine we saw scamper across the train tracks today?" In the midst of one such evening, a gentleman from across the lake showed up at our door to say "Heh." Friendly enough of a chap, he soon found out I had just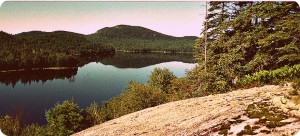 begun to take to flyfishing and he offered a feathered combination from his worn bushman's hat. "This here is a Muddler Minnow, eh. Its all you need up here for dem specks." Apparently, across the border, brook trout become 'speckled trout' and lakers become 'greys'. After that, the solo canoeist slipped into the darkness and cut a smooth ripple into a black hole. I had done very well on previous trips up to Camp Grayling, throwing the very trusted Panther Martin in yellow with red dots into the mouth of any tributary on our vast lake, but the art and act of enticing the trout with a fly- that was the beginning of the end. Our ventures took us to a beaver dam above a favorite waterfall we would often tease 7-inch brookies with our gold tru-turns adorned with leaf worms. The Algoma Central Railroad had slated to blow a dam that had become too large and posed a threat to the train tracks and the bridge below if it were to go on it's own someday. Tales of beaver ponds as large as football fields and loaded with eager brook trout were the stuff of lore and fiction I had read in other anglers journals, a treasure of this magnitude had to be found. We trecked, sweated, hiked, and moaned about the weight of our gear and raspberry scratches from the bush. Bitten and swollen from black flies that somehow elude your attention when we finally discovered our personal Holy Grail.  This was like finding the Great Wall of China. Poplar, birch, beech and assorted pine with the engineering detail of an MIT grad. Multiple beaver families had amassed a complex network of mini dams that consumed more than a football field. I had on my lucky Mickey Mouse T-shirt, yet to discover the wonders of Simms and other industry standards we have today and as soon as my fly hit the water, it was spanked by a parr marked stunted brookie, then another, and another. I don't believe any of the specks we caught that day broke the 8″ mark, but they were too colorful and I too enthusiastic to care. That dam was blown out shortly after our discovery, and we like to believe all those malnourished adolescent brook trout found a new home in our much roomier lake. To this day, I never had the chance to say "Thanks!" to the man who gave me that fly which caught well over 30 fish that day.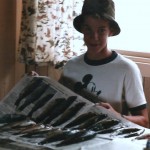 I have had the pleasure of fishing much of Michigan's waters, some of Canada , and a trip to Belize for Bones. For most of my freshwater excursions you will be sure to find a Muddler in various mottled turkey colors and sizes in my box.  I am still waiting to catch a true 'trophy' fish, but will indeed need to have it mounted on my own dime. My father passed away last April, the week prior to opener, and I hadn't yet taken him up on his offer.
Tight Lines,
Koz
[Age, wisdom and personal growth have brought me to the stage of appreciation, conservation and education of our limited natural resources. While in this day and age it wouldn't be PC to stuff a creature merely to hang it on a wall. I rather take a few quick pictures and relish in the reward of releasing a creature that he/she may pass on their beneficial genetic make-up for the next generation. The memory of those moments, and others like them are more than enough to keep the spirit in me alive.]