About
True North Trout Guides
~Brian Kozminski~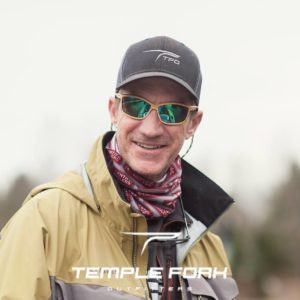 Brian Kozminski, known as "Koz" by friends, has been fly fishing Michigan waters for over 30 years. Originally from Grand Rapids where the Rogue River and Grand River were his home waters, his frequent trips to Grayling to fish the Holy Waters were not enough. Over a decade ago, he and his wife, Lesley, daughters, Simone and Camille, made 'Up North' a permanent way of life.  A recent transplant to Boyne City now allows the Jordan and Boyne Rivers to become his backyard home waters. A lifetime member of Trout Unlimited and ex officio for the Miller VanWinkle Chapter, he shares his passion for the resources by teaching locals the art of fly tying.  An advocate for catch and release, Koz is also sales representative for Temple Fork Outfitters & Umpqua Feather Merchants – he is also northern Michigan's ambassador for SUPontheFly and Adipose Boatworks, as well as an FFF member. He has been tying flies since his father taught him at the age of nine. Although Steelhead and large Brown Trout at night are exciting, the true treasure of northern Michigan lies in the vermiculation and blue halos of the native Brook Trout from its cold, clean and clear rivers. Listen to Podcast on Remote. No Pressure.
~Randy Monchilov~
Randy has lived in Gaylord for the past 17 years, has guided since '02 and previously owned a tackle shop in Saginaw- "Tackle Land". Randy has two great children, Mason, 16 and Morgan, 13. They like to spend their time on nearby lakes in the Gaylord area and are very active in school sports. Randy has fished many of the rivers we call 'home-water' in the northern portion of the Mitten, especially the Au Sable where he has a cabin on the North Branch which will be utilized for beginner casting and fly fishing lessons. Randy has had the opportunity to own and row many drift boats in his career, from Hydes to Clacka's and most recently a RO, but chose to get an Adipose FLOW. In eye catching Montana Big Sky Blue, you will find it hard not to notice another Adipose floating down the upper Manistee River. Randy likes to fish for anything that swims but his passion is for trout. He used to compete in BASS tournaments but felt it no longer provided the challenge that rivers and trout offer. Simply put- "There is nothing more exciting than watching a trout sip your dry fly."
~Matthew Peisert~
Mr Peisert has assisted on many multiple client trips and works hard getting his clients on fish. Matt began fly fishing at the age of 8 on the South Branch of the Au Sable River on the Mason Tract near Roscommon, MI.  During his college years, Matt was crazy nuts about fly fishing and looked for every opportunity to cast to a rising trout or strip a big streamer in front of a bronzeback or a big, buttery brown.
Matt started with Relentless Addiction Outdoors as the lead Fly Fishing Pro-staffer, which led him to connect with Koz of True North Trout.  In addition to guiding with True North Trout, Matt has started his own program in the Southern Lower Peninsula called "
Connected Guide Service
".  Matt tries to get his clients on Trout, Smallmouth Bass, Northern Pike, and Steelhead. He'll always be a trout fanatic, but as time goes on, Matt finds he enjoys fishing for warm water species more and more. He loves targeting large browns at night with mouse patterns, as well as feeling the tug of a big smallmouth on a big, fluffy streamer.
True North Trout Guide Service
Our Goal: To provide an educational and relaxing experience on the water while catching a few trout., or bass/pike/carp.
Many people come to northern Michigan to enjoy the natural beauty that surrounds us each and every day. We merely wish to share that experience with others. We are often asked what our clients should bring on a guided trip. Here is the short list:
Bug spray- not Skin-so-Soft, Blackflies eat that stuff with their Wheaties. I recommend Deep Woods Off! or something with Deet in it.
Polarized Sunglasses- I do have back-up sunglasses, but it is best if you have your own.
Hat- either a baseball style cap or fishing hat will keep sun off your head and help you see the fish better.
Rain Jacket or Parka- don't like the weather? wait five minutes.
Waders- I do have multiple pairs, but your own waders that fit YOU would be best.
Suntan lotion.
Fishing License- get yours MDNR E-License.