Join the T|N|T Fan Club on Facebook!
True North Trout has a cool new Facebook page.. scroll down and look to the right hand column to join our club at the Evil Empire! We need more minions if we're ever going to have an angling horde. The invasion will start from driftboats!
Breaking news spread across social media outlets last night about the most recent addition of Ken Morrish to the Umpqua Team. This has great significance to me on many levels, as a tyer, an angler and from a blogger point of view. First as a Tyer~ we have all used and or based our own mouse patterns on the very successful Morrish Mouse.
He has incorporated the high floatability of deer hair with the also very bouyant foam we all love to swim across the surface in search of predatory fish. I can't think of a time when out searching for my midnight brown trout that I didn't throw a few Morrish Mice into the banks and skitter them back slowly in the seam. Nor can I imagine tying a fly without the base of this phenomenal pattern as a stepping stone to some other successful flies.
As an angler, we like to see these innovative tyers find new homes that might inspire more creativity in the future of our ever expanding fly tying world.
As a blogger and social media participant, we have witnessed a multitude of changes in how the big players in the industry have marketed and expanded their names. I won't go into details based on what I read on Facebook, nor do I wish to engage on the practices of how other companies operate in this arena.
I would like to mention that Mr. Morrish has developed a few other flies I was unaware of until I did a little research and personally, can't wait to tie a few and see more like them in the future. Killer patterns like the Iron Sally, Anato-May, Morrish Hopper, Pom Skater and others are soon to be in my fly boxes.
Mr. Morrish also has been a guide from Alaska down the west coast to California, and also a consult for many rod companies. He co-owns Fly Water Travel with Brian Gies and has been recognized for his outstanding photography in publications such as Rod & Reel, Outside, Fly Fisherman, Patagonia and Northwest Fly Fishing.
Congrats on the New home and to the new addition at Umpqua Feather Merchants.
Not to blow sunshine where it is unwarranted, but Kent & Louis over at Gink & Gasoline put together a fly fishing blog that consistently has relevant and useful information for anglers of all experience levels and sweet or salt preference. Someday I shall fish with these guys. After a few conversations with Kent over at Gink & Gasoline, I put together a quick 'How-To' on a "30 seconds over Bangkok" fly that is not only easy, but also effective. For lack of a better definition, it is a 'guide fly'- EZ, simple and a relatively low cost production fly that gets down to where the fish are and often into some LWD. Many rivers in Michigan have Rhyacophila larva, aka Green Rock worm of the trichoptera genus, and can be as large as 18mm, making it the perfect high protein snack for a hungry 30 inch Oncorhynchus mykiss. Often found in swift currents, fish this fly in rivers that have a considerable amount of rocky substrate, they can become dislodged when salmon are fanning out gravel for redds and become a dangling appetizer for avaricious trout.
In the coming weeks from True North Trout, I shall be giving away a Winter Camo Bracelet from Off The Hook Bracelets. I got one for myself and have received many compliments from friends and family on it's appearance. I shall also be doing a monthly review on a pair of KORKER's ICE JACK boots that I have been beating up on our move to our new farm house.
They have been surprising me on many levels.
Another fly tying tutorial? It is that time of year, time to fill boxes, thoughts of parachute Adams and BWO's aren't that crazy. I will be tying the new and improved "Do-It-In tha Dark" Sexy Hexy Emerger. With a recent introduction of UV enhanced materials from Spirit River, your basic average flies can be re-invented to become the Steve Austin version of a myriad of flies in your arsenal.
I have also been doing a series of trial and error Fly Dunk contests. After witnessing a variety of 'which floatant works best' videos on YouTube, I have assembled a barrage of favorites and lesser known dessicants and gels to actually time lapse which floatant does work best. I hope this is not only interesting but revealing as well.
It's the most wonderful time of the year!
Yes, yes it is. And if you are on your A-Game, you can score some very cool items from many of the top in the fly world manufacturing game and other bloggers with clout. Each year, they seem to grow exponentially, so I thought I would compile a short list for you, the readers of TNT to get your hands on some fresh merch.
First up is the UGLY SWEATER Contest at Combat Fly Fishing. Post up your BEST/WORST Sweater for a chance for some swag.
LOON OUTDOORS always Celebrates the 12 Days of Christmas in Style with the #spiritofgiving.
DUB the Thorax has been getting crafty with some choice gear and deeks.
YETI COOLERS, don't miss out on this one, you'll be left out in the cold.
GORE-TEX Products will save your core temps this and next season.
The Fiberglass Manifesto- every year, keeps getting better and better.
Field & Stream has made gift giving easy with a list for your loved ones. Bozeman Reel made the list, and well worth checking them out.
Montana Fly Company keeps things fresh with this awesome hoodie.
Umpqua Feather Merchants always has a great gear giveaway, keep your eyes peeled and an ear on the ground.
Hope you have a Safe and Blessed Holiday!
Tight Lines!!
Koz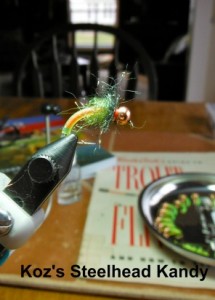 We all have a few go-to patterns that are quick to tie, efficient at the vise, requiring few hard to find materials and effective on the rivers we fish. I can guarantee that many of you have been accused of being 'That Guy' perusing just a little too long at JoAnn's Crafts or Hobby Lobby when your wife or girlfriend has already paid and left for her next big find next door at TJMaxx. Sometimes, these are not the preferred stores, but we find materials not often found elsewhere. This is where I did not raid my daughters necklace making kit~ she wouldn't be caught dead doing anything girly crafty like that.
MATERIALS:
Hook-> Dai-Riki #135 size 6-10
Thread-> Danville's Fl. Orange Flat waxed Nylon
Body-> Pony Bead Lace Jelly Rope Bright Green
Head-> Large Copper Bead
Collar-> Ice Dub Caddis Green and Peacock or Arizona Synthetic Peacock Golden & Bronze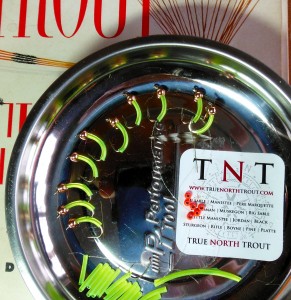 1. Prep Tray, pre cut Jelly Rope and bead the hooks.
2. insert hook in vise, lay down thread base.
3. Measure Lace tubing, remove hook from vise. Carefully slide Jelly rope up to bead head.
4. wrap a few turns on the top of Jelly rope/lace tube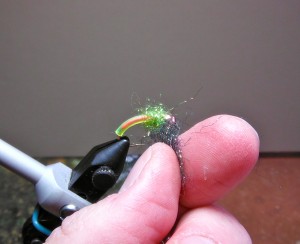 5. Ice Dub Caddis Green, sparse, get ready to dub second layer.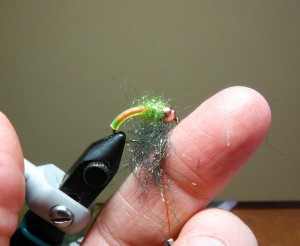 6. Add Ice Dub Peacock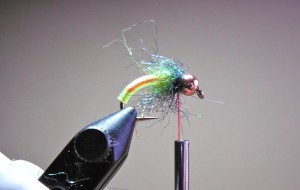 7. Whip finish behind bead head. pick/brush some of the collar out.
I would like to extend my gratitude to the wonderful staff of STONEFLY PRESS for offering me the opportunity to read and review The 50 Best Tailwaters to Fly Fish for the readers of True North Trout. The most difficult part of opening this great book was resisting the temptation to skim over the early chapters on The WEST and dig in to the depth of the ROCKIES and the EAST sections of some of the best Tailwaters across the country. I was very thankful I didn't skip over the first chapter otherwise I might not realize the great fishing we have in Arizona and New Mexico. Being from the Great Lake State, it is easy to take for granted the amount of freshwater we have and the free flowing, spring fed rivers that thread their way through our countryside. I never really understood nor looked at the significant impact some of these great reservoirs have on regional fly fishing. These large bottom drawn spillways offer a consistent temperature that are more than suitable for trout and many macro-invertebrates for a healthy ecosystem. This was not the case for many of these fisheries a few decades ago. Some of them were warm water rivers, but after multiple efforts, conservation authorities re-evaluated the resource and started stocking trout, aquatic insects and crustaceans(scuds and crayfish). This was a winning combination for many sections of flowing waters that rarely exceed 50 degrees year around.
At first glance, I was very impressed with the great photography, clear and concise maps that denote campgrounds and nearby towns. Familiar faces and names in places that I have come to know through social media, make this read feel warm and comfortable, much like my favorite Simms zip up fleece. Names like Mike Mercer, John & Amy Hazel, Jon Kleis, Tim Tollett, Joe Demalderis, Jeff Lewatowski, Kevin Feenstra, Bob Mallard, Ben Levin, Tim & Joanne Linehan, Craig Matthews and a slew of others have all contributed their knowledge of local waters and numerous days on the river to assist in adding a better experience to your trip. Wendy and Terry Gunn open their book up with a brief description of this rewarding project and how difficult it was to choose only 50 tailwater rivers. Each Chapter also includes a list of guides/outfitters, where to stay, whether at a campground or a hotel, as well as eat and get a good drink. A nice addition you wouldn't see a decade ago in a book like this is reference to cell phone coverage on the river and closest medical resources. Each chapter describes where to fish, what flies to use and what type of rod to bring to prepare you for the best fishing. Crystal clear waters on most of these waters require 9-15 foot leaders, often 6 or 7 X, and micro flies in sizes #20-28. Bring your A-game and get ready for some fun. Most don't see much dry fly action, so Zebra Midges, RS2's and WD40's trailing behind Cressbugs or Girdle bugs. A keen eye and sensitive touch will improve your catch rate. As always, check with your local fly shop, hire a guide for the day and learn the water quicker and better than aimlessly pulling over and casting alongside the the road where the path might be well worn from a horde of others before you. I really appreciate how each river within the designated region referred to local guides and utilized their knowledge of the best times of year to fish and what to expect on the water during your day. It was also refreshing to see fellow bloggers Kent Klewein from Gink and Gasoline actually on the sticks on his homewaters of the South Holston River with David Grossman of Southern Culture on the Fly. Tailwaters can fluctuate in flow more in a day than many rivers see in a season due to water release from the need of electricity demand at the source. Be careful if you are wading these waters for the first time. It is not recommended to go alone, do not take chances and wade beyond your limit.
I have only been out west once, to Colorado, when we looked at re-locating to the front range. I had the opportunity to fish some of the rivers near Estes Park and got a taste of what significant fisheries like the Big Thompson River have to offer. Before going, I read a few 'Where-to and How-to Fish' the Rockies books, getting a taste of what awesome fishing there was within hours of our cabin near Lyons, CO. I made the mistake of quoting my personal Bucket List, and only mentioning five states that I would like to fish before I 'Buy the Farm'. My wife mentioned the other night, that through books like this and the many other connections I have made through the love of fly fishing, I should make my own personal "Best Rivers to Fly Fish List" and we should plan to hit one of those destinations each year as a family vacation. This book is a great starting point and highly recommend purchasing your own copy for the angler in your life. This would be a welcome addition to any fly fishing library. Perhaps a perfect Christmas Gift and you can begin your very own Bucket List of places to visit and fish.
Tight Lines!!
Koz
The Northern Michigan horizon has been shrouded with steel-gray marshmallow like cloud formations for weeks now. The landscape appears as though someone turned the color/tint on the remote down to negative 15. This is the time of the year we look forward to the annual migration of the Oncorhynchus mykiss in the Great Lakes. Their colorful flanks have a stark contrast to the rather bland countryside we search them out in. Some of the double banded males in the gairdneri strain are of particular stunning beauty. They are not native, neither are the salmon. But these anadromous species don't die after they migrate into the cooler rivers and streams to spawn like the larger nutrient enriching salmon species do. Without large marine predators such as seals, orcas, sharks and sea lions, the fresh water seas of the Great Lakes have provided a very hospitable home for these silver bullets. Many rivers in the Lake Erie region known as 'Steelhead Alley' see as much as a 70% returning population of adult steelhead. Very impressive. For those who have not connected with one of these animals with a hook and line, you simply need to go to your nearest tackle store or fly shop and inquire whether the steelie is valiant fighter. I can assure you, they will undoubtedly reply YES. It may take some time, they are particularly difficult to find and catch, especially in currents. But once you have them dialed in, their habits and locales can be predicted, after all, they still are quite simply very large rainbow trout.
Today I am extremely excited. Not very often do I get to be the guest on the boat. Sit back, relax, let someone else tie the flies of the day, let someone else show me the waters they know so intimately, let someone else explain to me the history of the river and the various changes that have occurred due to man's want and lust for wood, oil and other precious resources. Because today, I am floating the Sturgeon River with another guide, that my wife so kindly purchased a gift certificate, to have a day off the sticks and a chance to sit up in the bow. This gentleman comes highly recommended, I have checked with the usual circles. Stories claim that he regularly boats 800-1000 steelies a year. Pretty impressive, especially when I consider a couple dozen chromers a season as 'better than average'. I would say he has it 'dialed in.' It does have my interest piqued. What flies does he use? Senyo's Sculpin? Caddis/stonefly nymphs? Egg Flies? which color combo- lemon parade, clown egg, Oregon cheese? I have tied and tossed many different flies in the same run that have held dozens of fish on this river in particular and on certain days, they were all rejected. Did I misread the seam? Am I not getting down deep enough? Too deep? Maybe I am not starting my swing high enough up the opposite current. So many variables, so much water. This is why I choose to go with a guide every once in a while. This man has lived and breathed this water for better than a half a century. He KNOWS it, well. I would much rather spend the $300-400 for a day trip to learn water from someone who has seen it during good runs and low water, they know where fish tend to relocate when their habitat modifies.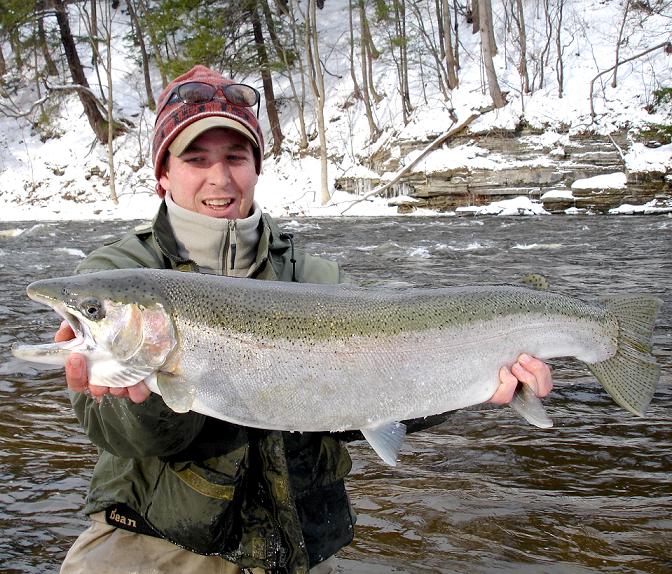 The day starts out much like any other, off in the pitch black darkness, meandering through hills and valleys with eager anticipation to meet the man on the river an hour before sunrise. It is below freezing right now, but the weatherman predicted a mix of rain and snow for the morning and possible high near forty and cloudy later in the day. Perfect steelhead weather. It couldn't be any better. Coffee in hand, steaming a steady plume in the air as I met my Guide for the day behind his house on the river. His boat was ready, somewhat crude, and definitely well conditioned. It was a early 90's MacKenzie style high side drifter that used to "Fear No Rock", but most certainly met most, if not all of rocks and boulders in this river in particular. I ask him which rods he recommend I bring along, to which he replies, "None, I've got you covered. I have everything we need."
We deftly maneuver up the river, rather surprised at how well the grey/green Clacka held fast to the seam and rattled in unison with the vintage Johnson outboard. After turning to check out the gear we were about to use for the the day, I was slightly taken back when the first daylight revealed only spin-cast rod combos set up with dipsey sinkers and large octopus hooks. This is where I can hear my wife's silent chuckle in the back of my mind, I often assert being correct more often than not, and again here, should have checked the fine print and correlated the fact he boasted using 'FishBlaster Rods' on his flyers at local party stores along 75. Its ok, I am here to learn a new river, that goes along with new methods, not that I would consider bottom bouncing or watching a Thill Float a 'new' method. Be still, relax, take a deep breathe, you are on the river after all and it is going to be a stellar day.
On the very next bend, we drop anchor and cut the motor. Within a minutes, my guide had a spawn bag hooked up while simultaneously spooning a ladle of spawn from his 5 gallon bucket behind his seat and spread them across the river like raining Skittles on a playground. My jaw was on the floor of the boat as he handed me the Fish-Blaster rod and explained  "All you have to do is chuck it out there and watch yer bobber."
Really? Am I in a nightmare? Pinch me, maybe I haven't left home yet and got caught in some sick twisted glitch in the matrix. Before I could wrestle with my ethical dilemma, there was an immediate and definite tug on the business end of my rod, and the reel began to sing>  Zzzzzzzeeeeeeiiirrrrrwwhzzz…
In a few minutes, we had the beautiful speckled anadromous trout in the boat. I asked the guide to take photo of the gorgeous steelie we netted. As I was admiring the iridescent green dorsal, contrasting rosy cheeks and with silver mercury lateral lines, the Captain of the boat smacked the creature in between the eyes with a bloodied  and crude axe handle. THUD!! again.
"There, I got 'em. Now he won't slip outta yer hands."
HOLY SHIT!! REALLY?!!?? That is the point, I WANT HIM TO SLIP outta my hands!!! I have no problem wit bringing a fish home once in a while, I am an advocate for selective harvest, but only when I know I am going to eat the fish I catch later that day. I will bring home a few walleye, or a stocker brown trout from Little Traverse Bay once a year, but if I were to call myself a sustenance fisherman, I would be lying, most fly anglers aren't. We do it for the relaxation and the reward. This brutal killing seemed unjust and unwarranted. It was like a perfect pizza that was ruined with black olives and anchovies, I am never going to erase that image nor wash that bad taste out of my mouth.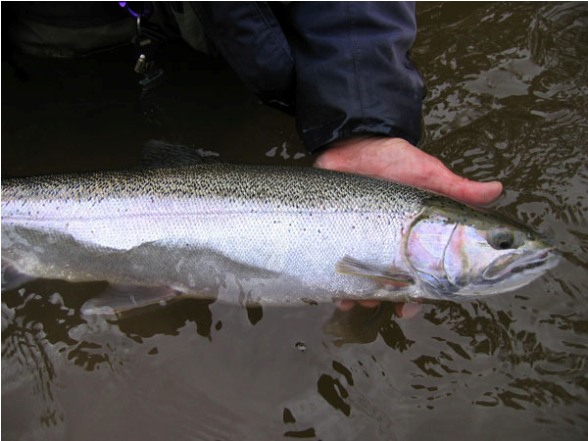 This didn't really happen, to me, but it did happen to another friend of mine. The names have been changed or omitted to protect the innocent. But it does bring up a few good points. You should touch base with your guide to know what to expect from the day on the river. I try to get a good read on what type or level of skill a future new client might be before we meet. Of course one angler's definition of 'pretty good' caster is totally different than that of say, Steve Rajeff. I did have a client this summer ask me where the live-well was on my fancy row boat. HA!! "The river  is the live-well my good sir!" He chuckled and we caught fish and perhaps the first time in his life he got to feel the joy of releasing the fish for another angler to catch someday.
This Holiday Season, I am thankful for many things: the good people I have come to know in the fly fishing world, the ability to pass along my passion for fly fishing to others and for the anglers who are purposeful in their efforts to enjoy nature, and respect her without abusing or neglecting her beauty.
Tight Lines and Happy Thanksgiving!
Koz
From our good friends at Gink & Gasoline>
The week was feverish with phone calls and e-mails dispersed across various social media outlets. I had a Saturday off from the restaurant and guide trips, it was also the first week in November and the forecast looked 'fishy'. Wind gusts 20-30 mph, chance of rain greater than 80%, high in the mid 40's, time to hit some water. Personal messages and voice mails we returned with mostly 'we regret, would love to but …' Previous engagements held many back from joining me on my freshwater quest. Then, late Friday afternoon I received a text message from Thomas Menas, on his winter sabbatical from Minturn Anglers in Vail, CO he had a free day on Saturday and would love to hit some water with me.
Where shall we go? Browns are aggressively stocking up on their post spawn feast and debauchery on many of our rivers. A twenty minute scouting trip to the Boyne River has revealed a few steelies and voracious eager little browns hiding in the woody debris. The Lower Jordan would prove worthy, so would many sections of the Upper Manistee or the Au Sable River. The thought of floating the fast water of the Sturgeon River for the emerald bullets that have infiltrated its cold and oxygen rich frigid waters has a certain appeal. Or a quick trip over the bridge to the fabled Two Hearted River, or nearby Carp River. Then Thom throws another option in the mix that I had never even considered.
"How about we float some secret waterway for Musky?" debated my fishing buddy. I have yet to be infected with the toothy GLMV (Great Lakes Muskellunge Virus), but would happily comply.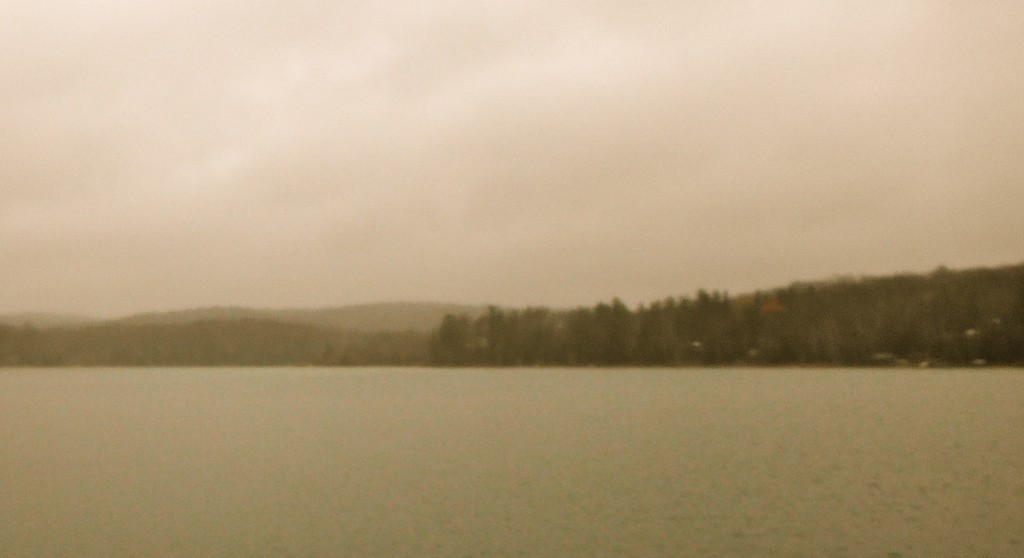 Then a few other options slowly crept into the back of my mind and it became apparent to me, once again, we are blessed. There is such a bounty of great water in this little corner of the Mitten, and I haven't even tapped some of the better resources simply because they are either designated trout rivers and closed for the season or are crowded with a multitude spawn baggers and spider wire anglers hoping for one last desperate salmon carcass to double their Ugly Stick before they head off in to the woods in search of a wayward Bambi.
We suited up in our Waderwick stirrup Robin Hood Tights and Simms Rubber pants and met early Saturday afternoon at a nearby boat launch to make a plan from there. Zach has just returned from his half-day guide trip and might be interested in joining our blustery rendezvous with 'River Q'.
Recent stocking reports from the Department of Natural Resources gives me an inclination to check out a little lake we have all driven by a hundred or more times and often considered but haven't visited since High School Church Camp where I sang songs at nightly campfires.
The access is simple and vacant, void of other trucks and trailers. The clarity of the water makes reading the drop offs and vegetation simple and and almost ethereal. For a moment, we joke about being in some lake in the middle of the Canadian Shield, miles from civilization, while we can hear a logging truck round the bend and begin to work his air brakes.
We never had time to dig in the Yeti for snacks and sodas, we were too busy keeping our course and working streamers deep and fast. All we wanted was to find fish, get a chase and chalk it up a 'Good Day.' Then Zach got a slam on his streamer, on for a second and shortly off. Perhaps a toothy villain was toying with us, or one of the smaller stocked trout I had read about. Then Thom got a smash, more like he was broadsided by a bus. His rod had a healthy bend in it and we saw the flash of a decent fish. The Mackinaw made a dash for deeper water, crossing the bow of the Adipose and lunging for a darker zone. A brief moment later, and deft net job, we had our first backyard stillwater streamer laker in the bag and measured up to O'Keefe status on the Idylwilde tape measure. Well worth our time and trouble, getting soaked and blown around, to find such a gem in a matter of minutes from our homes. We pass the time exchange guide trip stories.

Thom's tales are always larger than life itself, like he guides for Paul Bunyan Outfitters. Whether being chased down a by bull moose in the high mountain lakes of Colorado or being stalked by a mountain lion, or nearly zapped by an electrical storm at 8,000 feet, it kinda makes my pathetic fear of coyotes in the distant fairly obsolete. Then Zach gets his, a nice Splake with colors a touch more iridescent than his non-genetic hybrid cousin the Laker. At the end of the afternoon, we were soaked, but tapped into a great little fishery that was exciting and refreshing. We had a great day on the water, catching up and catching a few fish. Although the footage I caught on my GoPro was lost when I failed to eject before unplugging the USB cord, I have a pretty good idea where we can go to do it all again, and we won't have to drive a few hundred miles to enjoy the treasures we have right in our own back yard. Tight Lines!