Join the T|N|T Fan Club on Facebook!
True North Trout has a cool new Facebook page.. scroll down and look to the right hand column to join our club at the Evil Empire! We need more minions if we're ever going to have an angling horde. The invasion will start from driftboats!
TON gahs~ at least that was how I thought it was pronounced, but since yesterday, I have seen multiple vernacular interpretations. That is the purpose. I am juggling between two dogs scratching at the door to go out in the rain, making a cup of coffee with one hand and mixing a bottle of formula with the other for the newly acquired 10 day old addition to our Trout Bum Clan, who is squawking and may need a new diaper at any moment and scribbling down thoughts about this Trout Unlimited Bloggers campaign for the Tongass Rainforest and the sensitive logging issues that surround yet another very hot topic in the conservation world in my mind.

It is no secret I will enter nearly every little contest that dances across my Facebook feed, but rarely do I enter blogger essay contests. I don't fancy myself a writer, especially amongst the ranks of many others who so eloquently string together words that fluidly express the same thoughts and emotions that would take me hours to formulate. I found inspiration in my fellow fishing/blogger buddies post, thank you
FR
. If it weren't for you I wouldn't be working so diligently to help spread the (excuse me while I take a bottle/burp/coffee refill break) word and efforts of a few who work to protect the last great wild places left on Earth.
I recall in the early nineties the Clinton administration passed a bill to protect the
Tongass Forrest
which includes some 19 designated wilderness areas and one of the largest multi-specie bear population in the world, from building any roads to prevent logging in the roadless region. In recent years, consecutive administrations have not supported nor backed the roadless bill and consequently de-forestation of this lush and untouched region has become the hot topic. I have never been to Alaska, don't worry, it is on the top five of my bucket list destinations along with Kamchatka and New Zealand. Why is it one of the most dreamed about fishing vacations for so many anglers? Just a theory from a Michigan resident who can only envision what a river would look like without human intervention and exploitation. A river with naturally returning salmon who have been nourished with the protein rich inhabitants of the Pacific Ocean. These salmon number in the millions, not thousands. They bring the much needed phosphates and nitrates to the trees via bear and eagle deposits and leftover scraps. An amazing link from sea level to upper elevations that would not exist if one of these animals or plants were removed.
Living in Michigan, we can look back through our past, how we first exploited the majestic white pines, then the fragrant grayling, and finally a pigeon that was sold as squab to fine dining establishments in Chicago. We have watched the decline of fish populations in the Great Lakes due to the introduction of invasive species through the St. Lawrence seaway, only for the immediate value of shipping precious metals and ores in and out of the mid America. I can only imagine a river so rich and lush with vegetation, overloaded with fish you can nearly walk across the stream on their backs, and wildlife that abounds on every bend of the naturally flowing watershed. But why should I even care about a river system and forest that is thousands of miles away when we have so much at stake right in my own back yard? The point is well taken, and rightfully so. We have a legal battle over a 'reflection pond' at a yoga retreat that has successfully killed an entire river system three times in as many decades due to sediment release from an unregulated dam. We can't even find common ground on gear restrictions and creel limits, what kind of impact can we have on a 17 million acre natural forest?
It would begin with initiatives such as this one. WIthout it, you would still be more concerned with how many millions Iron Man III made this weekend, how Tiger Woods pulled out a close win with new girlfriend Linsey Vonn at his side or why Angelina Jolie decided to get a double mascectomy. We focus on overpaid celebrities and athletes rather than invaluable resources that cannot be replaced. This is the current sad state of our country, we have natural beauties in our land that were protected and designated during the Roosevelt administration, but we can't wait to go in a clear cut them for the value of the lumber. Our insatiable greed for more/cheaper/faster as Americans has pushed other third world countries into collapse, where they pile communities of residents on top on another like legos, simply to wait for the next natural disaster, whether it be an earthquake, mudslide, or tsunami to offset the balance we as humans have taxed on this already overpopulated planet.
Why should I go to the Tongass to smell its dank and emerald mossy trees, to drink in its fresh cold-water and smell the ripe and decaying flesh of several salmon species rotting along the rivers shoreline? I don't think so. I think I already know the importance of this fragile resource. Someone else needs to be converted, and non believer that doesn't feel as passionate about the natural resources as I do.
Please consider this as my official entry for the
TROUT UNLIMITED
OUTDOOR BLOGGER NETWORK
tour 2013. Thank you to TU and its affiliated sponsors:
TENKARA USA
,
FISHPOND
, and
RIO PRODUCTS
.
To say the rivers were high would be an understatement. They were flowing through some places in the woods I have never seen before. Daily reports from Grand Rapids and photographs from friends and family were amazing. The Grand crested at a record 21 feet above above normal. The Sixth Street Dam was but a small dimple in the rivers tight pinch through the concrete jungle, the fish ladder, barely visible and merely some angular projection from the muddy waters edge. We were more fortunate in the north to not receive the same amount of rainfall and run-off, but our waters were well above the banks.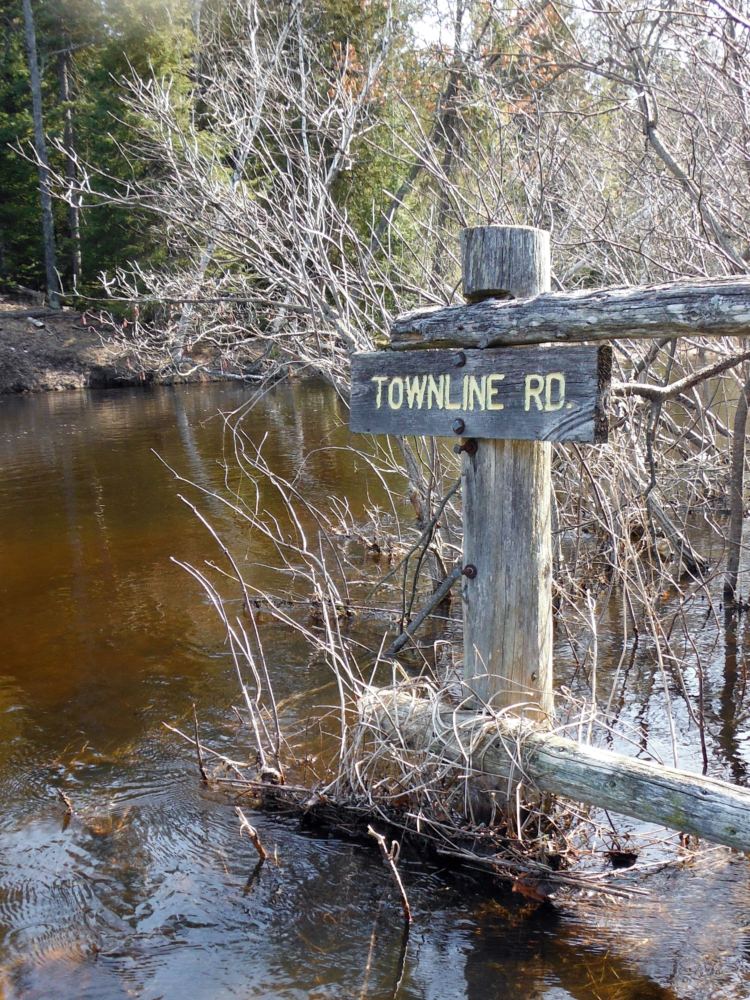 I had Sunday off, the new boat, some say is the bane of our un-spring like weather, had yet to actually stretch her sticks on a river. Sure, I took 'Layla' (Black Beauty) out in the mouth of the Boyne River to see if any steelhead were crunching minnows near the ice sheet, but hadn't actually floated. Alex from TROUTLAB and Chuck & Duck gladly accepted the offer to see how the river was and perhaps connect with a fish. I was amazed at the water level. Banks I knew that held fish were but a visual in some old foto album, docks were submerged by feet of water. Picnic tables near cottages looked more like flat wooden plateau's protruding out of the water.
It made the 'catching' part of fishing just a little more difficult. With this much water, the fish were more than dispersed, they packed up and moved to either high country in the woods, or way down deep where the turbulence may not interfere with energy expenditure. I am certain the fish were there, we just couldn't find were 'that' was. Getting flies down to the feeding level was another difficulty. Our 440 grain sinking line was just another piece of string streaming down the river at a rather fast pace. There was so much 'stuff' in the river. Dislodged leaves and twigs from last fall tat once were safely yards from the rivers edge had now become part of the detritus in the rivers ecosystem.
It didn't matter. We were out to enjoy a gorgeous day on the water and test out the FLOW. I am very pleased. Being a Clacka guy, I needed a day on the sticks to begin my bond with the new member of the family. I can say I am very pleased with how well she handled. There were moments when I knew what was coming around the bend and like meeting a cornered Pit Bull, I couldn't show my fear nor lack of self-confidence. Sweepers and jutting White Pine posts that could easily flip the oarsman who is not aware, I took each stroke with assurance and pride in the handling of this watercraft. I am completely amazed at how well she can sit in the middle of a great rush of water and with little to no effort maintain position while the angler can get a good fix on their target. I can't wait to get more time on the water her and a host of new clients this season. The
Adipose FLOW
was a great choice and I am very proud to have it in my arsenal of fishing gear.
Opening of Trout Season is this Weekend, I will be staying close to my home waters and getting back with you early next week for a fishing report/update. Get out and get wet!! Enjoy and cherish the nostalgia of a hot cup of coffee and how much sweeter it tastes made from a campfire on the banks of your favorite trout stream. If you would like to book a trip, fell free to contact me at
TNT Guide Service
~ pretty happy to say that my summer is starting to book up.
Next week is Salmon Release day!! Thursday May 2, 2013 at Riverbend Park in Petoskey on Standish Road next to Curtis Field at 1:00 pm. If you can come, we would love to see some public support for Salmon in the Classroom and the great work Kathy Slack does with her PALS kids through out the year. This is a phenomenal program that could only be accomplished with the generous amount of work from the
Department of Natural Resources
and
Trout Unlimited
. We hope to see you there.
Winter is slowly lifting her blanket of cold and despair. We have seen rain and rising river levels for the past week. Personally, I have been on the Boyne River at least every other day, from the mouth to the dam. Maybe next week I can hit the Jordan or Sturgeon and see how the rivers compare. Some fresh fish have moved into the system, not in any significant numbers yet. Evening temperatures are still dancing around the thirty degree mark, daytime highs reach mid forties. We are looking forward to a sustained fifty or near sixty degree stretch with some warm rain to have a major push of steelhead in to the rivers of northern Michigan.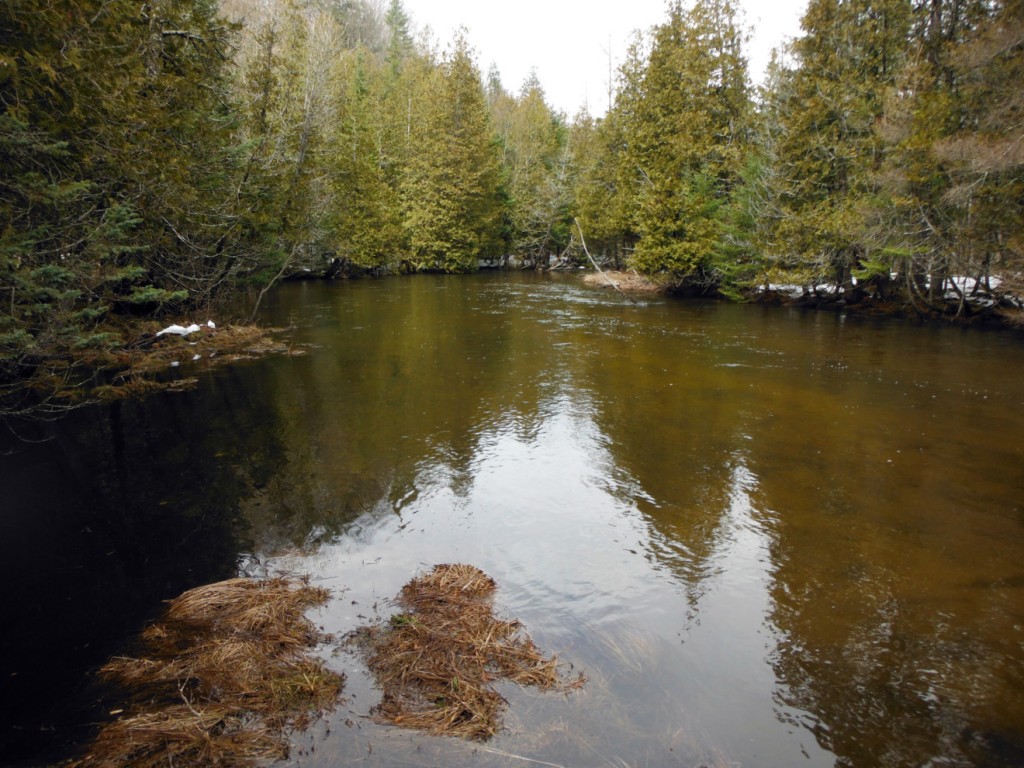 I saw a few pairs of steelhead on redds in late February/early March, nothing as of lately. A few polished gravel areas here and there, but nothing actually on the spawning gravel. I personally do not fish the redds, nor advocate bothering fish who are more involved in securing the next generation of silver bullets. More often than not, I am swinging ACF's Mike's GHB's or Senyo Sculpin patterns in likely deep dark wooden vaults with the hopes of some high velocity and aggravated male hooked jaw chrome to come out and dance with me. I have yet to have the opportunity this season, I feel like the nerdy kid with braces at the middle school dance and all the pretty dolled up cheerleaders who are cavorting with the other macho, studly IZOD polo wearing dudes. But I too, shall blossom and have my day. I have theories about this. Not my younger years as King of the Dipshits in '16 Candles', but higher water patterns in the spring and the direct effect it has on future returning steelhead populations. Weather patterns like we have been experiencing this year should provide a beneficial spawning period for our Great Lakes Steelhead.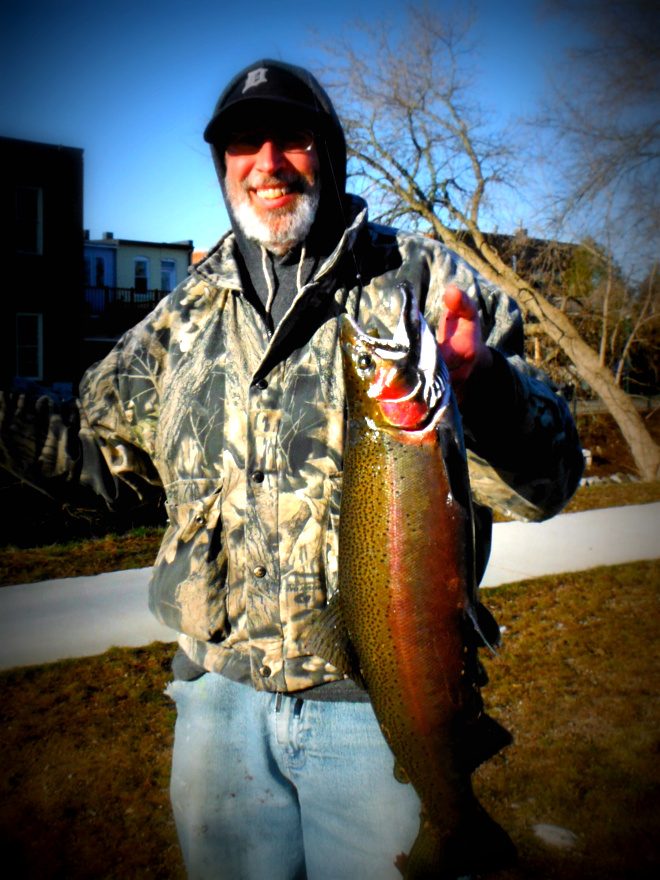 Higher water, late melting coupled with substantial rain events and inclement weather conditions should provide for a safer than usual season for the pairs of mating steelies the proper uninterrupted privacy they should be allowed. We shall see in a few years. Get on the water, that is the only way to know if the fish are biting…
As most of you know, I am not the guy I was a decade or so ago. After I quit the bottle, I gave all my Solsun and Sierra Nevada Pale Ale T-shirts to the Salvation Army. I had a small collection that would adorn any Gap kiosk sufficiently. I have been saving a couple of Bell's Beer bumper stickers for the fishcar and drift boat; however, I've made the executive decision to pass on these decals for a few(4) fortunate individuals to represent the now famous Kalamazoo Brewery along with the new PETOSKEY Brewing Company as well.

Hey, did I forget to mention a new and improved TNT decal for the lucky four peeps who LIKE and SHARE this post on
Facebook
. Get on it, like white on rice and spread it like Nutella. Winners will be chosen by random number generator on Sunday Night and announced Monday morning. Let's see if we can generate some beer aficionados in the fly world for TNT.
Tight Lines,
Koz
The culmination of many years, the anxiety and anticipation of always saying I am going to do this, has finally come to fruition. The uncertainty of unknown lasts only as long as it takes to walk through that door. I am opening and proceeding forward. Making sure I take every step carefully, dotting all the I's and crossing all the T's, the past several months have been a combination of setting up website, setting up interviews, getting my DBA, proper license from the State, paying for insurance and taking boaters safety. Add that in with regular daily life, work, family, tying flies and attempting to wet a line to stay in the loop has had its moments. After having a "near cardiac event" last year- the Doctors discovered a 99% blockage in my LAD during a stress test- my perception on life has changed. Do what you like, don't take this for granted. Go out and achieve today what it is you dream about, you may not get the opportunity next week. The time is now, everything is in place.
I have to thank friends and family for the support I have received from so many over the years, truly I thank you from the bottom of my heart, I know I could not do it without you. Special appreciation goes to my beautiful and ever motivating wife Lesley who knows me and pushes me when I start to stall and procrastinate. There is no more hesitation, it is time and most everything is in place. I must make the Leap of Faith, and not worry about the little things, for they are, only little things. Everything isn't going to be perfect this first year, that is how we learn and grow, and I look forward to growing. All the years of strategic planning, scribbled ideas on a notebook, this has now become reality.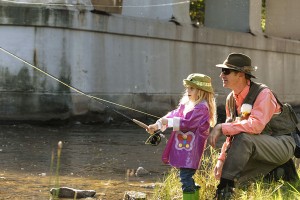 So, if you have friends or family that will be coming up to the Boyne/Petoskey area and they might want to go for a float down the Jordan or Sturgeon Rivers, learn to cast a fly or two, or already know how and want to get after some night time hawgs- have them look me up and we shall connect. Others who might be coming to Northern Michigan for the first time and want to try your luck with the ever elusive Hex Hatch- be sure to give me a call and we shall get you on the water. TRUE NORTH TROUT GUIDE SERVICE is officially open for business. Tight Lines!
Koz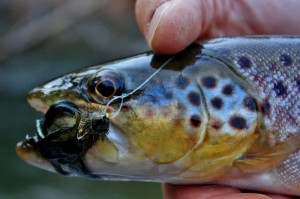 Being involved with Salmon in the Classroom allows me to stay in the loop with various programs Trout Unlimited has for the teachers and instructors to help keep the students interested and involved. Last week I received an email from a TU intern that I found relevant to pass along to you and your children or grandchildren. Most importantly, take them outdoors, go for a walk along the lake, beach or river and turn over a rock or two, teach them what a mayfly is and why it is so critical to have clean healthy water.
Here they are:
1) Project Noah – Project Noah allows kids to take pictures of species (plants and animals) they have seen around their area along with joining missions for specific species they're interested in and earning patches when they've completed their goals. This app was my favorite because it gives kids a sense of purpose through the missions and a nice reward system with the patches.
http://www.projectnoah.org/mobile
2) Nature's Notebook – This app allows kids to also photograph any plant or animal species they encounter in their surroundings, but it's much more simplistic than Project Noah since the main point of it is to create a notebook out of their observations. I like the simplicity yet effectiveness of Nature Notebook to get kids to think more about the different kinds of species that are near them and their significance.
https://www.usanpn.org/nn/mobile-apps
3) CreekWatch - CreekWatch is a great app for kids who have a special interest in streams or watersheds. It's another app that allows kids to take pictures, this time of a waterbody they find and allowing them to give specific information on it, such as the amount of trash found and water level. This will allow kids to realize how important it is to keep their rivers and streams clean by being able to browse the different observations found throughout the country in addition to personally contributing.
http://creekwatch.researchlabs.ibm.com
4) Google Earth – A lot of people are aware of this app, but it could be a great tool to show kids the interesting nature sites that are nearby them through the app's satellite imagery and maps. This is more of a search tool than an interactive tool, but it could help kids explore the different terrains that surround them.
http://www.google.com/mobile/earth/
Hope you find these handy!
Carli
Mike Delp is the former Director of the Creative Writing Program at the Interlochen Arts Academy. He is the author of several collections of prose and poetry and is also the co-editor of the "Made in Michigan" book series from Wayne State University Press. His most recent book, AS IF WE WERE PREY, is a collection of short stories available from WSU Press.
Recently, he contacted me and expressed interest in seeing some of his work shared with the True North Trout audience. For the next few weeks, as we approach the opening of Trout Season, I will share some of his work with you. Feel free to check him out on Facebook.
The Mad Angler's Manifesto
I speak with the voice of water,
rivulet, brook stream and creek,
for whitewater in lost gorges
boiling cataracts, every place
where the souls of wild fish gather
to remind us of the power of hydrology.
I speak with the name of rain,
with the soft lips of condensation,
even the dew which gathers each night,
every drop another transition from sky to earth.
I invoke the masses of insects to take over the world,
to begin the hatching and mating, sure in the fact
that tomorrow another dam will fail, another levee crumble,
another river where you live will tire of its banks
and seek retribution on your lawn,
running up your driveway and into your basement.
I praise the flash flood,
the artesian well, the flowing hearts
under our feet,
the webs of underground rivers
coursing through solid rock.
I fish in incantations, genuflections,
my body a living marker for the crest gauge,
tidal fluctuation, flood tides and fresh water seiches.
When my eye falls on rivers I praise their transparency,
their nature of shaping their way as the move.
Water is my heart churning in a white hydraulic,
my tongue longing for a quiet pool, the skin of night
settling in, mayflies on the edge of moonlight
sifting out of the trees.
I praise the lust for emergences,
the urge to quit the job, convert the pension funds
to river frontage,
the sudden impulse to carry a fly rod into a meeting,
the fly ripping the lips of your superiors.
I embrace the chant of waterfalls,
the litany of holy rivers: Battenkill, Firehole, Bighorn.
I trust only the sweet smell of rotting cedar,
the scent of mudbanks festering with nymphs,
the rivers rising in my blood like an illness, a fever sent by
the god of desire to make his presence known, something jolting
through the veins to replace the done deal, the raise
with a corner office, the soul trader
you most likely have become.

En route to one of our favorite fly shops in the north, I mentioned to Lesley how I wanted to do a piece on the various questions and requests the shop owners get, what sells, what doesn't, and how do we get more women involved in fly fishing. Conversation developed and she had the brilliant idea of writing a blog on how women feel when they shop for their male angling family members. Here is the wonderful and in depth point of view from Mrs. Koz>>
As a former salesperson for Victoria's Secret, I often times watched as men would linger outside the store front, eventually work up the courage to come in. They were greeted with welcoming smiles and an abundance of assistance despite their hesitant manner and blushing cheeks. They would stare blankly at the bins of undergarments and beautiful lacy items along the wall. They would meander slowly through the store smelling lotions and perfumes to determine the exact scent their significant other had on her Christmas/birthday list. This was a major event for most men. They faced their fears head on in order to be the hero. Or, better yet, the men gallantly decided to hit up the nearest Victoria's Secret to surprise their love with something pretty.
Either way….this is how women feel when they enter a fly shop.
So, the question remains: How do you make a fly shop more inviting for the wives and girlfriends of avid fishermen? If your husband is anything like mine, you get emails forwarded to you that contain links to their favorite fishing gear. You may have numerous magazines around the house with pages folded and items circled that make up their never-ending wish list. To me, looking at buffs, line, furry creatures that cost a small fortune, a gazillion different sizes of hooks, and headgear is foreign and uncomfortable. You want what size? What is that for? Why does that cost SO much? What does that do? Why do you need so many?
Then it hits me….THIS must be what men feel like when they enter "Vicki's"…..
However, the usual VS salesperson sees opportunity when a man walks in. We are more than excited to guide them toward a large purchase that will most certainly make his woman swoon. We talk in layman's terms about 'sizing' and we offer the opportunity to determine the correct sizing without embarrassment or humiliation. We eagerly walk them through the perfume, lotions, and other goodies that women love.
If only women were to be offered the same treatment at the local fly shop.

Now, I'm not knocking the friendly nature of most fly shop employees. They love to talk fishing and bullshit with the other guys in the shop. They give fishing reports and talk up new products at the drop of a hat. But, where's the love gentlemen….where's the love?
As the wife of a flyfisherman, I oftentimes can be found wandering the aisles at a fly shop. I stare at crazy flies made up of furry fun colors that sparkle and wiggle. I usually check out the small book collection and maybe the new coffee mugs. And, sometimes, if I'm really lucky, there might be one rack toward the back of the store that has some awesome Simms wear for women. Or, on a really good day….there may be a sale rack lingering close by. But, after five minutes, I'm bored and ready to go.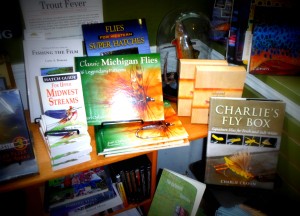 Here's a note to the fly shop owners of the world – WOMEN LOVE TO SHOP! Draw us in with fashionable, warm clothing from Patagonia or Columbia. A little pink here and there never killed anyone, and most of the female population is drawn to this color on some level. If you get us in the door, and give us a few items to look at, my bet is that we may come back again, on our own, with our husband's Christmas/birthday list in hand…and then like the salesperson at Victoria's Secret, you can happily assist us in making a large purchase for the fisherman in our lives that will make us their hero!