Join the T|N|T Fan Club on Facebook!
True North Trout has a cool new Facebook page.. scroll down and look to the right hand column to join our club at the Evil Empire! We need more minions if we're ever going to have an angling horde. The invasion will start from driftboats!
"What was your favorite part?"
"I really liked the part where the guys had a tie a fly contest and one used a Chee-To and then he cut some from his mustache and then they all caught fish on their fly, and that one guy, Really REALLY liked dancing after he caught a fish. I think he really likes to fly fish." remarked Simone.
Pretty powerful and accurate observations from my nine year daughter. She is kind of a fish porn buff, whether she knows it or not. This would be her third F3T and Daddy has a small collection of fly DVD's.
"What about you Jason?" we had stopped long enough to refill our coffee mugs at McD's and let the car warm up before the long and frigid ride home to our corner of the tip of the Mitt.
"I wish they woulda shown some more of those big Grayling they were catching on mice patterns, that was some epic fishing." Mr Fontinalis Rising was right, some major surface action with hefty Arctic Grayling gorging on hemorrhoidal mice patterns were featured in "Alaska: la Frontera Nor". RA Beattie and crew do not disappoint with fun and enthusiasm, even after Mike Dawes goes in to detail on how much he really doesn't like flying in puddle jumpers and the trek in to the land where they shall help Sandflea catch all that Alaska has to offer- even a sockeye on the surface.
"320" revisits Capt. Jako Lukas guiding a remarkable 320 days a year. From GT's in the Seychelles, to Mongolia for Taimen, Norway for Atlantics, and then off to chase sailfish in some remote island where it 'didn't suck'. I found it hard to hear him speak. We were in the front and the speakers seemed to be a little heavy on the bass, but my eyes were filled with explosive chases from monster Trevally and duck eating hucho Taimen. I wonder how many days a year he spends in the air traveling to all these destinations? Maybe we will see that next year.
"What was the other film, the one that was a lot of guys talking about back in the day, Tom Rosenbauer and others reflect on how fly fishing has changed today…?"
None of us could recall. "A Kinetic Loop", sponsored by Orvis and Scientific Anglers looks worthy of purchase, a little heavy on the self promotion, but they lost us on the title. I get it, nothing stays still, always in motion, ya, but they could have named it 'Five Fly Anglers talk about the Past' or 'REFLECTIONS'- probably taken, I know.
"Long Live the King" was good, although aptly could be called Red Gold II, it had much of the same tone we were introduced to years ago with the issue of Bristol Bay and the threat of losing a great resource. Understand, the battle is far from over and we shall see and hear more about this one of a kind resource.
"Blood Knot" has a great story about twins Brian and Colby who do everything together, include owning a Fly Shop in the Shenandoah Valley near Mossy Creek. They will chase anything that swims, from musky, carp, browns, rainbows, brook trout to grass carp. This area of the country needs further investigation, by me.
"50″ went on about the history and the challenges one must face to acquire the ever coveted Gold Cup Invitational Tarpon Fly Tournament in Islamorada, FL. Much like Wimbledon or The Masters, these competitions, although great for the economy, are a little out of my price range and social status. This is fine with me, most of the cold water brookies I deal with don't require an esquire behind my name.
"Tributaries" had me interested initially but the trailer left me satisfied with the fact I haven't purchased the film. The connection between a Scotsman who angles for Atlantic Salmon, an Argentina guide riding horseback for browns and the son of bonefish Charlie in the Bahamas feeshun for dem boneys failed to actually tie the connection that we all come from the same waters. Maybe I need to take a closer look. The footage was stellar, amazing and beautiful places are only half of a story, perhaps I shall review it again in the future.
North of Wild
My favorite for the evening featured the well established author and angler John Gierach, along with Aimee Eaton, Simon Guay and Robin Reeve, fishing in Labrador for monster brook trout in "North of Wild". I have seen family photographs of twenty-something inch brook trout that were measured in pounds, not inches from some lake only known as Lost Lake near our cabin in Canada. If I had to choose one of these films as my front runner, this would be the one and worth the money to purchase.
The evening was sponsored by The Northern Angler in Traverse City and the folks at Inside Out Gallery have a perfect venue for showcasing an evening like this. A large enough gathering room with a well stocked bar to lubricate the social mixing and a nice stage with seating up to 120 people.
"Dad, this popcorn is a little salty."
"So are most of the previews dear."
That's why we attend these events, besides getting ourselves out of the house when there is three feet of snow on the ground, we get to catch up with other anglers, meet new ones and enjoy an evening with thoughts of warmer days and bugs hatching. Can't wait.
Bozeman Reel: Built in The Heart of Fly Fishing from Bozeman Reel on Vimeo.
It's a balmy 2 degrees right now, nearly tripled from early morning temps well below zero. Makes it hard to live the life of a troutbum in the mitten, unless you don't mind drilling holes in 2 feet of ice and staring at blaze orange metal bite indicators. We have been tying a few flies, throwing snow and getting ready for the springtime. One of the best signs that warmer weather should be on its way is the Fly Film Festival. We are headed to Traverse City this weekend to the InSide Out Gallery just east of The Northern Angler for another great installment of fresh and saltwater videos. 320, Long Live the King, Tributaries, Blood Knot and North of Wild are just a few of the many short films I am looking forward to seeing. Be sure to get your tickets before they sell out and check out a few trailers for yourself here. F3T Tickets
Video Previews
I have been eyeing a few new rods and reels. Seems natural. Most of us do it during these months of hibernation. We like to imagine the feel of a new stick in our hand, bugs biting the back of our neck, and hear the whizzing of a drag screaming for mercy when all outside is frozen solid. A guy can dream can't he? My sights are set on a new reel from Bozeman Reel Co. If you haven't heard about them, perhaps you just returned from your expedition to Kamchatka, I hear it is warmer there right now, I have the latest buzz from Hatches Magazine lists them as standout gear for 2014.
I recently got to preview their latest promotional video.
Bozeman Reel: Built in the Heart of Fly Country

Made in Bozeman, fished across the Country. Pretty fitting they have a connection to Michigan as well. Check out the video. Give them a Like on Facebook and see what everyone is talking about. You will be seeing more from these guys in the future…
This winter seems to have a firm grip on much of the midwest and not much in the near future promises she may loosen her grasp. Some of the most snowfall and consecutive weeks of highs only reaching the teens has provided for the best skiing and snowmobiling for our region, the local economy appreciates a good old fashioned winter. While most of us have been diligent about tying and refilling our fly boxes for next season, I have only just begun. My tying gear and table have been buried among boxes of higher priority and a lengthy driveway in need of daily devotion. This winter has given me a level of appreciation for the Korkers Icejack Snow Boots that I have been so fortunate to test out this year.
I put together a spontaneous video review of my Korkers Icejack boots the other morning while prepping to snowblow the driveway. It is rudimentary in all aspects, working on one day developing skills similar to other high quality editing videos in the fly fishing industry. It is short, sweet and hits on many of the key reasons I have come to love these winter boots.
Korkers ICEJACK with BOA LACING

- Easy on and off, the BOA Lacing system knocks this out of the park.
- Warm and comfortable, 600 grams of Thinsulate keep my toes happy.
- DRY~ there is nothing worse than wet feet when you are cold.
- Lightweight, at about 3 pounds they are far lighter than comparable boots
- Versatile, with the OMNITRAX sole system, I can switch out from rubber lugged to 32 carbide studded soles which keep me on my feet while digging my Adipose FLOW out from recent accumulations of snow.
It was funny, the other day we were leaving a local sporting goods store and my daughter Simone asked "Dad, why do you take off your boots in the store and show the guys behind the counter what your boots can do?"
She often catches me off guard the way any nine year old would, but my response was easy~
"Because my dear, these are the only boots that can do what they do."
And it's true.
This video from Orvis and Trout Unlimited on fish passage and reconnecting rivers caught my eye. The Department of Natural Resources, local watershed councils and Michigan TU have been assessing many road crossings for years and are slowly healing many rivers one bridge at a time.
TU/ORVIS fish passage video from Waterline Media
I am off to tie some hoppers and mice patterns with thoughts of warm, humid, sticky nights and the sound of an ominous glurp at the end of my line…
I'm a Lumber Jack and I'm OK.
I work all night and sleep all day…
Well, not really. Last Sunday was a gorgeous January day, 38 degrees and partly sunny, perfect day for a float. The previous day was bumping the mercury to 40 and rain on Friday night. Snow was melting everywhere and large glacier like movements of the white masses were crashing down off our tin roof barn. I was surprised when I met Chris at the river and noticed it wasn't running high at all. Still plenty of snow and we utilized it to our advantage. The Adipose Flow nicely scooted across the multiple densities of frozen precipitation right into the river. There were no other tracks to the river nor signs of boat trailers. We were launching at Old State Road, where most canoers take-out from a nice float down from Graves Crossing. So the water ahead lie waiting in mystery for us to discover. We scouted Webster take-out and made the assumption it was doable for us to drag the boat over some small ice mounds left from a plow that made one small pass through the launch site.
Chris and I have exchanged messages via Facebook, and I invited him to float the Jordan for some winter pictures for his Outdoor Column in the Gaylord Herald. It is funny, when you finally meet someone in person that you may have never actually talked to and all your character judgements are dialed in correctly. We know many of the same people in the tip of the mitt, kind of ironic we never met in the past. We talked in depth about a variety of subjects. The boat in particular because although Chris has floated the Jordan before, but never in a drift boat, so this was a first. I explained why I love the Adipose because of it's storage, walk around platform, large footprint and shallow draft, it's nimble dexterity and my ability to see objects headed our way over he bow, and a few other feature that make it a perfect design for floating a river like many we have in northern Michigan. He shall soon see what I am talking about. We also talk about the designation of Natural & Scenic for the Jordan River, the threat of hydraulic fracturing, certain dam removal in other areas that have been long overdue, and Pebble Mine/Bristol Bay. The EPA is scheduled to release it's assessment midweek. We both know and agree how man, money and precious minerals seem to over-ride natural beauty that can't be bought nor replaced. Here are the EPA findings. Now it's time to do the right thing. It would make sense not to jeopardize 90 miles of salmon spawning habitat and destroying nearly 5,000 acres of wetland, pond and lakes, but we can voice our concern and make it known. This is the wrong place for this kind of open pit mine.
Anytime I have the pleasure of floating with someone I get a glimpse inside their life, and they mine. Because of his journalism background and my bartending past, we know how to walk the tightrope of delicate subjects without offending.  I discover more about Chris and how we are both blessed with beautiful daughter(s) and gorgeous, caring wives. Our passion for rivers is one in the same, conservation of it's natural beauty is the reason we are on this river. Even after being asked a hundred times why this river is special to me, I am dumbfounded. You are here in the middle of this amazing and spectacular natural setting and words fail to come close as to 'why' a place of serenity can be so magnificent. I can say that this is a mini-version of many more famous larger rivers I have known. In the Jordan, I can catch brook trout in an infinity of braided headwaters, major player browns during the hex hatch and an occasional steelhead in the cooler off-season. It offers twelve months of canoeing & kayaking and if the snow isn't too high, I can access the river with my skiff anytime of the year.
After we clear the first major tangle of downed cedar trees, we only target hot spots and cruise though much of the river to clear a few more downed trees. This spring has our work cut out for us, many more javelin-like cedar spires need to be cut back to save would-be anglers from becoming swimmers during a midnight mousing excursion. The take-out was a challenge, snow can help glide the Adipose ashore but hinder the mighty fishcar from getting any traction. The parking lot was glazed ice and merely a two-track access point, we made it work.
If you never had the chance to float the Jordan, you should add it to your 'Bucket List'. Winter months have a certain frozen beauty, the summer time has more canoe traffic, but the same awe inspiring scenery. I wrote a piece for aTightLoop online, magazine recently and have a link added to help preserve this one-of-a- kind fishery. Check it out and sign your name to the petition. Please spread the word.
Tight Lines,
Koz
Recently, I was contacted to see if I would like to run a pair of winter boots through their paces. The company in question is KORKERS. Well known for wading boots and waders, but recently dipping into the winter boot line. I chose the IceJack Snow Boot from Korkers based on a few principles. First, I had to try the BOA Lacing system out on a pair of winter boots to see if they could withstand the temperature abuse and snowy conditions in northern Michigan.
Secondly, I am often skeptical of taller/mid-calf height boots. I have several pairs, my Sorels for Ice-fishing, BOGS and Muck boots for canoeing, but for most of my outdoor activities, I usually prefer an ankle height boot (Columbia Bugaboo II) for flexibility and ease of on and off use.
I had received multiple e-mails regarding and warning me about the BOA Lacing System. A few friends have been cautiously waiting to hear whether sand particles would get in the gears of the cable lacing and eat away at the cogs, rendering the cable closure system useless. I have yet to encounter this scenario, I have been too busy shoveling snow from the past several winter storms.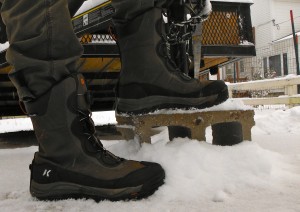 For the past two months, I have been very active and putting these new boots to the test on a daily basis. We moved the week prior to Christmas, and I needed to maintain both driveways and lug multiple trailer loads of household items to our new residence. They not only held up, but held up well, and are extremely comfortable and warm, almost too warm, if there is such a thing. On a recent shopping trip with my wife, I made the usual stops at MC Sports and Dick's to show off these winter boots to the guys in the outdoor departments. After hiking from store to store with daughter Camille in tow on my back, I can honestly say they over heated my feet. They boast 600 grams of 3M Thinsulate and do keep your feet toasty and rated for -40F. They are not meant for casual/daily shopping adventures at the mall. The Sporting Goods manager at MC Sports called his other department heads in for a closer inspection of these "Extremely cool, just like my ski boots…" winter boots we had to show off. They were impressed and guessed a price tag of $225, and said they would pay that for a boot this good looking.
I came very close to choosing the SNOWJACK because it was a shorter height boot and available in black; however, a pleasant surprise occurred on a couple of occasions. While driving, I was able to bend over and loosen the tops of the ICEJACK boot with a simple click and release of the knob and pull of the tongue. WOW! So simple and easy! On a separate trip, I was able to release and kick off my boots with daughter in the car seat in one arm without setting her down. That may not apply to many of you, but replace that car seat with a backpack or groceries you are trying to get into the house or garage or when you have a sudden urge to get to the restroom while snow-blowing the driveway and your fingers are near numb from minus 10 degree windchill. The BOA Lacing system is smooth in the freezing temps and worked flawlessly with less than nimble fingers.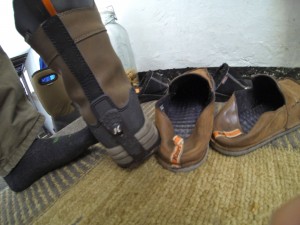 My previous experience with Korkers were with an older pair of wading boots that I loved, but when I ordered a size 12, they fit like an 11 and completely cut off circulation in my feet. Those were donated to a fellow angler with smaller feet and he annihilated them within two wading seasons. So I had hesitation on what size and which boot to order this round. Very happy I went with the 12. Korkers seems to have found a more appropriate sizing standard and with one pair of mid-weight thermal socks, these boots do all they have promised. The removable soles have been upgraded with a dual barbed front fork to firmly fit into the shoe's toe seat. The tabs have been relocated to the perimeter of the sole and have a larger lug to securely attach the sole to the base of the boot. The heel of the boot has a stretch tab to lock over a small knob to keep the sole in place. You will intuitively remove your second boot with the toe of your free foot only a few times before you remember that wasn't a wise idea the first couple of times.
Before you run out and purchase your very own pair of ICEJACKS, know a few other details. They will cost you. At about $210, they are not your everyday run of the mill winter boot. But remember you are getting more than one 'boot'. With multiple interchangeable soles for various levels of extreme weather, you essentially get three-in-one. The Omnitrax 3.0 interchangeable sole gives you options from rubber lugged, to steel carbide studs for icy conditions and even more studs for extreme icy conditions. I have been nicknamed a 'brand name' kind of guy. Don't get me wrong, I will pay full price for the quality and workmanship that goes into my Simms gear or Patagonia outerwear, the return is worth every penny when I am out in the elements. But that was not always the case and it took many years to achieve that level of experience. You see, I was the kid in middle school who never wore the much admired alligator on his soft collar campus shirts, instead I sported the off brand fox from some other department store. When a girl from 'out of my league' asked me to the midwinter formal dance-'Swirl'- I had to have a pair of Docksides so I could fit in with the rest of the guys who would be wearing white Don Johnson sport coats from Miami Vice fame. I saved my babysitting money and shoveling cash to get my own real Docksides. My savings fell short and I had to settle for the shoe store's similar brand, they did not last very long and I was out my hard earned money. I learned a valuable lesson at a fairly young age.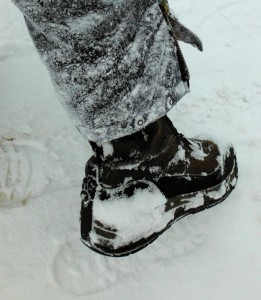 Good quality comes with a price. If you wish to purchase a new pair of boots every season, then go the less expensive route. But if you wish to have a pair of 'anything' to last you for years to come, make the investment and upgrade your gear. As a family, we are working on lessening our carbon footprint on this blue planet and are making everyday efforts to use less and get more, with two daughters, we shall see how far that goes…
This is the first part of many more reviews for the ICEJACK winter boots from KORKERS….
So much has happened…
watching reviews from various news stations, from viral videos, the Boston Marathon bombing,  to premature deaths of famous actors & world leaders and the relentless barrage of  teens 'Twerking',  I feel compelled to reflect and look back at what I have been blessed with in 2013.
The largest news in my world would be the purchase of my Adipose Flow~ it has made a world of difference in the guiding local waters and have completely fell in love with how well it handles on the tight water we so often float.
True North Trout also met many new friends and I would like to personally thank all those who floated with me in the past year. The trouble with listing names is you invariably forget someone and that person would be the 'one' who reads this post… so, a simple thank you to all those who took the time and chose to enjoy a day on the water with TNT Guide Service. Next year promises to be an even more exciting year with new waters and people to explore what northern Michigan has to offer.
Be sure to look for me at the Midwest Fly Fishing Expo on March  8, & 9. I will also be at the Celebration of Fly Tying in Grand Rapids on February 22. True North Trout is in the process of moving to a new HQ, I shall be offline for a few days and would like to extend a warm holiday wish to your families and a wonderful New Year.
Head on over to TROUT's Blog in Colorado for their Best of 2013 Photo contest and cast a vote for #10> one of the best nights on the water. A little tying with Gink & Gasoline, maybe next year get to share some water…
Check out Combat Fly Fishing and their Ugly Sweater contest.
Have a Merry Christmas and a Happy New Year!!