Join the T|N|T Fan Club on Facebook!
True North Trout has a cool new Facebook page.. scroll down and look to the right hand column to join our club at the Evil Empire! We need more minions if we're ever going to have an angling horde. The invasion will start from driftboats!
How often do you clean your line? Be honest. I'm not talking Cash-line register somebody dropped a $5 bill you're going to give it back to him honest, I'm talking deep down inside honest. Do you clean your line every time you go out or every other time you go out? Or even, 'gasp'- once a month?
I have noticed a dramatic increase in casting ability when I clean my line at least every other trip. This totally depends on the type of water I am casting into. Whether it is millpond weed frog scum-slime-slick slow  water or if I'm in a nice clean riffle filled stream, it can make a difference. There are still millions of micro particles that stick to your line every time you go out, and they accumulate. Over time, they will not only deteriorate your casting, but your line as well.
Recently, I had the opportunity to cast and fall in love with the new SharkWave from Scientific Anglers. When I lined up all my rods from a heavy week of casting into hoards of spent mayflies, I was concerned with 'how' and 'how often' I should be cleaning and conditioning this line that has improved my cast and has assisted other anglers reach that twenty incher they might not otherwise have a chance at. Is there a difference between merely cleaning the line and conditioning it? What about these household remedies I hear other anglers recommend, like Amor-All or Rain-X for their line cleaning? What is the best method for the long life and care of my line? So I sent out a few e-mails and got a rather quick and surprising response from Erick Johnson at Scientific Anglers.
The bottom line is we cannot guarantee what is in other dressing or products and how it will react with our lines. A perfect example of this is ArmorAll. For years people said that ArmorAll could be used to clean and condition fly lines. What we know now is that they actually reduce the effective lifespan of the line. This is due to the chemicals in ArmorAll reacting with the plasticizers in our coating and actually drying it out. This can lead to premature cracking and line failure. ~ Erick Johnson at Scientific Anglers
Here is what he had to say.
TNT> How often should I clean my line?
Erick at SA>Regarding frequency, it really depends on the water type and the amount of debris/dirt/grime/sludge in that water. The obvious answer is "whenever it needs it" and you notice a significant decrease in performance but that is hard to quantify. A good guidance rule would be every 4-5 outings in cleaner 'trout' water and probably every 2-3 outings in dirtier, warmer water. The BEST way to "deep clean' your line is to put a small amount of hand soap on a wet cloth and run your line through it. Rinse it and wipe it clean in freshwater and it's good to go once it is dry. This method is a little more time intensive than the bucket method, but it does a much better job.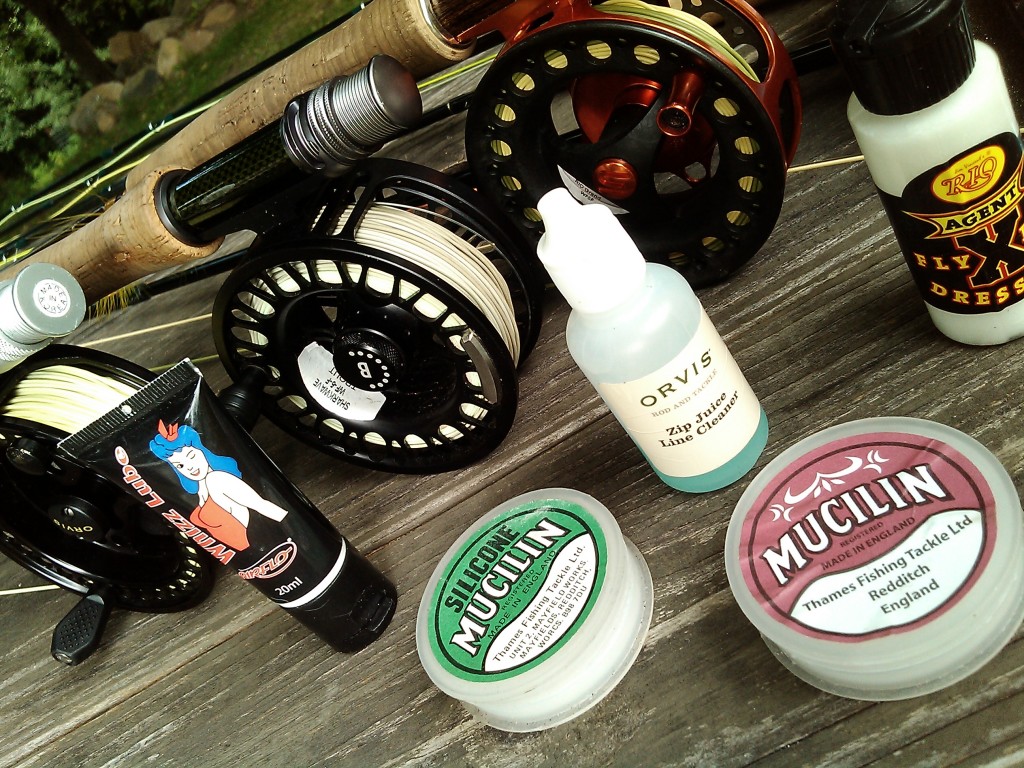 TNT>What about with Textured Line?
Erick> Great question! The short answer is that we never want to use any line dressing or conditioner on any textured lines, including the SharkWave. By applying a dressing or conditioner it actually clogs the texturing and attracts dirt and grime which actuallyrenders the line less effective.
  A good way to clean any line is by using a small about of HAND soap(not dish detergent) in a bucket of warm water. You can then put the line in the soapy water and agitate it for a few minutes. Rinse your line off with fresh, cool water and set it out in loose coils to air dry. Once your line is dry you have two options depending on whether your line is smooth or textured (such as SharkWave, Mastery Textured or Sharkskin):
TNT> What about these so-called Home remedies? Like AmorAll?
Erick>I get a lot of questions from users about different techniques and "home remedies" to use on their lines. The bottom line is we cannot guarantee what is in other dressing or products and how it will react with our lines. A perfect example of this is ArmorAll. For years people said that ArmorAll could be used to clean and condition fly lines. What we know now is that they actually reduce the effective lifespan of the line. This is due to the chemicals in ArmorAll reacting with the plasticizers in our coating and actually drying it out. This can lead to premature cracking and line failure. That is why we recommend using our Line Dressing. We can guarantee the contents are safe to use with our lines.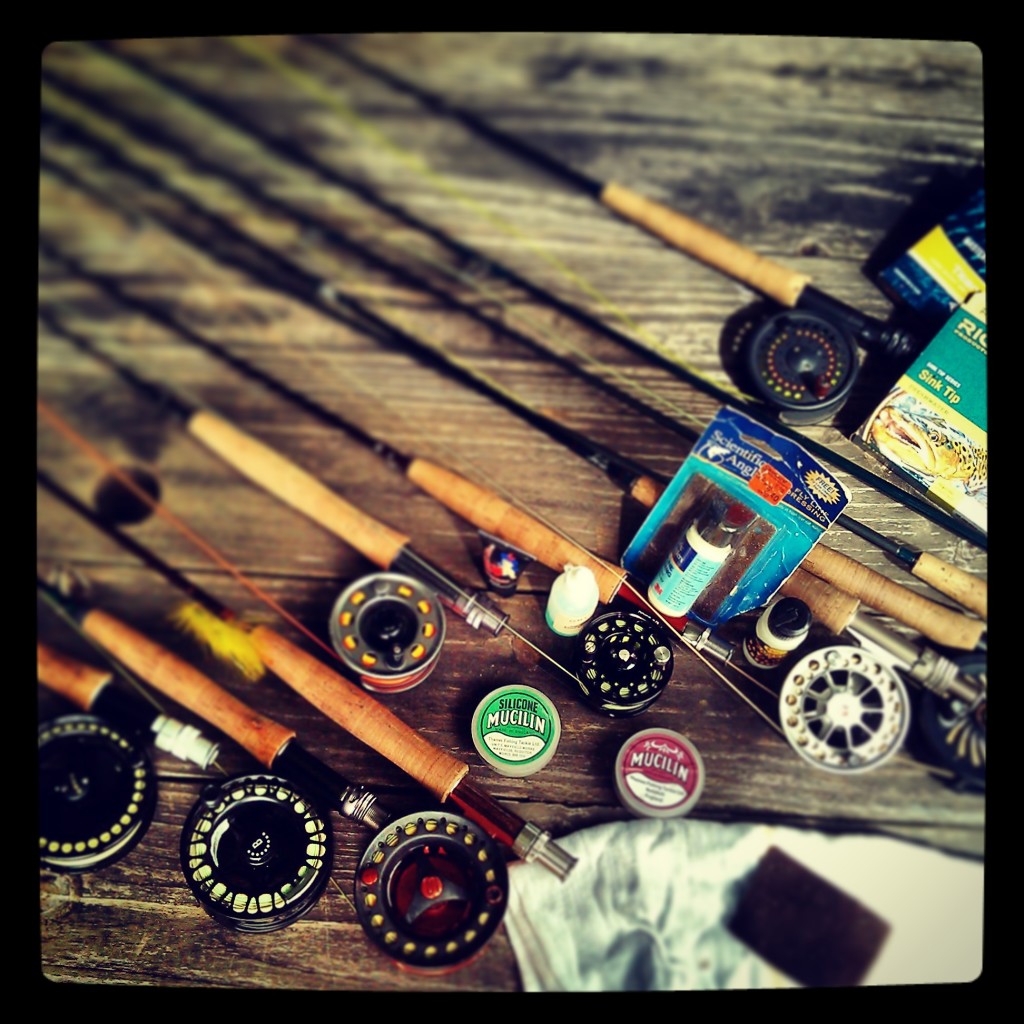 I hope this helps a few of you on your next cleaning night, I know it has cleared up some confusion for a lot issues for me. I would like to thank Erick and the rest of the crew at Scientific Anglers for always keeping us up to date with the latest in plastics and technology for our casting world.
Koz
Leaving you with a short video from Rio on how to maintain your line and keep it performing it's best.
The corners of our house are quaint, awesome and amazing. As two rooms meld together, the contrast is calming and soothing. It makes me smile. It is what I desire….serenity. I love to walk from room to room to take in all that I have created….all that I share with those I love. Similarly, the bends of a river are awe inspiring. They blend and sway, and create happiness. They offer serenity and the desire to discover what might be around the next corner. They provide the illusion of safety and the promise of hope. As our home is my paradise, the river and all it's secrets are God's promise to all those who drift its waters.
~Lesley Koz
No matter how long & cold the winter, seems I never have tied enough nor stocked my fly boxes for the coming season. I am tying a few bead-head hare's ears and Hendrickson's in hopes of some warm weather next week and watching THE RIVER for a fifth or sixth time. My daughter, Simone says its more like a thousand, but I know my dvd time is restricted between Elmo and Baby Einstein videos for Camille.
Last Saturday was Trout Opener for us in Michigan. Even though it may have lost some of its grandeur from my youth, we hit the beaver populated regions of a favorite stretch of previously untouched water and later spent the evening in Grayling to watch the World Premier of THE RIVER at the Rialto. The opening was well attended and later found out 354 out of 400 seats were sold. I sat down and saw many fellow Trout Unlimited and Anglers of the Au Sable members, all of whom were eager and excited for the feature film to begin. I had already purchased my DVD on Blu-Ray because of many faces and names that I have come to know through river clean ups and bak enhancement projects, but was surprised at the many more anglers in the video I knew from various other social outlets.
A snowy scene depicting the famed Au Sable river and Josh is working his way to the water. Someone in the crowd interjects- "Trout Opener", not too far off from where I was today.
"…It's a lifetime of devotion, and learning one secret only to discover three new ones." ~ Josh Greenberg
It can be a fickle mistress, when she is on, there is no other better place in the world, many can attest and agree. It has a special place in my family, learning how to canoe and catch a wild native trout in its cold clear waters happened when I was barely eleven years old. This river was not always the picture of pristine health we see it as today. The River does a great job of interweaving all of the many aspects and personalities a watershed can possess. Being a science geek at heart, I appreciated and became more intrigued when Steve Sendek, retired Fisheries Biologist, began to speak of the 'river of sands' many woes, and how they have recognized multiple venues to approach the sediment issue.
I thought I had seen enough previews and had a decent idea what the show was all about, then McCurdy and Bebow have a moment of honesty, which you don't see in todays fly fishing films, recalling the first time they saw all the other anglers heading out for the hex, and they were clueless.
"It's not Montana, you're not gonna go out with grasshoppers and catch twenty inch fish all day, but its just special for us." ~John Bebow, then recalls a Tom Sawyer tale and we all can relate.
After we go through a brief history lesson with many local experts and how TU as well as the Anglers of the Au Sable were created, we get a look into the unique double ended boat from Jay Stephan Jr. and how he had a tremendous impact on the local story of the river. There is hardly a way you can talk about the Au Sable and Anglers group without mention of Calvin 'Rusty' Gates, few have waded these waters who had more impact than Rusty. I got a little choked up when the story evolves to Mary Gates and her recollection of how they decided to build a 'Mecca for Fly Fishermen'.
The River does a phenomenal job of working with some great local guides on the water coupled with spectacular slow motion watch the drop-slowly-fly out-of-the-water-like-liquid-mercury shots. The amazing color on some of the brook trout from the North Branch, the late night agonizing wait for that slurping hawg to connect with the right fly. The vast decades of history at Fullers North Branch Outing Club, the telemetry studies done by GVSU grad student, a cameo from Kelly Galloup talking about being one of the best spinner fall fisheries, this film has more to offer each time I watch it. My wife (pink 'She's Fly' Hoodie) also makes a tenth of a second appearance at the Annual River Clean up, she gloats on the fact she is in a fly fishing film that I am not in. Patience, the River has taught me, it will come.
The best quotes are in the end. Invariably, RT did a great job capturing all of the many facets of the river and the people who have loved her to death and those who now embrace her beauty and work hard to keep her healthy. There are far too many cool cats to mention in this wonderful depiction of a resource we all love, and if you are looking for a film filled with fish porn and high intensity 300 bpm types of bass crunching techno songs, this might not be for you.
"The river wouldn't be what it is, with out that group." ~Bob Linsenman
"I'm not sure what I would be doing  if I hadn't found this river, I'm not so sure it didn't find me." ~Lance Wyeneth
I need to tie some more flies.
WARNING: This movie will inspire you to do more. To be a better angler, conservationist, guide, or activist.
Get your own copy of THE RIVER.
"A trout is a trout the world about." Jimmy Calvin says in the upcoming fly fishing film release of THE RIVER from Third Year Fly Fisher. Certainly a true statement, so simple and yet elegant because we know there is something special about the trout that he speaks of.
We are looking forward to this weekend with much anticipation. It is the Trout Opener on many streams and rivers in Michigan, but for some that has lost some of its luster. Some of us cannot break tradition. Getting up to the cabin and stoking a fire in the fireplace and and sipping on a quality 18 year old scotch or bourbon perhaps, while sitting on the front porch, scent of freshly cut cedar combined with a soft charred aroma wafting through the air as you watch the slick smooth onyx-like glassy water glide mere feet from the wooden deck. You can hear the baritone muffled chuckles in the cabin perhaps laughing at how the big one got away earlier in the day. It is Opening Weekend.
I recall as younger lad, my tying abilities at a very early stage of development, yearning for Opening Weekend, going up to Grayling with the family and staying at Aunt Rita and Uncle George's house. My brother and I would sleep on an air mattress in a reading room so I could get up earlier than anyone else and slip out the front door to pursue the massive trout that eluded me the season prior. I was only fourteen, my beat on the river was either behind Penrod's Canoe Livery or behind the Hospital, which also held a few escapees from the hatchery and a few other gluttonous browns that feasted regularly on the overfeed of pellets that visitors from the hatchery would toss at the fingerlings. Breaking the twenty inch mark was a colossal goal for a kid with a $45 Ryobi/Abu Garcia fly rod combo, but it was the names of fly anglers before me in a log book at The Fly Factory that propelled me.
This weekend is no different for myself and many others. The lure and attraction of the trout we stalk beneath that slick moving water keeps us coming back. The history of a great river that has sustained human wreckage and proved to be one of the best in the midwest is the reason for making a film and countless books we cherish. Another reason I am looking forward to this weekend is the release of the much anticipated movie- THE RIVER. Saturday night will be the premier of THE RIVER at the RIALTO THEATRE in Grayling. Doors open at 7:00 pm and the show will start at 8:00. I spoke with Josh at Gates Lodge yesterday and purchased my ticket. He said they were going like 'momma's hotcakes' – seating at the theatre is 400. Proceeds from the Film will benefit The Angler's of the Au Sable, organizers hope to see a full house. Tickets can be purchased in advance at either The Old Au Sable or Gates Au Sable Lodge.
I got a chance to speak to RT from Third Year Fly Fisher at the Expo. I asked him if there were any inside stories in the film he could tell me about.
"No, not really, it was a huge two year endeavor, that had been rolling around in my head since Rusty wrote 'Seasons on the Au Sable'.  I had the opportunity to talk to and interview so many great people from the area, from fly shop owners and guides to conservation members and locals who treasure the resource. You will recognize most and we hope to see a few at the showing."
"Sales of the DVD are blowing me away. We haven't officially released and we have pre-orders for 3/4 of the first run. We most certainly are looking at doing a second." replied Robert when I asked how sales were going. The cinematography  is exceptional and I personally can't wait to watch 'Brothers Brown' and 'Summers' at home on HD. There is a lot of excitement in the fly fishing community for this release.
'The River' depicts a resource that is on the mend, and years in the making itself. Many believe it is on the right course, 'we aren't there yet' exclaims Bob Linsenman. There were many people over the course of decades who thought this river was worth more than how it was being treated and abused. Being the birthplace of Trout Unlimited and the conservation that dates back to the fifties, concepts like limiting the DNR's stocking practices and 'Catch & Release' were not only scoffed at but also rejected by many anglers. A process like this takes years to unfold, and the ground work was laid by some of the best leaders in conservation. Designation of a section of water as FLIES ONLY- NO KILL was absurd. But it had to be done. There was one man who was the driving force behind such an absurd idea, and we are here today to witness the benefits, and shall for many years and generations to come. The film is a proper tribute to the many men and women who travel from hundreds if not thousands of miles to wade in "The Holy Water". I hope to see you at the Showing.
Tight Lines!
I wanted to be the first. I had such great intent, all the people all the feedback, so much talent. Then I read one, and another, and finally, after about a half dozen or so of other great posts regarding who met 'who' and how 'Blitzed & Schnockered' we got Saturday night after the sponsored dinner, I figured there really wasn't much I could contribute. Personally, I hope to not be the last to report on the Mid-West Fly Fishing Expo of 2014; so please, if you have yet to hit publish, do so, now. It wasn't that there weren't some amazing guys and gals at the show, there truly were. I got a chance to chat with fellow swamp donkey hunter and fly fishing guru Landon Mayer, which was really cool. I wish I would have met and seen Joe Humphries' casting presentation, what a wealth of fly fishing knowledge. We heard the opera-etic talents of the phenomenal fly tier Oscar Feliu during our dessert course at the reception. Chatted with a host of other much admired fly fishing/tying talents from across the country. We happened to have dinner with Judy Fuller from Fullers NBOC and the father/son duo from Rite Bobbin and tales from their 800 acre ranch in Montana. It was good to hear we were not the only ones to be inundated with an exuberant amount of that now depleting white stuff- won't mention that four letter word right now- it is in the forecast for trout opener this Saturday.
This Expo was very special to me in many ways. I didn't get a chance to run around and muck it up with some of the old timers and the new kids on the block, but, rather, I had the privilege of meeting one of the owners of Adipose Boatworks- Mike Ward, and re-acquainting myself with one of the gentleman who not only fished with me and his father last summer, but also had direct involvement in making the very boat I float in, fellow Michigan boy- Justin Waayenberg. The very reason I didn't get the opportunity to spend as much time catching up with Ray Schmidt with TFO or Dr. Bryan Burroughs from MITU is the reason I was so excited. The Adipose Booth was 'abuzz' nonstop from a half hour prior to the opening to the very last guest left at closing. We were very fortunate to be sandwiched in between Becca Schlaff, whose artwork is becoming even more well known, and the Good Guys from Nomad Anglers, who have the best in Reppin' Your State Color T-shirts, fly tying gear and all your other in river needs. To say I was blown away at the overall enthusiasm from fellow anglers across the midwest at finally seeing a boat of this design close up and in person would be an understatement. Besides the usual barrage of "How much does it weigh/draft/cost?" most people were impressed by the fact it was only 15'4″.
"It appears much larger than what most people expect, mostly due to the open floor plan. There isn't a whole lot of 'stuff' in the way, which gives you the impression of space." explains production manager Justin W to a serious inquiry.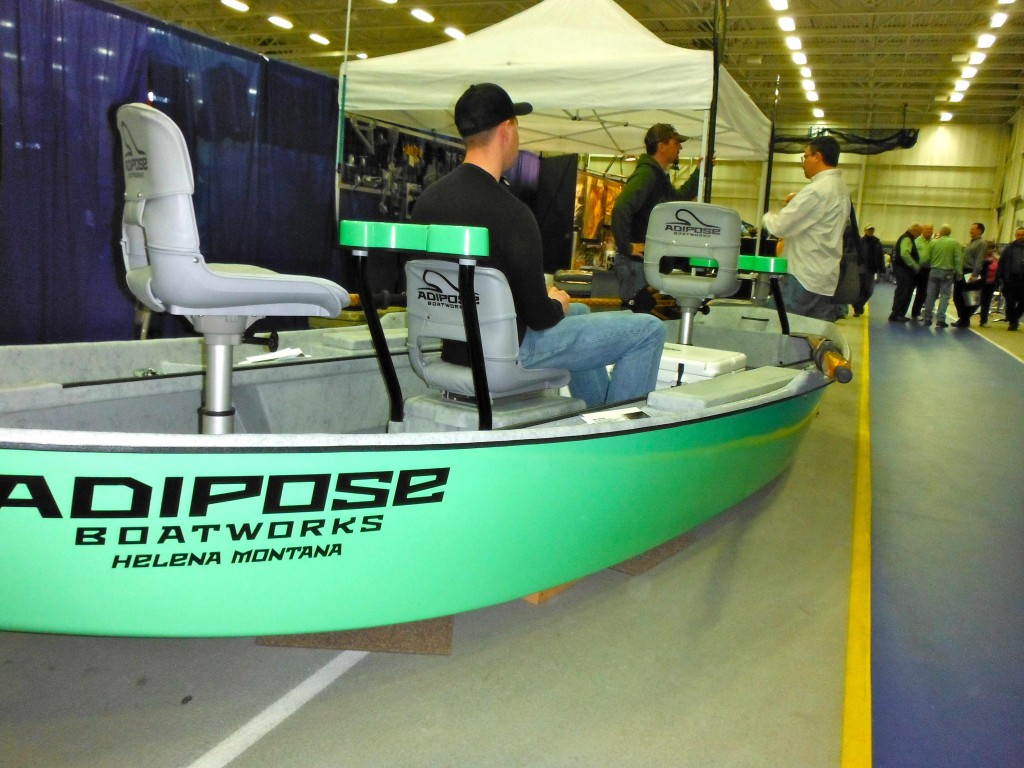 "The larger footprint also gives this drift boat an unparalleled level of stability. A guide and a client can be leaning over the edge to net a fish without flipping the aft angler out of the back of the boat. We kept the profile low so that when we were floating the Missouri in any kind of headwind, we wouldn't be blown around like a hopper on a leaf. " added Mike W.
"There is enough storage for what you need, and no room for stuff you don't. My fear of not having a bench seat to store (3)extra raincoats/hoodies/dry bag of long lost goodies that will only be forgotten or  mildewy quickly disappeared when my first dozen clients exclaimed what a comfortable boat to ride in." I interjected to another inquisitive couple who regularly fish Alaska and like the design. "The open-floor plan also makes it a fun boat to take my wife, daughters and two labs for a float down the Jordan River. The stability coupled with low profile and shallow draft make it the optimum guide boat for my needs."
"Corey Haselhuhn over at Schultz Outfitters just took delivery of his boat earlier in the week, now Koz isn't the ONLY Adipose in Michigan." explains JW.
After a weekend of many eyes and a few fly shop owners salivating over how well this boat appears on skids, I am sure it won't be long before there are others with regular homes on the Au Sable or Manistee Rivers.
Thank you to all the wonderful attendees who came up and introduced themselves, fans of True North Trout. I was flabbergasted at how many people appreciate a decent post now and again. Some individuals who go by either Andrew or Robert on Facebook, I apologize for not putting two and two together when you said 'Hi, I'm Andy/John"- I got it now. Funny how we have an image of someone we regularly see on Social Media holding massive steelhead in our more recognizable Simms Rubber pants uniforms, then we meet in real person with street attire on, I just get another opportunity to laugh at myself.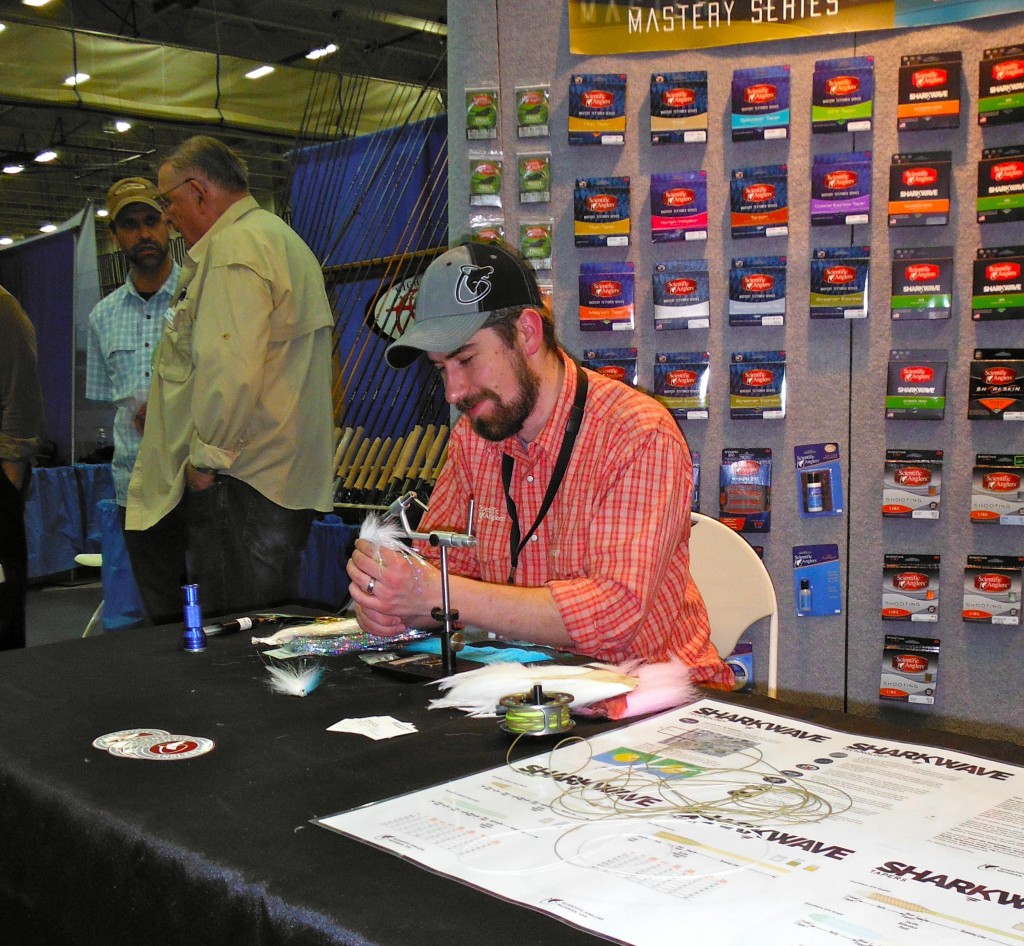 Great to talk to the guys at Scientific Anglers. I got my hands on the new Sharkwave line and in the couple of times I have had a chance to fling a fly with it, I am more than impressed. It has a little whizzing sound, but you will quickly get over that when you see how quietly it lifts off the water, lays out nicely and floats like nothing I have ever seen in a fly line before. I can honestly say, when matched with the right rod, loading is amazing and casting distance is greatly improved. I can't wait to take it on my favorite slow water this weekend.
Here is the Facebook Link Photo Album.
I can recall the day as if it were just last week. We had assembled a small army on the banks of a local favorite trout river to help get all parties vested to collaborate on one common goal. All the Heads of State from various departments were on hand to help lend their support: representing the Michigan Department of Natural Resources was Don from Forestry Division, Tim Cwalinski and Neal Godby both from Fisheries Division, from the Fish and Wildlife Services was Heather Rawlings , Matt from the Little Traverse Bay of Odawa Indian Tribe, Chris Pierce and Eric Ellis from the Conservation Resource Alliance, Valerie Damstra and Kevin Cronk from the Tip of the Mitt Watershed Council, Dave Smethurst from the Headwaters Chapter of Trout Unlimited and myself from the Miller-VanWinkle Chapter of TU.
We began the day's journey at the only local gas station so everyone could refill coffee and fuel up on a Johan's donut. Sitting in a small semi-circle on the guardrail of the parking lot, Dave began to spin one of his magnificent tales about a local Yoga Retreat. If any of you have had the pleasure of sitting foreside with Mr. Smethurst, you know his captivating, yet very soft spoken way with words is not unlike that of James Earl Jones when telling a fable. This story didn't seem unlike some sort of fairy tale. He began with how a fellow angler, and President of Headwaters TU and his wife were heading out to fly fish a treasured trout stream in their region. Upon arrival, they noticed something that was more than shocking and disturbing. Their favorite stretch of the Pigeon River was black with muck and the white bellies of trout and a myriad of other river species dotted along the sludgy shoreline. They quickly retreated through the tag alders and cedars along the path back to their truck and drove further upstream to check another access point, and another and yet again, all with varying degrees of total devastation and death lying belly up in pools and eddy's of this once productive Blue Ribbon Trout Stream.
Much like a convoy headed to Camp Grayling for training, we packed in our Trout Vehicles and headed for our first assessment site along a long and winding two track. The dusty trail left a chalky residue on the back of my tongue very similar to that of a bold, well-aged cabernet of European descent. After Chris from the CRA talked about how this particular culvert was choking the flow of the river and impeding the fish passage for trout to find thermal refuge, Dave continued with his mythological story of the death of a trout stream. The couple whom discovered the catastrophe determined the source must have been from the release of sediment from a small impoundment located at the Golden Lotus Yoga Retreat just a few clicks upstream.
At the next road crossing, we admired a newly replaced road crossing, free of any barriers and natural in appearance. The Emmet County Road Commission and CRA collaborated to make this once failing bridge a wonderful 40ft wooden free span bridge. As we sit along the newly stabilized streambank and admire the beauty and simplicity of the bridge, Dave continues on his story of the decimation of a river. Apparently, someone opened the floodgates on the dam release and left it open for several hours, turning a normally tranquil 70 cfs stream into a raging almost 400 cfs river. When someone noticed that the 'reflection pond' was strangely shrinking, they went to the dam and shut it off completely. Sounds like the sort of thing you see in a Three Stooges reel to reel. As I listened closer, the details, the descriptions, I realized this actually took place. The amount of sediment released not only clogs the gills of fish, it also does the same for macro-invertebrates, the base of the food chain. All the freshly introduced organic material within the sediment also engulfs all the readily available dissolved oxygen, so whatever organism survived the initial apocalypse, would certainly see it's demise.
That was June of 2008, and the third incident of this magnitude on the same property. After many court hearings, appeals, judgements, appeal again, death of the judge who ordered the dam to be removed and moving from Appellate to the State Supreme Court, this was a long fought battle. In the early rounds, Michigan Trout Unlimited and The Pigeon River Country Association had many allies. For whatever reason, the Michigan State Department of Natural Resources and Department of Environmental Equality both pulled out of the court case against the Golden Lotus/Song of the Morning Ranch. I can say without a doubt there were many heated debates among representatives from various TU chapters in the Michigan Council of Trout Unlimited whether we should pursue this court case with the best of hopes for the silent victims of the Pigeon River. It took many hours and many attorneys from across the state, namely Pete Gustafson who took on the task early and wrote off countless billable hours.
After all this dust settles, we shall see a positive resolution. The dam has been ordered to be removed, and an agreement has been reached as of last week between MITU/PRCA and Golden Lotus Association. Nearly 6 years after the fact, the river and the animals that make up The Big Wild will see protection from an event like this ever happening again. The details are listed on many websites, like MITU and the Headwaters Chapter of TU. Headwaters is having their annual TU Spring Banquet on April 12, if there are any tickets available, I highly recommend you get one, this will be a celebration to remember for decades. They are also starting a fund to Remove The Dam DAM!!!
As I spoke with John Walters the other evening, exchanging congratulations and attaboys he left me with a few words.
"Now the real work begins."
Probably not something you hear very often around the campfire on your favorite river at salmon/steelhead camp. Immediate thoughts of 'Brokeback Mountain~ You don\'t go up there to fish…' come to mind, not there is anything wrong with that, just saying. This seems to be the time of the year when I am knocking out endless dozens of nuke eggs and my coarse grit 120 fingers seems to shred the McFly Foam before it even has a chance to meet my TMC 105. Why is it every winter, amid tying season our hands get so rough and abused?
In between serving Whitefish Meuniere at Cafe' Sante and changing baby diapers at home, I wash my hands literally, 70 times a day. It has become a daily regimen, not obsessive, but feel the need to keep clean hands. Add a few days on the river searching for some winter chrome or an aggressive brown on the take and my hands become brutally unpolished. I take a certain amount of pride in the fact that my hands don't look weathered or resemble that of the lobster claws of a Gloucester Fisherman. My wife appreciates it too.
My younger sister used to be a manager of one of those Bath & Body Shops in the mall and every Christmas, all the Aunts, sisters and nieces received a small cornucopia of lotions for gifts. Not exactly jealous of the Cinnamon Apple Spice nor Warm Vanilla Sugar Body Lotion, but rather felt excluded because of my manliness. Shouldn't a guy treat his hands with care and respect? So, I threw this question to the ladies over at Fly Fishing Ventures last year regarding what lotion they use and prefer when the many days on the river per year can age your hands decades in a season. I was surprised at the response and have tried a several suggestions and thought it would benefit others to share my experience.
The first grouping of lotions that have always worked for me in the past are fairly obvious. Neutregena Norwegian Formula, Aquaphor Healing Ointment, and Eucerin Plus Body Creme are all very good daily use lotions that will help to restore much needed moisture to your depraved hands. Fly Fishing Ventures mentioned O'Keefe's Working Hands and I can personally say over the past year (wow, just realized it was a little more than a year ago) it has proved worth the $10 at your local hardware store. I recall back in the day using No-Crack Super Hand Cream. After searching my parents arsenal of lotions and creams, I found one. This stuff works and doesn't leave that greasy oily residue. You used to be able to find it at Restoration Hardware. It is unscented and works quickly to restore much needed exudation to your hands.
Here is where it gets tricky, and you ladies may agree. I found over the years my hands can benefit from giving my wife a much needed foot massage. Don't go with the a cheap lotion that has high percentage of alcohol (Glycol, Glyceryl Stereate), it will barely do anything for her feet nor your hands. Invest in quality foot creme or lotions that contain Rosemary and Peppermint oils. I happened to come across Lanisoh Lanolin for breast feeding mothers, and use it on my hands when they are extremely chapped, give it a try, let it set in over-night when you go to bed. Works miracles on cracked and split fingertips and cuticles. So, gentlemen, give your ladies a surprise foot rub, or make it a weekly occurrence, your benefits may be two-fold.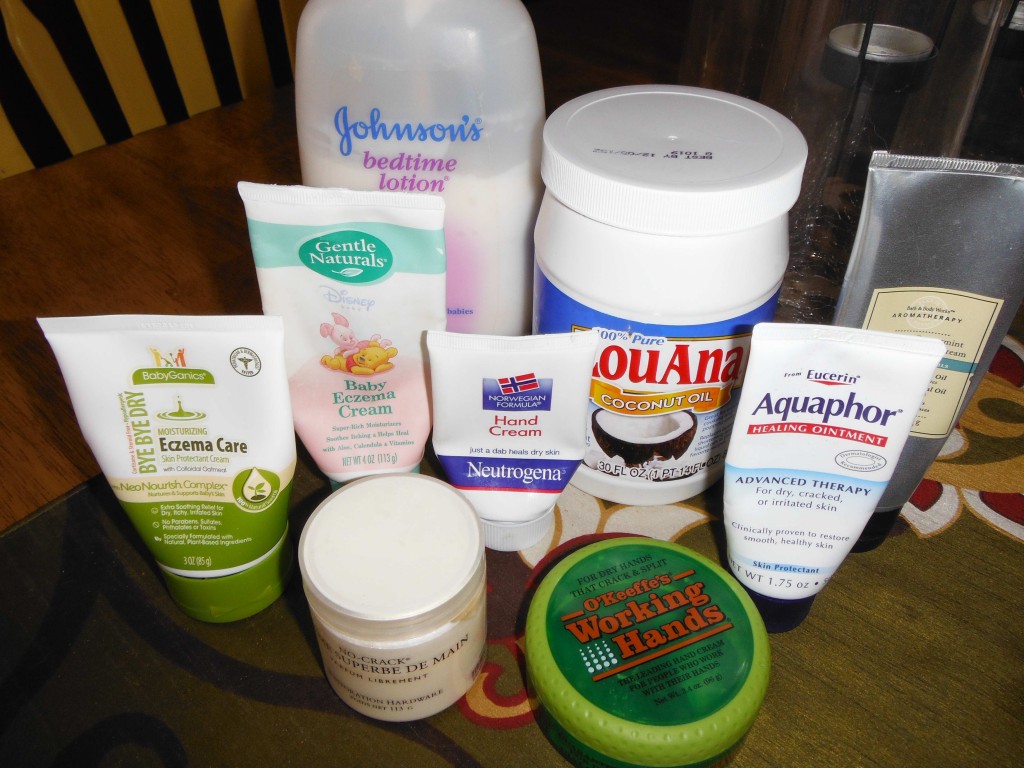 Don't have a woman in your life? Shave that Grizzly Adams facial hair you've been working on for the next Loon Outdoors Novembeard contest, buy a nice flannel, preferably one that does not reek of salmon spawn, try to resist the temptation of tying flies while drinking Wild Turkey at home this Friday night and put your best foot forward at you local watering hole.
Our baby Camille had a severe dry skin issue on her back, alligator skin. We tried the usual list of baby Eczema Creams, Lotions and A&D ointments along with Coconut oil, but nothing touched the rough skin on her back and shoulders. Our next step was to get a prescription from our pediatrician. She prescribed Desonide .05% and we were amazed how in two days her back was returned to normal and healthy baby softness. I haven't used the medication yet for my hands but keep it in reserve for dire situations.
So the next time we happen to be at trout Opener Camp in Lovell's, don't be afraid to ask for O'keefe' Working Hands, it is usually in my truck, but I won't have any Shea Butter…
I need to get back to Brokeback Mountain and tie some clown eggs…