I am not much for making resolutions. They are often false promises one makes and never really intends to keep for an entire year. I quit smoking when my eldest was born, put down the bottle some years prior to that. Can honestly attest to those resolving to quit the nicotine addiction that it was easier to quit drinking. Both will require you to be ready and dead honest with yourself. I suppose I could lose some weight, really? Nah, Who am I kidding. Working out would do wonders for my mental stability, but trying to fit that in a schedule with family, restaurant and managing the guide business would take the deft balance of a trapeze artist. So my workouts will remain mending fences, shoveling snow and rowing a boat, along with other menial farm chores.
The past year was another amazing and spectacular trip around the sun for True North Trout. Met many new clients, fished again with old friends and had a few good laughs while watching fish gingerly sip blue winged olives from glassy rippled edged pools. The next year already promises to be bigger and better. Added Randy Monchilov to the crew, booked a few trips, one request for overnight camping accomadations and the ever eternal hunt for new waters to explore. We plan to expand our skinny water trips with an inflatable watercraft and eventually do more on the North Branch Au Sable River, with potential for cabin rental on the river. The SUPonthefly venue will certainly gain some traction and attention as we ply some still waters for pike and smallmouth bass in between floats on the Jordan and Upper Manistee rivers. Happy to be on board with Temple Fork Outfitters and Scientific Anglers bringing the client what we feel are the best products in the market for our guests. Last season we met and did some filming with a couple of different media companies and intend to do some spring steelhead and opening trout season filming to wrap up a possible episode or commercial for publicity. The CRA looks to be on track for the Chestonia/Old State Bridge removal project to start sometime in 2017, and we eagerly anticipate being able to drift under a new open span bridge sometime in 2018.
The snow is gently wafting outside the window, and the county road commission just barricaded my drive, so I must get back to my work out. So, no new promises from TNT in 2017, only that we aim to keep our clients on as many fish as we can find, teach them as much as we can share about our resources and entomology while drifting a few nymphs. We will provide the freshest local food, scones and produce from our favorite purveyors while keeping it reel, wet and fun for you and family. Tight Lines and Happy New Year!!
celebration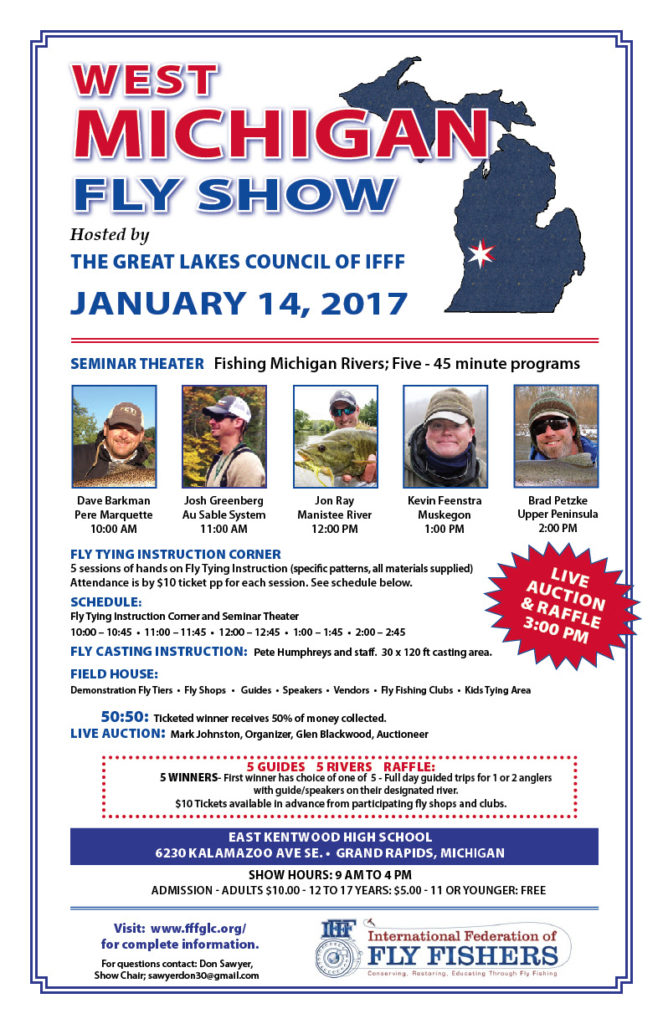 See many of you January 7 and 14 in Grand Rapids at either Celebration of Tying or the Great Lakes Council Fly Show at East Kentwood.