To say the rivers were high would be an understatement. They were flowing through some places in the woods I have never seen before. Daily reports from Grand Rapids and photographs from friends and family were amazing. The Grand crested at a record 21 feet above above normal. The Sixth Street Dam was but a small dimple in the rivers tight pinch through the concrete jungle, the fish ladder, barely visible and merely some angular projection from the muddy waters edge. We were more fortunate in the north to not receive the same amount of rainfall and run-off, but our waters were well above the banks.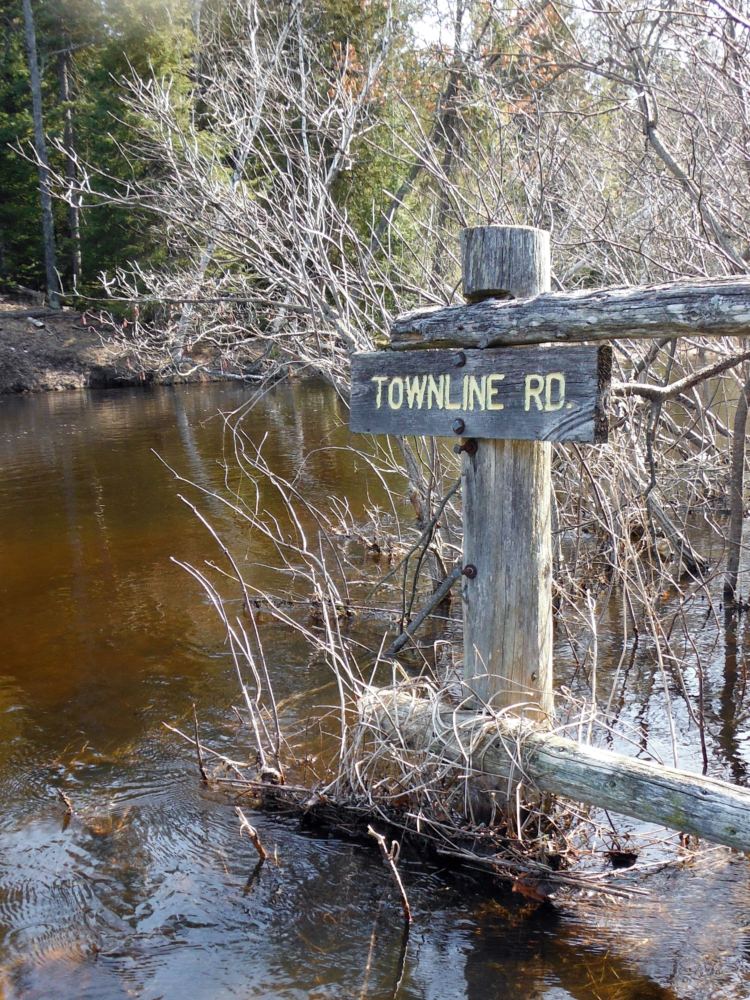 I had Sunday off, the new boat, some say is the bane of our un-spring like weather, had yet to actually stretch her sticks on a river. Sure, I took 'Layla' (Black Beauty) out in the mouth of the Boyne River to see if any steelhead were crunching minnows near the ice sheet, but hadn't actually floated. Alex from TROUTLAB and Chuck & Duck gladly accepted the offer to see how the river was and perhaps connect with a fish. I was amazed at the water level. Banks I knew that held fish were but a visual in some old foto album, docks were submerged by feet of water. Picnic tables near cottages looked more like flat wooden plateau's protruding out of the water.
It made the 'catching' part of fishing just a little more difficult. With this much water, the fish were more than dispersed, they packed up and moved to either high country in the woods, or way down deep where the turbulence may not interfere with energy expenditure. I am certain the fish were there, we just couldn't find were 'that' was. Getting flies down to the feeding level was another difficulty. Our 440 grain sinking line was just another piece of string streaming down the river at a rather fast pace. There was so much 'stuff' in the river. Dislodged leaves and twigs from last fall tat once were safely yards from the rivers edge had now become part of the detritus in the rivers ecosystem.
It didn't matter. We were out to enjoy a gorgeous day on the water and test out the FLOW. I am very pleased. Being a Clacka guy, I needed a day on the sticks to begin my bond with the new member of the family. I can say I am very pleased with how well she handled. There were moments when I knew what was coming around the bend and like meeting a cornered Pit Bull, I couldn't show my fear nor lack of self-confidence. Sweepers and jutting White Pine posts that could easily flip the oarsman who is not aware, I took each stroke with assurance and pride in the handling of this watercraft. I am completely amazed at how well she can sit in the middle of a great rush of water and with little to no effort maintain position while the angler can get a good fix on their target. I can't wait to get more time on the water her and a host of new clients this season. The
Adipose FLOW
was a great choice and I am very proud to have it in my arsenal of fishing gear.
Opening of Trout Season is this Weekend, I will be staying close to my home waters and getting back with you early next week for a fishing report/update. Get out and get wet!! Enjoy and cherish the nostalgia of a hot cup of coffee and how much sweeter it tastes made from a campfire on the banks of your favorite trout stream. If you would like to book a trip, fell free to contact me at
TNT Guide Service
~ pretty happy to say that my summer is starting to book up.
Next week is Salmon Release day!! Thursday May 2, 2013 at Riverbend Park in Petoskey on Standish Road next to Curtis Field at 1:00 pm. If you can come, we would love to see some public support for Salmon in the Classroom and the great work Kathy Slack does with her PALS kids through out the year. This is a phenomenal program that could only be accomplished with the generous amount of work from the
Department of Natural Resources
and
Trout Unlimited
. We hope to see you there.