I have been wavering back and forth on whether to write a year end post. After reading so many quality posts from other bloggers, I have even questioned my ability to continue actually writing and posting for TNT. It could be the fact that I have been working crazy hours because of the busy hustle and bustle of the Holidays and the onset of ski season for Northern Michigan, Seasonal Affected Disorder, or the sudden onset of Mailbox Goody-package Withdrawal. Whatever it is, I know I must shake it off and hit the water more often in 2013, and continue to write, even if it is for my own state of mind.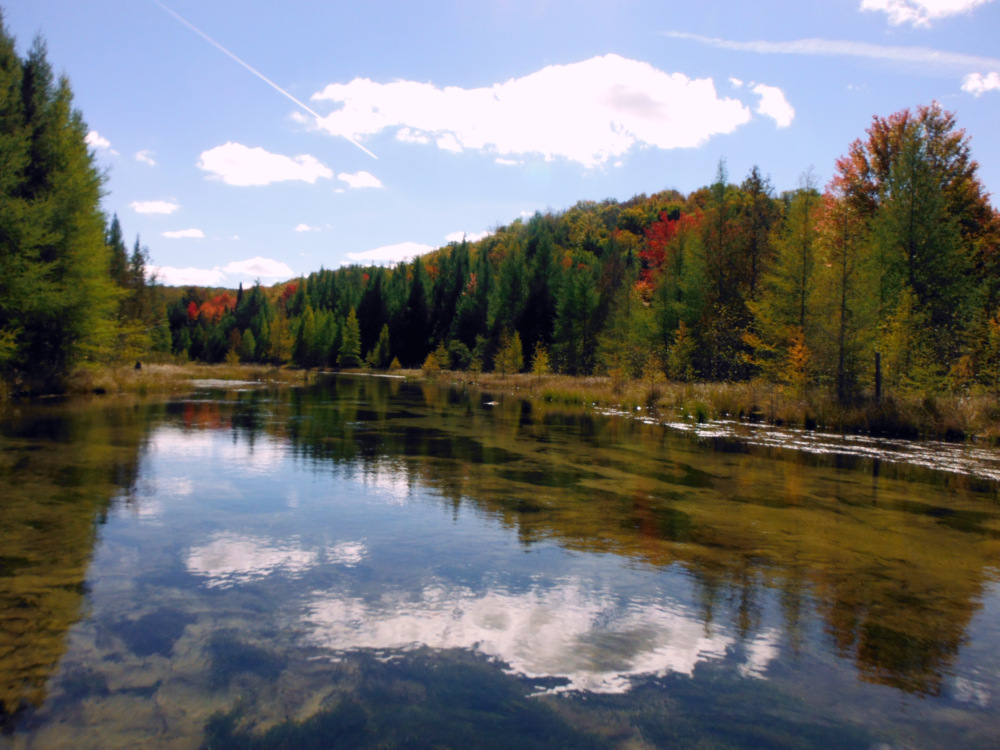 I have had a host of great experiences in the past year, many were not even on the water. The few that were, often involved fishing with new friends and watching clients hook up with their first trout. We always wish we could fish more in the coming year, and I will make that attempt in 2013, but I also have begun the rather large personal endeavor of fishing 14 rivers in Northern Michigan that are listed on the TNT Logo. Five of which are familiar to me, but the other nine I have yet to set foot in their currents nor witness their complex hatches. It makes me giddy to think about all that new water. In other plans for the TNT blog, I hope to have a few guest writers make contributions on their experiences in the water, starting with Mrs. Koz. I have learned more from taking her fishing because of her questions and unique point of view. I hope to tie more and develop some new patterns to expand my line with the good people at Rainy's Flies. My commitment and dedication to our rivers and the Miller Van Winkle Chapter of Trout Unlimited will continue. Programs like SIC at Sheridan Elementary is beginning it's fourth year, the Children's Annual Fishing Clinic at Oden Hatchery in early May will be our tenth event. We are always looking forward to securing the next generation of young river conservation minded enthusiasts.
The past year has allowed me to look at life through new set of spectacles after my near cardiac event in February. After careful evaluation, I have decided that life is far too short to not attempt to do and be the person I wish to be. That does require buying a boat (www.adiposeboatworks.com) and more water time with established clients while building a larger core of anglers from across the midwest that would like to be knee deep in some of the Tip of the Mitt's best waters.
The year of 2012 was speckled with a fantastic array of highlights. Among some of the greater moments were meeting and fishing with Brandon Robinson from 'One Bug is Fake' along with longtime river pal JT from Fontinalis Rising made for a great day on the Upper Manistee. Being interviewed by Chris Hunt from 'Eat More Brook Trout' was truly an honor and I thank him for the privilege and courtesy.
Another first was the auspicious honor to interview Matt Smythe from www.fishingpoet.com on his latest collaboration with Grant Taylor (Silo 4)  A Deliberate Life as they corralled some phenomenal talent on some rivers out west in their soon to be released "A Deliberate Life". I also had the privilege to be a part a lifelong dream working at a Fly Shop @Boyne Outfitters. After attending my first GLCFFF Fly Expo in December with Alex Cerveniak from 'Chuck & Duck', Ethan Winchester from Boyne Outfitters and Jason Tucker from 'Fontinalis Rising', I quickly realized how few people I know in this ever growing industry. I did manage to say hello to many old friends from MITU and our local fly shops, but more importantly got to finally shake hands with many individuals I have often chatted with on Facebook and 'liking' their catches from afar. Meeting Ann Miller after her Bug presentation was well worth the 4 am car ride down to Holt. We are looking to arrange a date to have her up for a MVWTU Macro-Invertebrate presentation. I hope to see all the guys & gals I neglected to mention at the Spring Fly Fishing Expo in March and get a proper ribbing at that time.
I hope in 2013 I get the opportunity to meet more of you and to possibly wet a line with my friends and family with more frequency. This may not have met all of Troutrageous! requirements for a year end post unless we make a pop Icon reference to Hank Patterson: Local Fishing Guide for your next river report.Hank talking CONSERVATION
Tight Lines in 2013!