Up and a half a pot of coffee at an hour when I once would have been returning home from a Friday Night out on the town. The anticipation was too great, coupled with the fear I might oversleep my alarm and miss my rendezvous with fellow anglers at some ungodly hour at a closed gas station. I would not be 'That Guy'.
Jason Tucker from "Fontinalis Rising", Alex Cerveniak from "Chuck & Duck" and Midcurrent along with Ethan Winchester from Boyne Outfitters at the helm of the Jeep Grand Cherokee and we were off to Holt for the big FFF Fly Tying Expo. Conversation always starts off lively, but soon the muted drum of the road humming was all that was a buzz in the pre-dawn hours in our four hour journey.
Alex was tying so i helped him set up while the boys went on a sausage McMuffin adventure, coffee and a powdered doughnut would suffice for me.
These events are awesome. I get to re-hone my skills I first learned in Kindergarten. Meeting and greeting people, seeing friends old and new, making new aquaintances and genuinely staying interested in what is going on. There is a lot happening here in the midwest. We have some remarkable talent in the world of Feather Craftiness. The realm of streamers is dominated by many. Such names as Tommy Lynch, Mike Schmidt, Alex Lafkas, Mike Schultz, Steve Martinez, Kevin Morlock and Kevin Feenstra all play a big part in swinging wet tube socks for big predacious meat eaters.
I had the chance to sit with Josh Greenberg from Gate's Lodge and witness the delicate perfection of the eternal favorite
'Borchers Drake'
. Caught up with Andy Partlo from OAFS on all his lifestyle changes and witness the glow he has for the new addition to the family. So many tyers and so little time. Classic artists who have been at it longer(almost) than I have been knee high to a cricket. Jeff 'Bear' Andrews, Dennis Potter, Gerry Regan, Jim Reed, Lou Burhart, Mike Mooradian, Jac Ford, Chris Soule, Julie Nielsen, Fred Vargas and Oscar Felieu are just some of the many spectacular legends we have th ehonor to witness their perfect hackle presentations. I know I may have may missed a few of the other greats> I hope we have a chance in the spring to rub elbows and you may rib me at that time.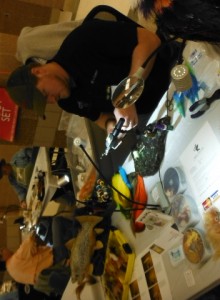 I also had the opprotunity to meet many other 'friends' we have made along the way via facebook and the internet media platform. I would like to thank those that stopped and said
HELLO&gt
; Charley Vee, Justin Keene, Joyce Kelley, Kevin Boks, Chris Carrigan, and many others. I hope we have a chance to share some water in the future.
I was most impressed by two presenters. Kevin Feenstra always has a great deal of insight on the chrome bullets we chase and his years on the river have backed up many theories in his slide show. I finally had the chance to meet Ann Miller who recently published
Hatches of the Upper Midwest
. Her work and research in the study of macroinvertebrates in beyond stellar. Not only do I highly recommend this little pocket book riverside reference for any fly angler, but even for those who
just like bugs
. If you ever get an opportunity to hear her speak, drop whatever other plans you have and attend. Definitely worth your time. I am working on finding a date we could have her up in the Petoskey/Harbor Springs/Boyne area for a spring presentation for our Trout Unlimited Chapter.
The FFF does and excellent job keeping this event alive and growing each year. The raffle items were fantastic. Copies of art work from Derek DeYoung and Becca Schaff, miscellaneous boxes of tied flies from many in the house and other items donated from other vendors keep the action lively.
As we drove home and exchanged stories from the people we met and tying we saw throughout the day, we all concluded one universal truth we heard time and again from the rest of those in attendance- "You guys are lucky to live where all the good fishing is." True. We are blessed with a multitude a phenomenal water within minutes of our garage. That is why my truck is often laoded and ready to hit the water whenever I can sneak off for a bit. I think I am going to rush through this edit and find some wood to tempt a likely brown or steelie with a few of ACF's streamers. Time to find some moving water.
Tight Lines!!
Koz